2020 WINTER FANCY FOODS COVERAGE IS SPONSORED BY:
O'MY Dairy Free Gelato Launches Two New Lower Sugar, Dairy Free Gelato Options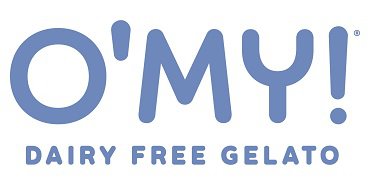 RICHMOND, Va.– O'MY Dairy Free Gelato, a brand of indulgent gelato created for the whole family to enjoy, today announced a new line of what so many are craving: lower sugar Dairy Free Gelato in I Love Chocolate and Cake Walk flavors, both of which have just 2g of sugar per serving. Along with the lower sugar innovation, O'MY is adding a new flavor to its core line – Cake Batter – adding even more variety for consumers.
With 87% of people limiting their consumption of sugar to some degree, O'MY goes beyond its existing allergy-friendly promise to offer options with less sugar. The American Heart Association recommends only six teaspoons of sugar per day for women, and nine teaspoons per day for men, but the average American consumes about 17 teaspoons per day. O'MY Dairy Free Gelato can now serve as one of the solutions to for those needing or wanting to reduce sugar.
Co-founded by two food industry veterans with a shared commitment to taste, inclusivity and transparency, O'MY delights families with its limited ingredient list and unwavering commitment to taste. Each of O'MY Dairy Free Gelato's now 10 indulgent, deliciously creamy flavors – MSRP $6.99/pint – is made with single-digit ingredients. All ingredients are thoughtfully sourced and include both Non-GMO Project Verified and Fairtrade Certified ingredients, 70% or more of which are organic. Additionally, the recipes were crafted to be free from major allergens, including wheat/gluten, dairy, peanuts, tree nuts, eggs, and soy. The result is a creamy gelato made from coconut cream and sweetened with cane sugar that is vegan and allergy-friendly.
The new lower sugar flavors are sweetened with allulose, which has a neutral flavor profile, similar to sugar, but with 1/10 the calories as sugar, resulting in a negligible impact on glycemic response. Allulose works well in frozen desserts because it has a similar mouthfeel and sweetening properties to sugar, and pairs well with sweeteners like stevia and monk fruit to provide an overall balanced level of sweetness in the final product, without any off-flavors or bitterness.
"We tried lower sugar offerings and knew we could do better," said Julie Bishop, COO and co-founder of O'MY Dairy Free Gelato. "Using allulose allows us to keep our recipe simple, without having to add additional ingredients such as pea protein and fiber. As with all of our simply made yet super-premium products, with this new lower sugar innovation we are committed to thoughtful ingredients that deliver a deliciously creamy gelato that tastes like…gelato!"
The brand is quickly growing, as shown by significant distribution gains and the reveal of an updated packaging look and feel. At the beginning of 2019, O'MY Dairy Free Gelato was available in less than 100 stores, and today, the company is celebrating availability in 1,000 stores.
To make way for the new product line and up the energy of O'MY, the packaging is now more joyful, but still communicates the delicious, premium ingredients used in each product. While the clean look and prominent ingredient panel remains, the Non-GMO Project Verified logo is now on the front, along with a Certified Plant Based icon. This certification is from the Plant Based Food Association, and O'MY is one of the first brands to be using it on pack. This is all to further communicate how O'MY gelato is produced.
The full selection of flavors now include:
NEW low sugar innovation
I Love Chocolate. Perfect for those who crave chocolate but want to eat less sugar, I Love Chocolate is the delicious frozen gelato treat that will delight taste buds with only 2g sugar per serving.
Cake Walk. Smooth and deliciously creamy, the whole family will want to devour this not too sweet treat.
Core flavors
Cake Batter. NEW! The latest extension of the original O'MY Dairy Free Gelato line, Cake Batter boasts a yummy yellow cake flavor that will bring back delightful birthday memories and create more for years to come.
Strawberry. This offering from O'MY Dairy Free Gelato is made with only five ingredients, including sun-ripened organic strawberry puree and organic coconut cream, creating a smooth and creamy combination that's bursting with flavor.
Chocolate. O'MY Dairy Free Gelato's signature recipe is perfect for chocolate lovers of all ages. Made with only seven ingredients, the Chocolate flavor has a rich, smooth cocoa flavor coming from fair-trade certified, organic cocoa powder.
Vanilla Bean. Made with only six ingredients, including Madagascar Bourbon vanilla extract and beans, O'MY Dairy Free Gelato Vanilla Bean is creamy, sweet, mellow and perfect on its own, topped, or paired with another sweet treat.
Mint Chip. Made with pure mint extract and fair-trade certified, organic chocolate pieces, O'MY Dairy Free Gelato Mint Chip is the perfect balance of mint flavor and mint sensation. Including only eight ingredients, Mint Chip is the perfectly-cool and crunchy treat the whole family can enjoy.
Coffee Chip. O'MY Dairy Free Gelato thoughtfully combined only nine ingredients, including organic, single-origin coffee gelato and crunchy organic, fair-trade certified chocolate pieces, to create the perfect after-dinner treat.
Orange Cream. Orange Cream made the way it should be with a ripe, bright orange flavor from real, 100% orange juice and pure orange extract with a creamy finish. It's satisfyingly delicious and contains only six ingredients.
Root Beer Float. A classic updated for today, O'MY Dairy Free Gelato is a creamy classic updated for today. Made from only five ingredients, it's got the perfect hint of vanilla and no artificial caramel color. Just 100% joy!
"At O'MY, we are obsessed with real ingredients. Like really real ingredients, and so we are thrilled to provide more options that are free from major allergens, including wheat/gluten, dairy, peanuts, tree nuts, eggs, and soy," said Allison Monette, CEO and co-founder of O'MY Dairy Free Gelato. "Even if you don't have a dietary restriction, and are simply looking to follow a cleaner, more plant-based diet, you can choose this creamy, indulgent gelato that is joyful for all."
Monette and Bishop will officially debut the new lower sugar products, along with samples of the Mint Chip and Coffee Chip core offerings, at the Fancy Food Show in San Francisco from January 19 – 21, 2020. Visit the O'MY team in booth 5602, grab a spoon and dig in for a sweet treat.
Shoppers can find O'MY Dairy Free Gelato near them now at stores like Sprouts, Wegmans, Lucky Supermarkets, Whole Foods Mid-Atlantic, Earth Fare, Save Mart, Fairway, Market of Choice and Harmons, and soon to be stores include Natural Grocers, Giant/Martins, Kroger, Dierbergs and Mollie Stones. Find the nearest store by visiting the Store Locator at omygelato.com. The new, lower sugar gelato flavors will be on shelf in select stores beginning in February, and consumers can visit the store locator at omygelato.com for availability.
About O'MY Dairy Free Gelato
O'MY Dairy Free Gelato celebrates always saving room for dessert! Founded in 2017 in Richmond, Va., O'MY is a WBENC certified Woman-Owned small business led by food industry veteran co-founders Allison Monette and Julie Bishop. O'MY now offers 10 flavors of deliciously creamy, simply made and allergy-friendly gelato, including two lower sugar gelato options, fulfilling the need for a dessert that more people can enjoy together. O'MY Dairy Free Gelato is now available across the U.S. To find a nearby store, visit the store locator at omygelato.com.