lil'gourmets Launches Two New Meals, Pledges Donation Support to Greater Chicago Food Depository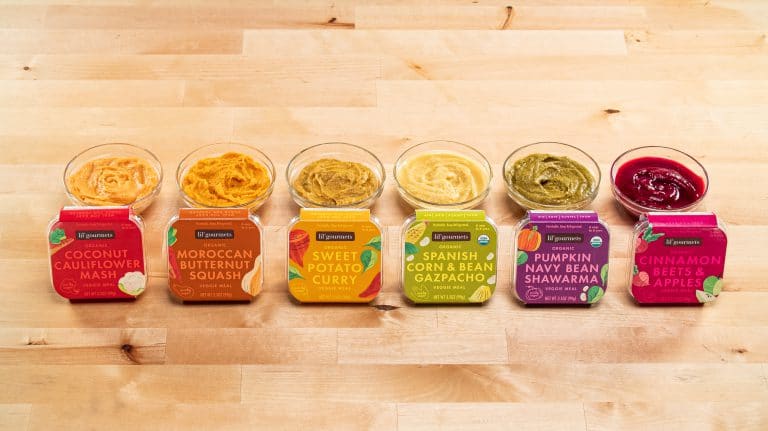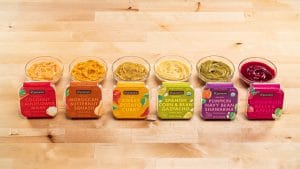 CHICAGO– Founded by two former Kraft Food executives and first-time moms, lil'gourmets was created with the goal of cultivating curiosity among young eaters by providing nourishing, organic, veggie-focused meals that will help them fall in love with vegetables and diverse, flavorful foods for life. Not just for babies and toddlers, lil'gourmets' fresh, sophisticated, and globally inspired recipes are for anyone who wants a ready-made, nutritious and delicious meal or snack.
"lil'gourmets' was created for parents who want fresh, nutritious meals and snacks that are as close to homemade as possible. All our recipes contain 70-95% vegetables and beans, paired with unique spice blends based on authentic recipes from around the world," says Becky Graham, co-founder and Chief Marketing Officer. "We know what we feed our children early in life shapes their future eating habits, so our mission is to open up a world of flavors to your child, while also developing a love of vegetables. With the addition of our two new flavors, our lineup brings the flavors of six unique cultures to both kids and adults," she says.
lil'gourmets launches first-ever Shawarma & Gazpacho for kids
Responding to the demand for greater variety of flavors and nutrients, lil'gourmets is launching two new ways to cultivate a child's curiosity: Pumpkin Navy Bean Shawarma and Spanish Corn & Bean Gazpacho. These incredibly unique recipes are as healthy as they are delicious and are inspired by authentic global cuisines. Both recipes are 90% vegetables and contain navy beans, an excellent source of plant-based protein and fiber. With their delicious, culturally-inspired spice blends, these two new meal varieties are the first of their kind to be offered with young eaters in mind.
New! Pumpkin Navy Bean Shawarma
Our one-of a-kind Shawarma recipe features a great protein base of navy beans that is combined with a creamy blend of pumpkin, spinach and sweet potatoes, plus extra virgin olive oil, red wine vinegar, tamarind, and a splash of lemon. A delicious mix of seven spices: paprika, allspice, onion, garlic, turmeric, cumin, and cinnamon, bring complex layers of flavor into each bite.
New! Spanish Corn & Bean Gazpacho
The Gazpacho starts with delicious and creamy sweet corn and is rounded out with a generous helping of navy beans and ripe pineapple. Tomatoes, a splash of lime juice, extra virgin olive oil, tamarind, and a complex and flavorful blend of mild ancho chili powder, onion, garlic, oregano, and marjoram come together to create its unique and appealing flavor. And like any true gazpacho, serving this recipe cold allows the fresh, authentic taste of each ingredient to really shine. 
lil'gourmets Community Response
 "In this time of uncertainty, we want to continue to support parents who want to feed their children fresh, healthy options, while also following the social distancing rules to protect the country as a whole," says Shibani Baluja, Founder and CEO. "That's why we are so grateful that our dedicated and experienced partners allow us to continue to deliver our fresh recipes both to our retail partners and directly to your door. In addition, ensuring access to nutritious food, particularly for children, is near and dear to our hearts so we have stepped up our community response during this crisis."
lil'gourmets donated 2,000 veggie meals to the Greater Chicago Food Depository in March and has committed to donate a minimum of 1,000 veggie meals in April. Additionally, they are donating 10% of all sales through the end of April to the Greater Chicago Food Depository.
About lil'gourmets
lil'gourmets veggie meals are organic, globally-inspired recipes that feature 70-95% veggies, only 2-5g of sugar, and chef-crafted spice blends for delicious homemade meals that lil'ones (and even adults!) love. lil'gourmets is a perfect meal for a baby, a side dish for a toddler, or a healthy snack or dip for kids and adults of any age.
lil'gourmets products are refrigerated, certified organic, non-GMO, vegan, gluten-free, and cold-pressure processed. All 6 varieties are now available online and in select grocery and retail locations. For more announcements and up-to-date information about lil'gourmets, visit lilgourmets.com or follow them on Instagram.
For More Information
lilgourmets.com/