LesserEvil Launches Fruit-Flavored Organic Popcorn for Summer
DANBURY, Conn.– Inspired by popular sparkling water trends a couple store aisles over, better-for-you snack brand, LesserEvil, has developed a trio of innovative fruity organic popcorn flavors just in time for summer. The seasonal flavors -Pink Grapefruit,Lemonade, and Watermelon Hibiscus – will be available starting mid-May.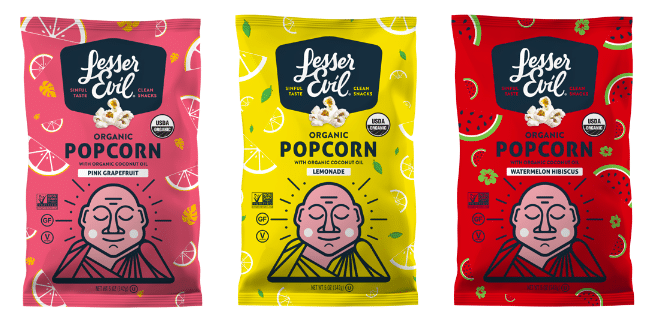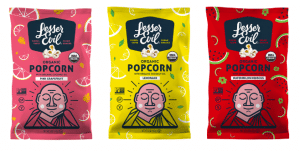 Seizing on the success of LesserEvil's limited edition Valentine's popcorn program, the company has developed a full calendar of seasonal popcorn items.  With the Summer program up next, the company has doubled-down on the inclusion of organic fruit seasonings in its line of category-leading organic popcorn to bring more excitement to the snack aisle.
"People are looking to unwind and enjoy the summer, whether it's a refreshing beverage, fresh fruit, or their favorite snack," said LesserEvil President and CEO, Charles Coristine. "As snack gurus, we wanted to expand on the buzz we generated among consumers over Valentine's, so we applied these fruity summer flavors to what we do best, organic air-popped popcorn made with clean ingredients."
Made with such healthy fats as organic coconut oil and organic extra virgin olive oil, each 1-ounce serving of LesserEvil's category-leading air-popped organic popcorn is 110 calories, and boasts organic, vegan, non-GMO, gluten-free and kosher certifications.
The three seasonal flavors will be available to purchaseonline at LesserEvil.com andAmazon through the summer, while Whole Foods Market will carry the Lemonade and Pink Grapefruit flavors for a limited time nationwide in the US for $3.99 per 5oz bag.
About LesserEvil
LesserEvil Healthy Brands, LLC transforms snack time into a mindful moment (by creating tasty, on-trend snacks from the cleanest, most sustainable and functional ingredients available). The Danbury, Connecticut-based company produces a premium portfolio of better-for-you snacks including Organic Popcorn, Grain Free Organic Puffs and Grain Free Egg White Curls lines. LesserEvil products are available through natural foods, conventional and specialty retailers nationwide. Visit www.lesserevil.com to shop or learn more.
Like what you're reading?
Subscribe to BevNET+NOSH Today
Subscribe today and get access to the leading industry resources in the food &amp beverage industries. News, trends, industry data, expert analysis and much more.
Access all of these benefits:
Unlimited access to all content on BevNET.com and NOSH.com
Exclusive access to hundreds of educational videos
Watch subscriber-only live programs such as Office Hours