Earnest Eats Debuts Hemp Almond Butter Bar with 25mg CBD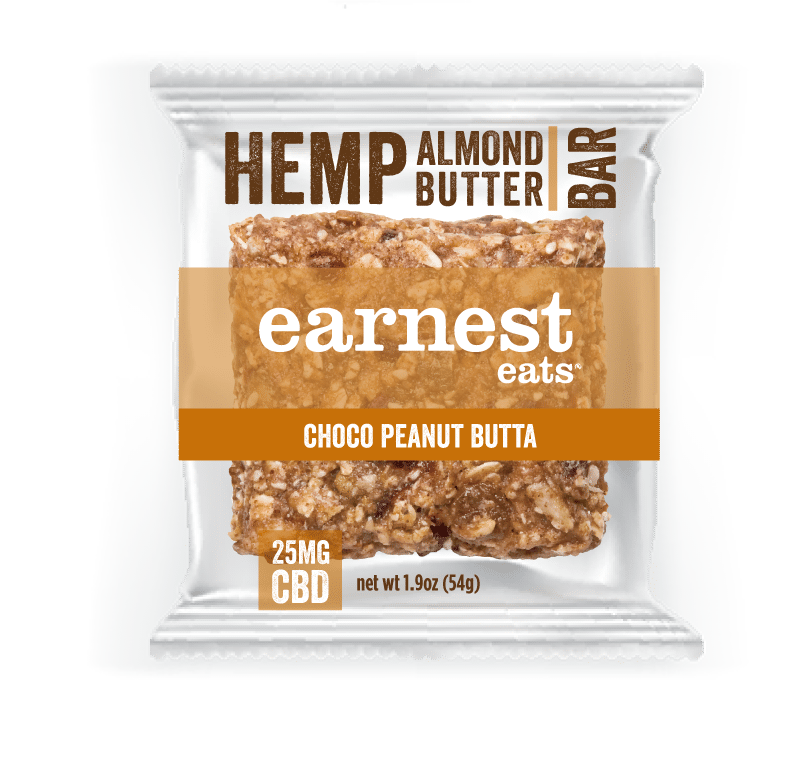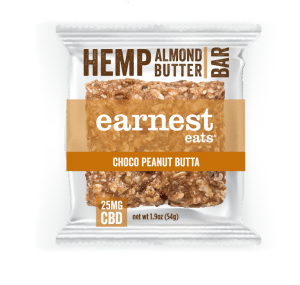 SOLANA BEACH, Calif.– Earnest Eats, creator of powerfully energizing foods that fuel your hustle, has announced the launch of its new Hemp Almond Butter Bar, a whole-food, fiber-rich and CBD-infused vegan snack. Available in decadent Choco Peanut Butta, with additional varieties coming soon, each bar is packed with 25mg of full spectrum hemp oil, six grams of protein and four grams of fiber for total satisfaction. The snack-sized Hemp Almond Butter Bars are the ultimate chill factor to enjoy after a workout, to take on a road trip or to satisfy that sweet tooth at the end of a busy day.
"We were searching for a tasty CBD-infused snack to have at our office, when we realized – why not make our own?" exclaimed Andrew Aussie, president and founder of Earnest Eats. "There are a few CBD snacks on the market, but we had trouble trusting them, as some are overloaded with copious amounts of CBD or added sugars and preservatives. Our new Hemp Almond Butter Bar is shaking up the snacking category by offering a natural, yet decadent, CBD-infused bar that's crafted with the perfect amount of CBD, along with complex carbohydrates and protein, so you can kick back with a real-deal snack to help you conquer your day."
Earnest Eats' Hemp Almond Butter Bar is filled with a blend of rich, powerful almond butter and peanut butter that delivers natural vegan protein without added protein powders. These healthy fats blend seamlessly with the organic full spectrum hemp oil, so your body can absorb all the goodness, including CBD which can help ease pain, increase relaxation and lower anxiety.* In addition to enhancing the category with healthy fats and CBD, the Hemp Bar is cleanly crafted without high fructose corn syrup, artificial preservatives or coloring, and is vegan and wheat-free. Perfect for busy mornings and breakfasting on-the-go, each Hemp Almond Butter Bar offers a delicious, CBD-infused, high-protein snack option loaded with complex carbs and scrumptious chocolate chips to satisfy and fuel morning hustles. Get ready for more flavors coming soon!
Earnest Eats' Hemp Almond Butter Bar will be available in February for a suggested retail price of $3.99 per bar. Earnest Eats foods can be found at natural food stores nationwide in the hot cereal aisles, including select Whole Foods Market, Walmart, Wegman's, Raley's, The Fresh Market, Giant-Eagle, select Kroger locations, Meijer and Bristol Farms/Lazy Acres. They can also be found at select coffeehouses, natural foods retailers and online at Amazon.com and EarnestEats.com. For more information about the brand's hustlin' breakfasts and bars, please visit www.earnesteats.com.
*These statements have not been evaluated by the Food and Drug Administration. This product is not intended to diagnose, treat, cure or prevent any disease.
About Earnest Eats
Founded in 2006, Earnest Eats® creates powerfully nourishing foods made with superfood ingredients that give back in earnest – Good In, Good Out and Good Vibes – including Protein + Probiotic Oatmeal, Hot & Fit Cereals, Baked Whole Food Bars, Detoxifying Hot Cereals and Energized Hot Cereals. Earnest Eats is available nationally in grocery stores, coffeehouses and natural foods retailers, including Sprouts Farmers Market, Walmart, Giant Eagle, Wegmans, Raley's, Fred Meyer, Fry's, Meijer, Jewel, Rite-Aid, Albertsons, Kroger, CVS, GNC, HEB, Nordstrom E-bars, and Costco as well as online at Amazon.com, Vitacost.com and EarnestEats.com. For more information, please visit www.earnesteats.com or the company's Facebook Page at www.facebook.com/earnesteats.
For More Information
earnesteats.com/