DAH! Introduces Oat + Almond + Coconut Yogurt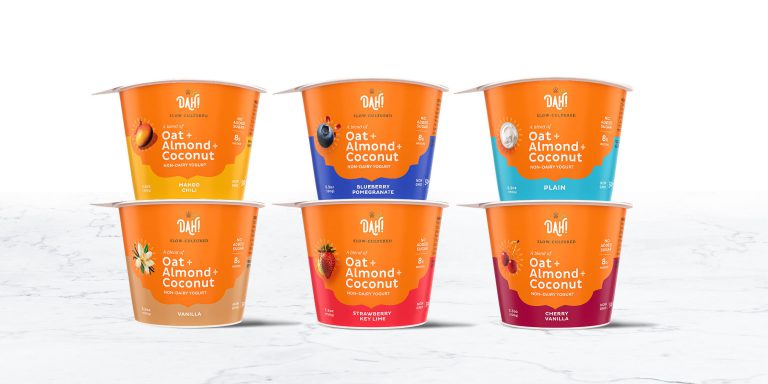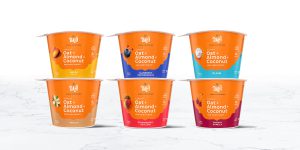 BOSTON— DAH!, America's #1 award-winning India-inspired yogurt,  introduces a brand new non-dairy, vegan yogurt, a blend of Oat + Almond + Coconut made of stone ground oats, almonds and coconut cream to the award-winning line. DAH!'s blended yogurt is bold, bright, balanced, and fun, highlighting rich flavors containing 50 billion probiotics per serving, reflecting the DAH! brand values and uniqueness of its products. DAH! rolls out this new brand addition at Wegmans Food Markets, Jewel-Osco and select H-E-B locations.
Existing non-dairy yogurts do not satisfy consumers' desire for traditional textures and tastes with the added health benefits, only DAH!'s slow-cultured blend can deliver this. Oat + Almond + Coconut yogurt is vegan, Non-GMO and Kosher, blending three unique dairy-free bases to create a yogurt that rivals the best dairy yogurts out there! It contains natural sweetness from the oats, there is no added sugar, has 8 grams of protein coming straight from the almonds, and the smooth and creamy texture is derived from the coconut.
DAH!'s new vegan line offers six differentiated flavors including Mango Chili, Blueberry Pomegranate, Strawberry Key Lime, Cherry Vanilla, traditional Vanilla, and Plain, containing 280 calories per serving.  Available in a 5.3oz cup and retailing for $2.19.
Oat + Almond + Coconut Yogurt  Flavor Offerings:
Mango Chili: A little sweet, a little spicy, the mellow tang of mango with just the
right amount of heat.
Blueberry Pomegranate: Superfoods with super flavors; the bright pop of
pomegranate with the subtle sweetness of fresh blueberry.
Strawberry Key Lime: An island classic with a mainland twist; the tart and tangy
bite of key lime pie with the summertime kiss of strawberry.
Cherry Vanilla: A classic combination born in the ice cream aisle but good enough for breakfast; sweet and creamy with swirls of ripe red cherry.
Vanilla: Smooth and sweet; delicious and straightforward.
Plain: The way yogurt should taste: Balanced and smooth, classically creamy, subtly sweet, and just a little tart.
"When we looked at the current non-dairy yogurts on the market, they were either high in added sugar, low in protein, or used a lot of additives, in other words, not meeting consumer's needs. We needed to not only match the quality of our current yogurts as far as taste and functionality, but we wanted to give the consumer an equitable taste/nutritional exchange from the dairy side. With Oat + Almond + Coconut yogurt, the latest in our invocation pipeline, we created the most functional, tasty, uncompromising, non-dairy (plant-based) yogurt on the market. With 0 added sugar, 2g of total sugar, 8g of protein, 15g of fats, 50 billion probiotics, prebiotics, and a texture like the finest dairy yogurt. This is a game-changing, balanced product." – Co-Founder,  Ajeet Burns
In addition to Oat + Almond + Coconut non-dairy yogurt , DAH! offers three exceptional lines: Lassi yogurt smoothie, Dahi, and non-dairy Almond yogurt cups. The dairy line consists of Lassi (the Hindi name for drinkable yogurt) in 32oz and 7oz bottles and Dahi, whole milk, and low fat in a 32oz tub. The plant-based line consists of Almond Yogurt in one 5.3oz size cup, and now, OAC.
About DAH!
DAH! is the leading India-inspired yogurt company in North America. The company's traditional, slow-cultured process makes its product lines a leader in the yogurt category. DAH! offers traditional Lassi and plant-based yogurt cups in a variety of flavors including Plain, Alphonso Mango, Field Strawberry, Wild Blueberry, Golden Milk, and Madagascar Vanilla.  The latest offerings to join the brand are Dahi, a traditional yogurt made through the slow-culturing process made with whole or low-fat milk, and a blend of Oat + Almond + Coconut non-dairy yogurt, available in Mango Chili, Blueberry Pomegranate, Strawberry Key Lime, Cherry Vanilla, and traditional Vanilla and Plain.  The 2020 Sofi Award Winning brand took home the Gold Award in the 'Yogurt & Kefir' category for its 32oz Lassi Alphonso Mango and the Bronze Award in the 'Plant-Based-Other Dairy' category for its Alphonso Mango Almond yogurt.  DAH!'s Organic Alphonso Mango Almond Yogurt  also was awarded the Spark Change 2020 NEXTY Award for Best New Organic Food category.  The company's products can be found in Whole Foods, Market Basket, Safeway, Walmart, Publix, Wegmans, Erewhon, Bristol Farms and specialty grocery stores. Live DAHliciously!  www.dahlicious.com | Follow @Dahlicious on social media