Cappello's Debuts White And Margherita Almond Flour Pizza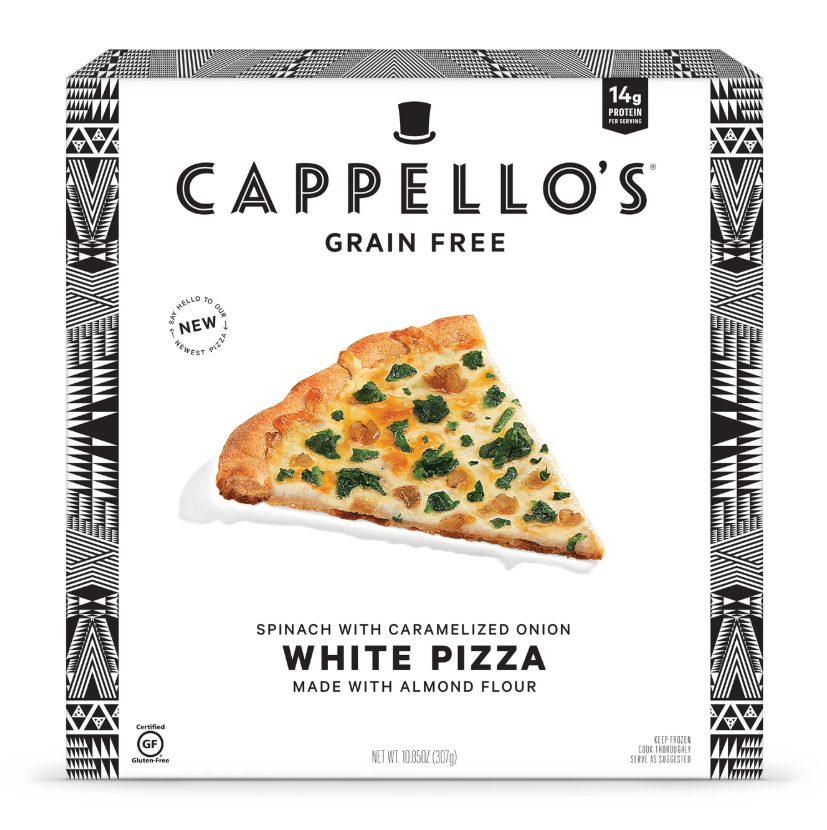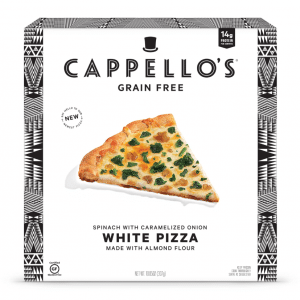 DENVER– Cappello's, the makers of grain-free, frozen-fresh foods, is bringing their marquee line of nutrient-dense almond flour crust pizzas to retailers nationwide including Whole Foods Market and various natural grocers this Spring. Cappello's continues to expand its line of uncompromisingly delicious pizzas with two brand new vegetarian offerings: the FIRST EVER grain-free White Pizza and a drool-worthy Margherita Pizza.
In keeping with Cappello's tradition of supplying the cleanest ingredient ledger of frozen pizzas on the market, both new pizza creations use only carefully chosen, real-food ingredients. As food innovators interested in providing nutritional relevance to the frozen aisle, Cappello's continues to go beyond the moniker of grain-free as they reshape the frozen food paradigm in a more sustainable direction focused on simple, real-food ingredients that everyone can enjoy.
These carefully crafted new pizzas are frozen at peak freshness as it allows the team to bring consumers the best tasting, conveniently cooked bite to enjoy in the comfort of their own homes for the best value. These craveable masterpieces make for an easy and time-efficient meal that can be served in less than 15 minutes and enjoyed by everyone in the house regardless of diet. Each new offering features Cappello's signature almond flour crust that was launched last year and has received an extraordinary response since coming to the market. This crust is filled with protein, fiber and healthy fats, and never compromises on taste or texture even in comparison to their wheat-based counterparts.
The history-making White Pizza features spinach and caramelized onion atop a creamy white garlic sauce and offers plant-paradox friendly eaters a savory, nightshade-free option. The Margherita Pizza is made with tomato, basil, roasted garlic, and whole milk mozzarella. These clean ingredients help breathe new life into a pizza classic providing the brightest pop of Margherita flavor in the frozen food aisle.
"Now more than ever, our consumers are looking to classic comfort food favorites such as pizza to bring a sense of normalcy back into their lives," said Ben Frohlichstein, co-Founder and co-CEO of Cappello's. "As a brand that has been providing delicious, restaurant-quality foods in grocery stores for almost a decade, we are proud to have the opportunity to prepare delicious and nutritionally relevant options for anyone who needs a slice of pizza right about now."
Cappello's White Pizza and Margherita Pizza will retail for $9.99 in natural grocers nationwide including Whole Foods Market and online at cappellos.com for $12.00. To learn more about Cappello's please visit www.cappellos.com or visit the brand's Instagram page Instagram.com/Cappellos.
About Cappello's
Friends and Co-founders Ben Frohlichstein and Stacey Marcellus had always shared a love for cooking and feeding people. After Ben and Stacey had parallel experiences working on farmlands, they were inspired to bring a new kind of food into the world that was filled with nutritionally relevant ingredients, and tastes and textures that rivaled the classics. And thus, the world's first almond flour pizzas, pastas and cookie doughs were born. Today, Ben and Stacey lead a team of spirited food lovers, guiding Cappello's on its mission to set a new standard for frozen foods that shift the prepackaged paradigm in a sustainable direction focused on simple, real foods. For more information, please visit www.cappellos.com and Instagram.com/Cappellos.
For More Information
cappellos.com