Voilà and Mizuba Tea Co. Partner on Single-Serve Matcha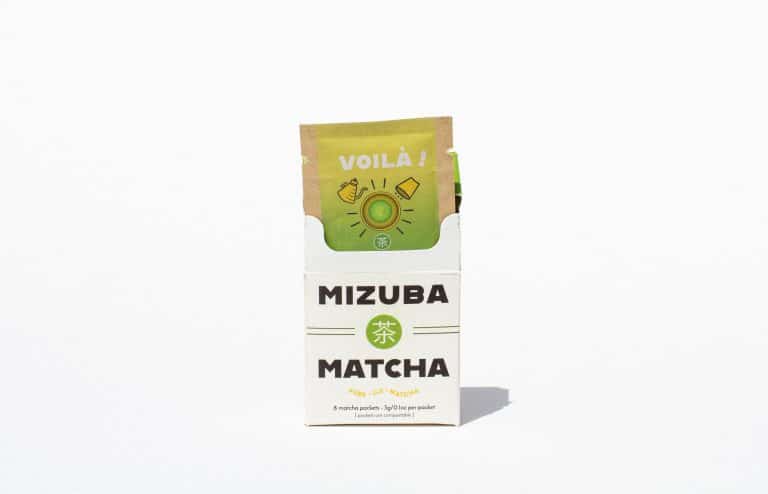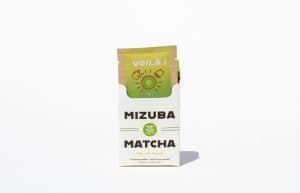 BEND, Ore.— Voilà and Mizuba Tea Co. has announced a partnership that will give tea lovers the ability to drink Mizuba's Matcha anytime and anywhere. On July 19, 2019 the first single-serve Matcha by Portland-based Mizuba Tea Co. will be released in partnership with Voilà. Mizuba Tea Co. sources pure matcha green tea from a small family manufactory in Uji, Japan – recognized as the highest quality tea growing region in Japan and birthplace of Japanese green tea. The partnership brings the highest quality matcha into recyclable boxes containing 8 single-serve, compostable packets.
Voilà Specialty Instant Coffee revolutionized the specialty coffee industry by reinventing the way traditional instant coffee is made; each cup is meticulously handcrafted from the highest quality specialty coffees in the world, upholding the quality from farm-to-cup. Voilà brings accessibility to specialty coffee by giving customers the ability to try high-scoring specialty coffees without investing in expensive equipment. The packets of coffee (and now Pure Matcha Green Tea) can be taken anywhere – all that is needed is water – to make an amazing cup.
Mizuba Tea Co. works with small family matcha producers in Uji, Japan to bring traditional and pure matcha green tea of integrity to customers. As a direct-trade company and an "Official Uji Cha Tea Dealer," Mizuba Tea Co. personally knows, visits, and counts as friends the producers who strive to uphold Uji matcha heritage. Each Mizuba Matcha tea is lovingly crafted from shade-grown tencha tea leaf and slowly stone-milled into a fine matcha powder that you can whisk traditionally, contemporarily shake in a thermos, or blend into a latte.
Lauren Purvis, founder of Mizuba Tea Co., focuses on upholding the integrity of matcha and said "single serve has long been an evolution in convenience, but Mizuba was not going to jump on the bandwagon unless we found a company that leads the speciality market in quality, knows how to treat Mizuba matcha with integrity, and is on the same page in moving the market toward sustainable, eco-friendly packaging. Voilà hits all the marks! We are so proud to partner with the amazing people at Voila. We've been dreaming of the day that exceptional matcha meets adventure – we're ready to take a matcha moment anywhere!"
Kent Sheridan, founder of Voila, spoke about the collaboration saying "we've long been obsessed with Mizuba matcha as our go-to drink once we're maxed out on coffee. It's delicious and gives a pure, balanced, energy and mental focus that makes you feel amazing. Like our coffee, we only settle for the very best and the very best in tea is Mizuba Tea Co. We think our collaboration is a huge game-changer for enjoying some of the highest quality, ethically sourced, matcha available in an accessible, shareable, travel-friendly, and eco-friendly way."
Voilà and Mizuba will be selling their on-the-go matcha online at voila.coffee and mizubatea.com starting July 19, 2019.
About Voilà
The vision of Voilà is to make the best instant coffee in the world with full transparency from farm to roaster to cup – allowing anyone from a master barista to your average joe to enjoy a surprisingly balanced and delicious cup of coffee in seconds. This naturally lets customers try new coffees from roasters all across the world, broadening their palate and enjoyment for the world of high quality, ethically sourced coffees. Voilà has 14 coffee roaster partners in the U.S. and continues to expand, with instant coffee available at voila.coffee through a monthly subscription or as a one-time purchase.
About Mizuba Tea Co.
Mizuba Tea Co. works with small family matcha producers in Uji, Japan to bring truly beautiful, traditional, and pure matcha green tea of integrity to our community. As a direct-trade company and an "Official Uji Cha Tea Dealer," Mizuba is certified-organic, nonGMO, certified radiation-free, certified heavy-metal free, gluten-free, and 100% delicious! By choosing Mizuba Matcha, you're ensuring the iconic traditions of Uji matcha & Japan live on. See our favorite ways to take a #MatchaMoment at @MizubaTeaCo on Instagram and at www.mizubatea.com.