Uncle Dougie's Launches New Organic (Way More Than) BBQ Sauces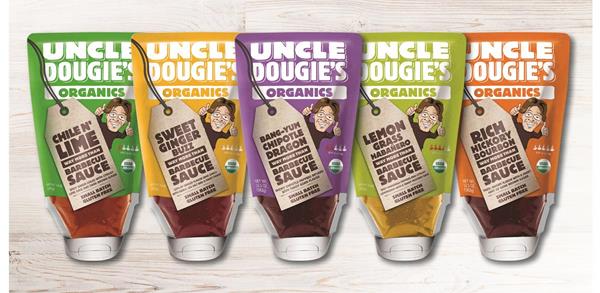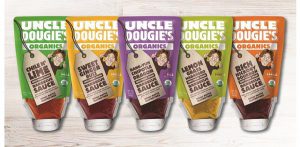 CHICAGO— Uncle Dougie's debuted a new line of USDA certified Organic BBQ sauces in a unique, convenient squeeze pouch on March 1, a response to research conducted with more than 1,000 passionate consumers. Uncle Dougie's products have developed a loyal following across the U.S. and Canada for being 100 percent natural, gluten-free, preservative free, non-GMO and made only in small batches "before it was a thing," as founder Doug "Uncle Dougie" Tomek often says.
The five-flavor USDA Organic line joins a line-up of Uncle Dougie's Sauces, Drink Mixes, Hot Sauces and Dry Rubs. In addition to select grocery chains and specialty stores, the new line will be available online alongside other Uncle Dougie's products at originaluncledougies.com.
"Make it Organic. They Gotta be Unique. Get Rid of the Glass Bottle."
"We talked to men and women across the country who are heavy BBQ Sauce users. They're a confident bunch and they had very straightforward feedback," said CEO Rob Johnson. "They wanted an organic product to cut through the clutter of health claims. They wanted it to be different than 'the standard, boring BBQ sauce flavors out there.' And frankly, they were damn tired of dealing with the messy cap and spout and never being able to get the last 10 percent of the sauce out of the typical glass and plastic bottles."
So the Uncle Dougie's team set out to design a solution to the challenges they heard from consumers. The team spent 2018 developing a unique line of organic BBQ sauces smartly packaged in consumer-friendly inverted squeeze pouches. The line debuted to rave reviews from retailers and consumers last month at the Winter Fancy Food Show in San Francisco.
Unique Flavors (Way More Than) BBQ Sauces
Johnson said: "We wanted to introduce some new, interesting, yet accessible flavors. Flavors cooks would find different from the standard sauces, but something that would be super versatile that everyone would enjoy."
The new USDA certified Organic line includes:
Organic Rich Hickory Bourbon (Way More Than) BBQ Sauce
Organic Sweet Ginger Buzz (Way More Than) BBQ Sauce
Organic Chile 'N' Lime (Way More Than) BBQ Sauce
Organic Lemongrass Habanero (Way More Than) BBQ Sauce
Organic Bang-Yum Chipotle Dragon (Way More Than) BBQ Sauce
The inverted squeeze pouches are PET-free and will retail for $4.99 per 13.5 oz. pouch.
First Sauce Line Ever in Squeeze Pouch Packaging
"The packaging is a real break from the category," said Johnson. "The inverted squeeze pouches make it easier for cooks to use our sauces in recipes or for dipping. It also virtually eliminates the mess that typically collects around the lip of typical bottles. We think it's going to change consumers' expectations for BBQ Sauce."
Johnson also noted that the shape of the inverted squeeze pouches makes them an easier canvas for communicating with consumers. "The shape alone is fun for shoppers and makes it easier for us to communicate both our brand and our "no crap" approach to ingredients." Each flavor has its own fun, friendly, bright color making the line incredibly visible on the retail shelf.
Original Uncle Dougie's Found at Major Retailers and Specialty Stores
The company's "good and good for you" products can be found at Whole Foods Market, Mariano's, Albertsons, Jewel, Lucky's Markets, Woodman's Markets and other fine grocers in the U.S. In Canada, Uncle Dougie's products can be found at Whole Foods Market, Loblaw's, Safeway, Sobeys, Metro and other fine foods stores.
About Original Uncle Dougie's, LLC
At Uncle Dougie's, we stand by a "no crap" commitment to clean-label integrity. We believe that the fresh, wholesome, natural riches of the Earth should be carefully stewarded, and that means no cheap, profit-driven shortcuts, no crappy industrial chemicals and no artificial additives, cheap gluten extenders or GMOs. Our sauces, mixes and seasonings are the product of a commitment to delivering the highest-quality, best-tasting food complements on the planet, and everyone has a seat at our table. For more good, clean fun, visit: https://originaluncledougies.com.
About SCCventures
SCCventures is the private equity unit of Schafer Condon Carter (SCC), an independent creative and technology agency that delivers transformative brand and business ideas to drive results for its clients. SCCventures provides funding and intellectual capital for start-ups and growth brands in the food and technology sectors. Portfolio investments include Uncle Dougie's, and Social Market Analytics. SCC agency clients include Procter & Gamble, Johnson & Johnson, National Pork Board, Pepsico, Chicago Cubs, Ideal Industries, Friendly's Restaurants and Solo Cup Company among others. Headquartered in a landmark building in Chicago's historic West Loop district, SCC has a full-time staff of over 120. To learn more about SCC, visit: schafercondoncarter.com.