Traina Foods Launches Two New Home Grown Fruiton Flavors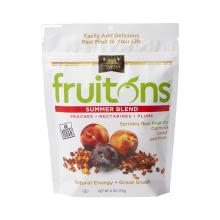 PATTERSON, Calif.— Traina Foods, located at 280 S. First St., Patterson, California, has released two new additions to its line of Traina Home Grown fruitons, which feature bite-size real fruit that has been sun dried to intensify flavor while maintaining the nutrients of their fresh counterparts.
"At Traina Foods, we are dedicated to the continued development of dried foods as a way to bridge the gap between the recommended intake of fruit and actual consumption," said Willie Traina, CEO of Traina Foods.  "There are so many health benefits of regular dried fruit intake including reduced rates of cardiovascular disease, obesity, Type 2 diabetes and other illnesses. Traina Foods new Home Grown fruitons give consumers another delicious way to incorporate more fruit into their meals."
The new flavors include Natural Cherry and the Summer Blend featuring dried peaches, nectarines and plums. Other fruitons include the All-American Blend — including peaches, cranberries, grapes, apples and blueberries — and Seasoned Sun-Dried Tomatoes.
Fruitons are available in 6 oz., resealable packages and individual .75 oz. packages for take-along convenience.
Traina Home Grown fruitons can be used to add a nutritious and flavorful element to any meal from oatmeal and yogurt parfaits at breakfast and salads at lunch to hearty yet healthy pasta dinners. The entire fruitons line, as well as all of Traina Foods dried fruit varieties, is available for purchase at trainafoods.com.
About Traina Foods
Founded in 1926 and still family owned and operated today, Traina Foods is the largest purveyor of sun dried fruit in the United States and a modern global supplier of imports and exports. With a reputation in the food industry as one of the best quality producers of sun dried fruits, Traina Foods has expanded its product line to include a wide variety of sun-dried products including barbeque sauce. Headquartered at the original farm in Patterson, California, the company is committed to maintaining its roots of creating all natural products the old-fashioned way — combining more than 100 years of experience and family tradition with the most advanced state-of-the-art technology and quality assurance. For more information visit trainafoods.com.