The ZenSweet Company Launches ZenSweet Baking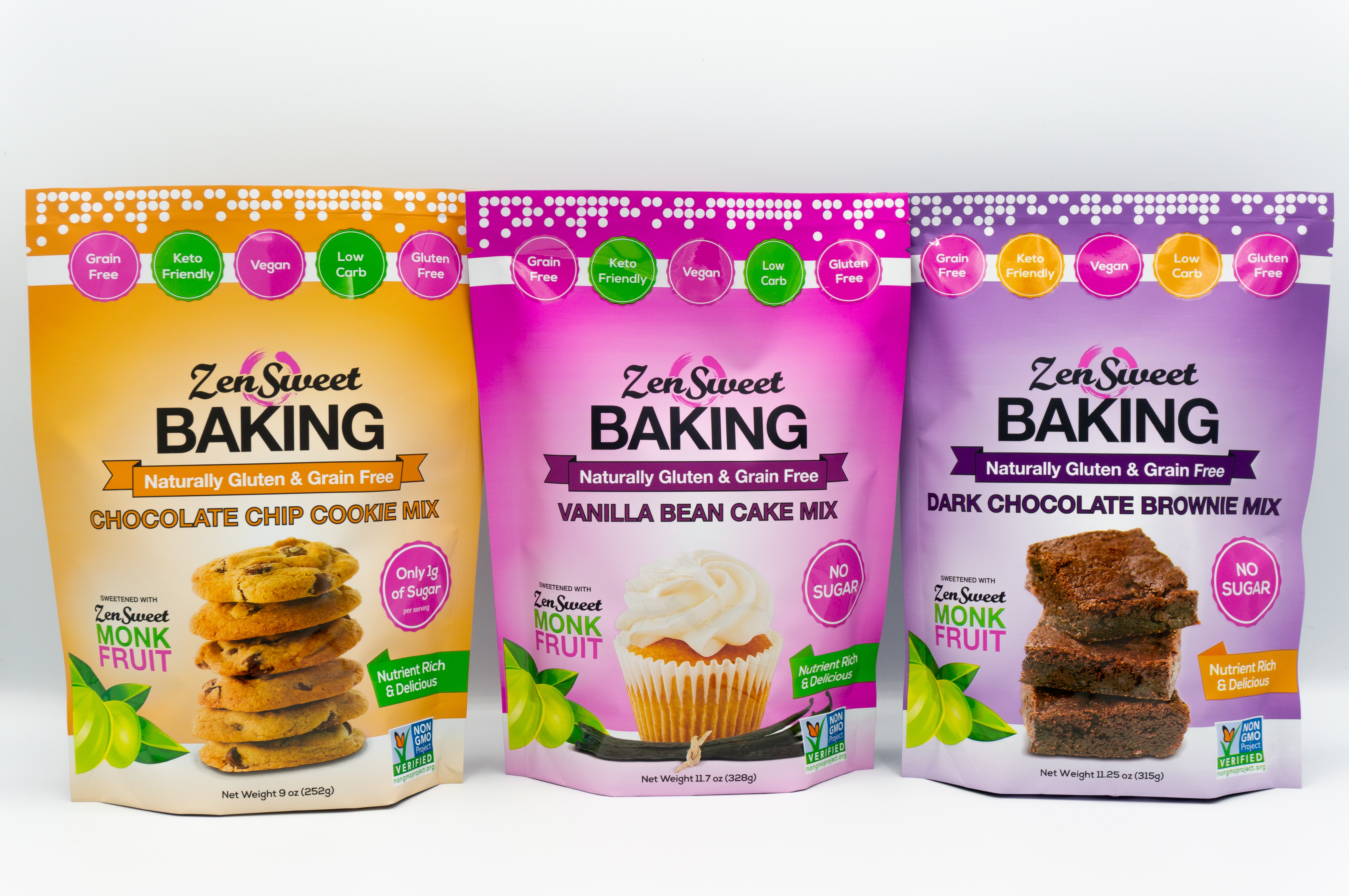 LIBERTYVILLE, Ill.— Following a Keto, low carb, no sugar, or grain-free diet can be difficult if you are looking to eat something sweet or serve family and friends.
Riding on the success of ZenSweet Monk Fruit Sweetener, Michelle and Corey, founders of The ZenSweet Company, launch three varieties of ZenSweet Baking into all 55 Midwest Whole Foods Markets. With up to 70% less calories than leading baking mixes, ZenSweet Baking is low in carbs, contains NO Sugar and is Non-GMO Project verified.
ZenSweet Dark Chocolate Brownie Mix, Chocolate Chip Cookie Mix and Vanilla Bean Cake Mix are made with nutrient dense, high quality ingredients including extra dark chocolate, real vanilla beans and organic Ceylon cinnamon. The baking mixes are Vegan and include directions to prepare with conventional dairy or vegan ingredients.
"Customers of ZenSweet Monk Fruit Sweetener wanted something easy to use and did not always want to cook and bake from scratch. ZenSweet Baking is the answer to great tasting, healthier baking," said Michelle Francis, founder of The ZenSweet Company. "Our family lives a grain-free, no sugar lifestyle and it's hard to believe that nothing like ZenSweet Baking is available in grocery stores nationwide. We crafted ZenSweet Baking mixes to taste like conventional baking mixes so you don't have to miss out on indulgence while leading a healthy eating lifestyle."
Battling late-stage Lyme disease, Michelle's life mission is to share simple ideas for a healthy, happy existence on their blog www.ZenSweetLife.com. Corey and Michelle understand the constant pressure of unhealthy snack and dessert foods. "We love sweets, who doesn't. But we couldn't live with sugar in our diet anymore, especially when it came to our kids. We're thankful to present a real solution to the current sugar dilemma with ZenSweet and ZenSweet Baking. ZenSweet is on a mission to bring Sugar FREEdom to all!"