Sprout Living Launches New Superfood-Packed Epic Protein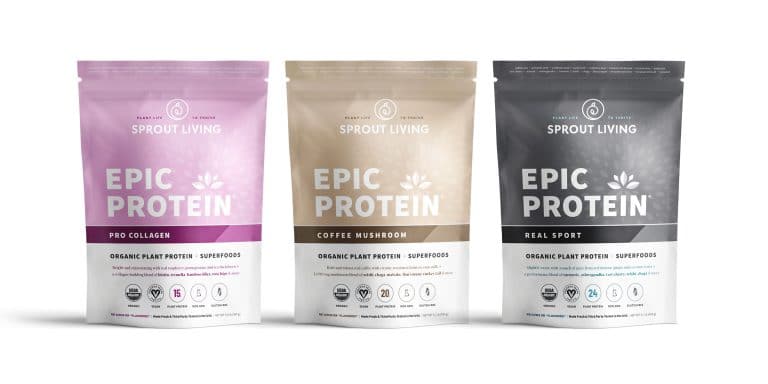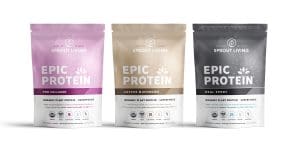 CHICAGO— Sprout Living, a leader in clean plant-based nutrition, announces the launch of an extension to their best-selling Epic Protein line. Along with complete multi-source protein, new Epic Protein Premium includes the addition of powerful superfoods and adaptogens. The line extension includes three variations: Epic Protein: Pro Collagen, Epic Protein: Coffee Mushroom and Epic Protein: Real Sport.
Sprout Living founder and CEO Mark Malinsky describes the market's interest in boosters like chaga, ashwagandha and acerola along with the ever-growing demand for natural ingredients, transparency and functionality as being key drivers behind the new products.
"Like with anything we do, we believe function should be the driving force behind any product. Our Pro Collagen, Coffee Mushroom and Real Sport versions of Epic Protein are perfect examples of that. As is expected with Sprout Living, we always take it several steps further than the competition when it comes to quality and taste, all while never considering "natural" flavoring, gums or additives. We say, "tastes real because it is" because our flavor and texture do in fact come entirely from real ingredients."
Sprout Living's Epic Protein Premium can be purchased online at sproutliving.com, other major e-tailers and will be made available at grocery, natural food and specialty retail stores nationwide.
About Sprout Living
Chicago-based Sprout Living crafts nutrient-dense, organic plant protein powders and functional foods that are made strictly from whole superfoods packed with vitamins, minerals, antioxidants and other phytochemicals without any additives, ever. Sprout Living has established itself as the leader in the plant-based natural health and performance products industry and is committed to inspiring wellness, happiness and balance in every person by creating and sharing the purest products and initiatives.
For more information, please visit sproutliving.com, join Sprout Living on Facebook at facebook.com/SproutLiving and on Twitter and Instagram at @SproutLiving
For More Information
www.sproutliving.com