Re:THINK Ice Cream Introduces Vanilla Supreme Flavor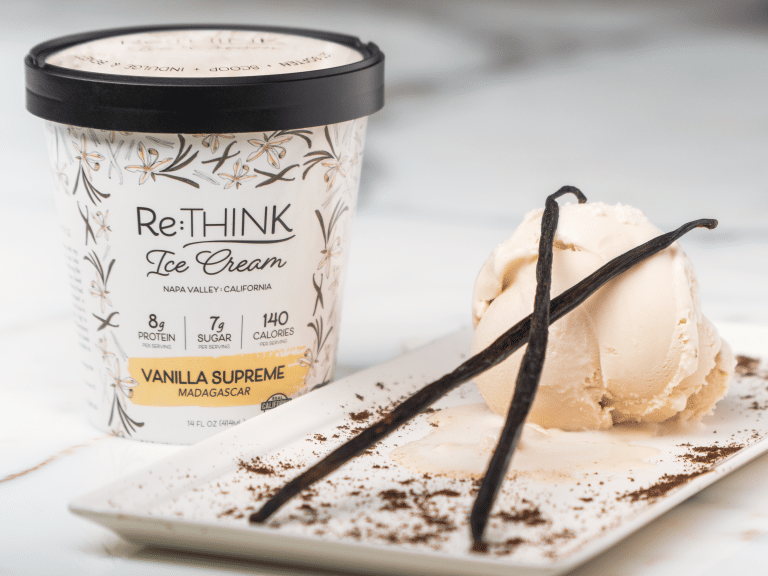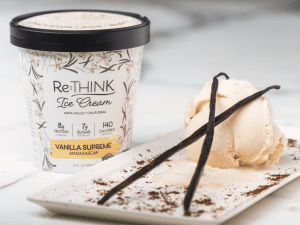 NAPA, Calif.— Napa-based Re:THINK Ice Cream, the Ice Cream for a Healthy Lifestyle, is pleased to introduce its newest flavor, Vanilla Supreme. Vanilla Supreme can be found in the freezer sections of select Nugget Markets in Northern California and Gelson's in greater Los Angeles, as well as select independent supermarkets.
Re:THINK offers an ice cream experience that's just as satisfying as traditional premium ice cream but has approximately half the calories, one-third of the sugar and one-third of the carbohydrates, is low glycemic and is loaded with protein, prebiotic fiber, anti-inflammatories and antioxidants. Vanilla Supreme is the perfect foil to summer fruit.
Founded by George Haymaker in July 2018 and growing fast, the company has already secured distribution at more than 200 supermarkets in California and Utah—most recently, Whole Foods and Raley's throughout Northern California, Gelson's in greater Los Angeles, and Harmons in Utah.
Vanilla Supreme brings the number of Re:THINK flavors to nine, with five more in development (SRP $6.99). All flavors have the Real California Milk seal, are low glycemic certified and have additional health benefits. Each ingredient—carefully chosen for its proven health benefit—blends together seamlessly to create a rich, creamy, flavorful and satisfying dessert that ice cream enthusiasts can feel good about eating.
Vanilla Supreme – Made with Madagascar vanilla, the gold standard of vanilla, this is vanilla ice cream at its best: clean, rich and ready for anything!
Mint with Chocolate Flakes – This classic ice cream flavor balances the essence of fresh garden mint with the richness of dark chocolate flakes scattered in every scoop.
Chocolate Majesty – This rich chocolate ice cream is made with San Francisco-based favorite Ghirardelli Majestic Cocoa and dark chocolate flakes. It is rich, creamy and fit for royalty.
Meyer Lemon Poppyseed – A favorite scone flavor in ice cream form, with the essence of Napa Valley's favorite citrus combined with generous sprinkles of poppyseeds.
Coconut Matcha – Made with a delicate balance of matcha green tea and organic unsweetened coconut flakes, this ice cream is a daily scoop of Zen.
Coffee Hazelnut – The aroma and flavors of everyone's favorite morning ritual in a coffee-infused ice cream finished with a hint of roasted hazelnuts.
Turmeric Ginger – This ice cream is intense in taste and appearance thanks to the warm, spicy tang of ginger and bold hue of turmeric.
Almond Asteroid – No other scoop in the galaxy compares to this ice cream packed with roasted almonds and lots of dark chocolate flakes.
Cardamom Pistachio – An old-time favorite, pistachio ice cream, complemented by cardamom sprinkles and chunks of pistachios.
Haymaker started Re:THINK Ice Cream after many years of struggling with and recovering from drug and alcohol addiction. He had to "rethink" his life and his lifestyle choices to become and stay sober. Re:THINK is Haymaker's way of helping people make healthier choices without sacrificing the experience, flavor or quality of an indulgent ice cream.
Re:THINK reduces its sugar content per serving by using natural agave syrup, which is three to four times sweeter than regular sugar and requires less to achieve the same sweetening effect. The company does not use any sugar alcohol or artificial sweeteners to sweeten its products. The ice cream packs in 30 grams of protein per pint by mixing 100 percent isolate whey protein into a Real California Milk base. Finally, Re:THINK incorporates non-caffeinated green tea extract into each of its flavors for its anti-inflammatory and antioxidant properties. The ice cream also includes organic inulin, a prebiotic fiber that helps to promote a healthy gut and regular digestion.
About Re:THINK Ice Cream
Founded in 2018 by George Haymaker, Re:THINK Ice Cream is a Napa-based ice cream company that values eating healthfully while still satisfying the consumer's need to feel indulged. Re:THINK delivers a rich, creamy, authentic ice cream experience with added nutritional benefits that include low calorie, low sugar, low carbs, low glycemic, whey protein, pre-biotic fiber, anti-inflammatories and antioxidants. A portion of Re:THINK's profits support worthy causes including addiction treatment, animal rights and care, children's education and melanoma research. For more information and retail availability, visit rethinkicecream.us or join the @rethinkicecream community on Instagram and Facebook.