Perfect Snacks Launches Perfect Bites Bite-Sized Snacks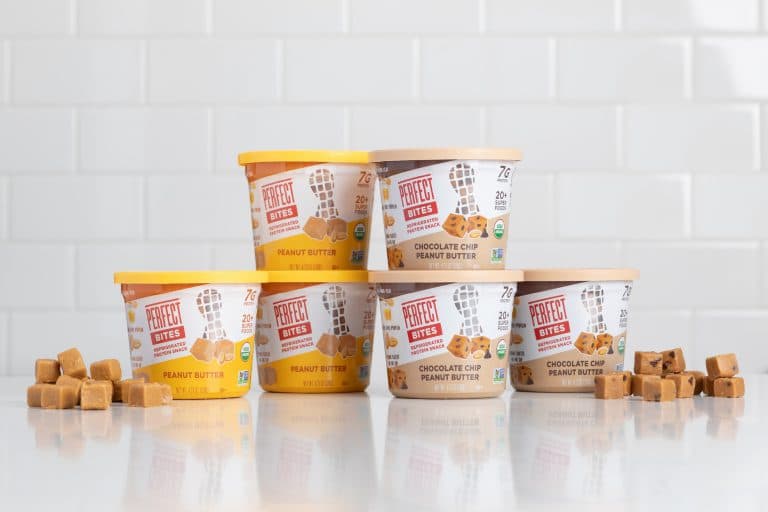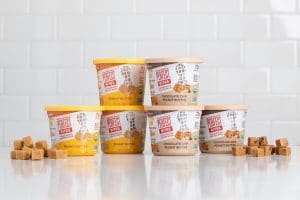 SAN DIEGO– Perfect Snacks, leaders in the fresh-snacking category since 2005, is once again spearheading innovation in the refrigerated set with its newest product line, Perfect Bites. Perfect Bites is a fresh-from-the-fridge, bite-sized snack made with organic peanut butter, honey, whole food protein and superfoods. With four servings per cup, Perfect Bites is a shareable and portable treat for any time of day.
Maintaining the quality and clean-food credentials of Perfect Snacks' other two product lines, Perfect Bar and Perfect Kids, Perfect Bites has 7 g of whole food protein and 20 organic superfoods in each serving, is USDA Organic, Project Verified Non-GMO and low-GI.
This month Perfect Bites' two flavors, Peanut Butter and Chocolate Chip Peanut Butter, are available in the refrigerated section of Harris Teeter, Wegman's, Safeway Southwest, Sprouts and Mariano's, as well as online at perfectsnacks.com.
"We couldn't be more excited to show up to Expo West as Perfect Snacks after spending the last 14 years paving the way for fresh snacking with The Original Refrigerated Protein Bar," said Perfect Snacks CEO and co-founder Bill Keith. "With the growth of our Perfect Bar and Perfect Kids lines, expanded distribution, and the rise of fresh snacking across the industry, our brand is at a true inflection point and primed to extend our offerings beyond bars, further filling out the fresh snacking set."
The launch of Perfect Bites comes after Mintel's study, 'The Future of Fresh,' reported that 'Is fresh' is the number one purchase driver for Millennials and iGen consumers when shopping for food. Additionally, the fresh perimeter of the grocery store is growing at 2.1 times the rate of the center aisles.
With innovation at the forefront of the company's initiatives, Perfect Snacks continues to grow in both category market share and distribution throughout its various grocery channels, experiencing 80 percent YOY total revenue growth in 2018.
Perfect Bar is the number one refrigerated bar in the US across retail channels, and in conventional grocery, the brand has grown by 128 percent. The launch of Perfect Kids shows 100 percent incremental growth, validating consumer demand for all-family fresh snacking options.
"Perfect Bites is our first foray into innovation outside of bars, after hearing directly from our fans that a portioned, portable snack to enjoy during other day parts would help them stick to their healthy habits throughout their day, without compromising on quality or taste," said Perfect Snacks president and co-founder Leigh Keith. "After further consumer taste tests and collaboration with our innovation team, we crafted Perfect Bites as an ideal snack in between meals, before a workout or as a midnight treat. The initial feedback in retail has been incredibly positive and we look forward to further expansion nationwide."
In addition to the two new Perfect Bites flavors, Perfect Snacks encompasses Perfect Bar's existing line of 12 peanut-, almond- and cashew-butter varieties, each gluten-free, Project Verified Non-GMO and low-GI, with up to 17 grams of whole food protein and 20 organic superfoods.
Perfect Kids, which launched in fall 2018, is the first organic kids' snack bar found in the fridge, made with similar ingredients to Perfect Bar, but with the addition of gluten-free oats and eight, kid-friendly superfoods. While all Perfect Snacks products are found in the refrigerated aisle of grocers nationwide, they stay fresh on the go, with respective timeframes by product line.
Perfect Bites will be available alongside other Perfect Snacks products, as well as online at www.perfectsnack.com, beginning March 2019 with a suggested retail price of $3.99 per four-serving cup.
About Perfect Snacks
Perfect Snacks is a collection of fresh-from-the-fridge protein snacks for the whole family. Made with clean ingredients like freshly-ground nut butter, organic honey and superfoods, the brand's nutrient-dense products offer a delicious dose of whole food protein on the go. Makers of Perfect Bar, The Original Refrigerated Protein Bar and founded by The Keith Family in 2005, Perfect Snacks boast clean-food labels and are gluten-free, Project Verified Non-GMO, low-GI and kosher. Find Perfect Snacks products in the refrigerated section of retailers nationwide, including Whole Foods Market, Target, Costco, Trader Joe's, Starbucks, Safeway, Kroger and more, as well as online. To learn more or find a fridge near you, visit www.perfectsnacks.com.