One Culture Foods Launching Two New Instant Noodle Cup Flavors at Expo West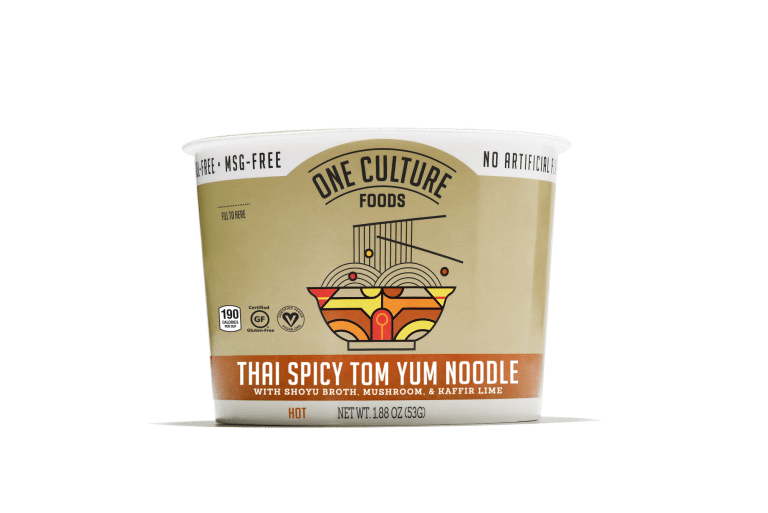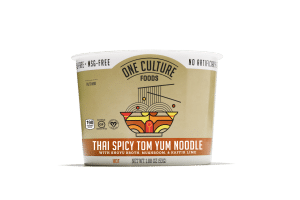 LOS ANGELES— One Culture Foods will expand its line of clean label instant noodle cups with two new heritage flavors, Japanese Miso Ramen with Shoyu Broth, Nori & Scallions and Thai Spicy Tom Yum Noodle with Shoyu Broth, Mushrooms & Kaffir Lime. The exciting new flavors are the first vegan additions to the noodle cup line from One Culture. Their Bone Broth Noodle Cups debuted in 2018 and are now sold in over 3,500 stores nationwide across the Natural, Conventional and Mass channels.
The natural, elevated noodle cups provide the real flavor of the Asian-American experience and convenience without compromising on values or lifestyle. They contain no MSG, cholesterol, artificial flavors or preservatives and are only made with non-GMO ingredients. Most importantly, they are super tasty!
The existing flavors in the line are Japanese Spicy Ramen with Bone Broth, Nori & Scallions; Vietnamese Beef Pho with Bone Broth, Warm Spices & Cilantro; Chinese Chicken Noodle with Bone Broth, Ginger & Shiitake; and Taiwanese Beef with Bone Broth, Five Spice & Cilantro.
Founder Hansen Shieh, created One Culture to share his passion for bold, in-your-face global flavors and foods with others. The first line of products he created is a line of natural, Asian-inspired sauces that deliver ambitious global flavors, simply. The versatile sauces highlight hero ingredients within meticulously balanced flavor profiles as convenient one-jar solutions for busy home cooks.
About One Culture Foods
One Culture Foods is an Asian-American brand that provides convenient culinary delivery. We believe that food is one of those universal languages that reminds us that we are all more similar than we are different. At One Culture we embrace our commonalities while celebrating our beautiful differences through the universal language of food. We aim to be a small reminder that we are all part of one shared human culture. Learn more about One Culture Foods at oneculturefoods.com and follow them on Instagram @oneculturefoods. For additional information please contact hello@oneculturefoods.com.