Oats Overnight Launches Vegan Line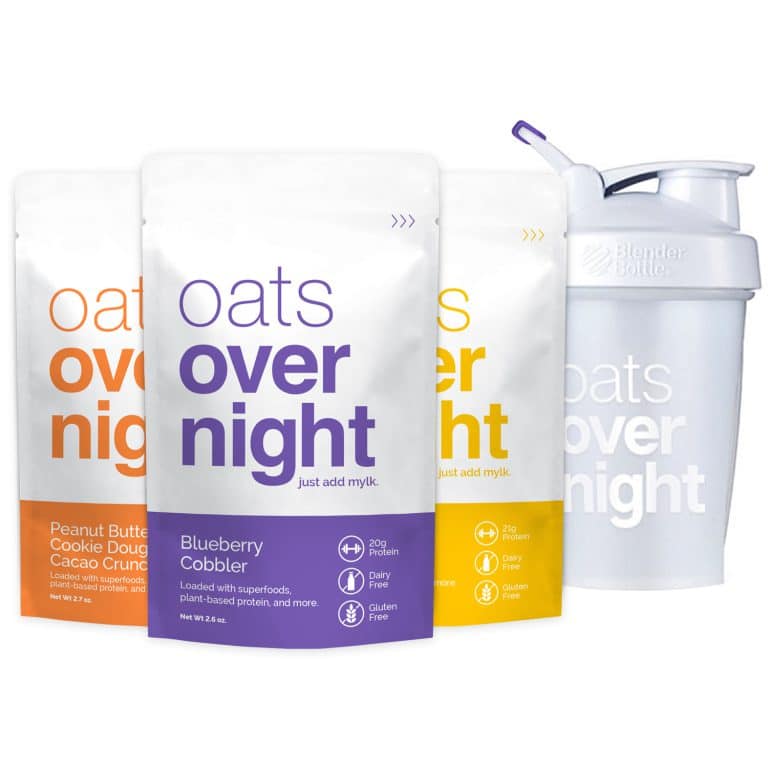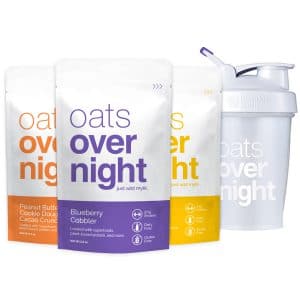 TEMPE, Ariz.— Oats Overnight, leading brand in the overnight oats category on Amazon, has expanded its product portfolio with a new line of plant-based flavors. Currently available exclusively on Amazon and OatsOvernight.com, the plant based line is made with custom pea protein to match the three individual flavor profiles.
The new plant based flavors include Maple Pancakes, Blueberry Cobbler and Peanut Butter Cookie Dough Cacao Crunch. Each flavor includes custom pea protein, superfoods such as flax seeds and maca root, and more than 20 g of protein per serving. In addition, the plant based flavors are vegan, gluten free and contain less than 9 g of sugar per serving.
To prepare Oats Overnight, consumers add 8 oz. of their preferred milk alternative to one package of oats, shake in the provided Blender Bottle and refrigerate overnight for a ready-to-enjoy, drinkable breakfast in the morning.
Pricing includes Starter Packs (including Blender Bottle) – MSRP $20; 12-Pack (single or mixed flavor) – MSRP $49; and 24-pack (single or mixed flavor) – MSRP $89. To learn more or place an order, visit OatsOvernight.com.
About Oats Overnight
Oats Overnight launched in 2016 as a delicious, nutritious and convenient solution to breakfast. The product requires minimal preparation, resulting in a high-protein meal that is meant to be enjoyed on the go. With a commitment to quality, Oats Overnight uses certified gluten free oats and superfood ingredients like maca root, raw cacao, hemp, coffee and more. Each flavor packet is low in sugar and offers more than 20 g of custom-made protein created to perfectly match each flavor. The product comes in five classic flavors made with Whey Protein and three dairy free, plant-based flavors made with Pea Protein. Each flavor release has been the no. 1 new oatmeal product on Amazon, with several flavors rated as Amazon's Choice.
Like what you're reading?
Subscribe to BevNET+NOSH Today
Subscribe today and get access to the leading industry resources in the food &amp beverage industries. News, trends, industry data, expert analysis and much more.
Access all of these benefits:
Unlimited access to all content on BevNET.com and NOSH.com
Exclusive access to hundreds of educational videos
Watch subscriber-only live programs such as Office Hours