NuNaturals Launches Natural Sugar-Free Pourable Syrups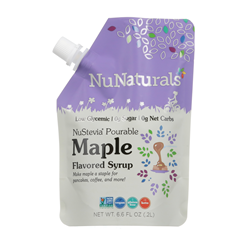 EUGENE, Ore.— NuNaturals, a pioneer in premium natural sweeteners, is thrilled to introduce a new natural, sugar-free line of Pourable Syrups. This breakthrough innovation is the first of its kind and delivers yet another choice for those following a keto, paleo or low-sugar lifestyle.
Building on its latest innovation, a new zero calorie Stevia and Monk Fruit Organic Sweetener which launched in all Sprouts Farmers Market stores this September, NuNaturals continues to deliver more choices for those craving low or no sugar products in their pantry. The Pourable Syrups are available in Vanilla, Chocolate and Maple flavors year-round, plus seasonal flavors, including Pumpkin Spice and Chai, satisfying a broad range of occasions.
The average vanilla latte contains 35 grams of sugar. Using NuNaturals Pourable Syrups, adults can enjoy a vanilla or chocolate latte with zero grams of sugar or sweeten oatmeal and yogurt – without worrying about sugar content! Kids can enjoy pancakes with Maple flavored syrup, without the added sugar rush at the start of the day. Throughout the day, adults and kids alike can enjoy many of the foods and beverages they typically would, guilt free.
According to the World Health Organization (WHO), current evidence suggests that increasing consumption of sugar-sweetened beverages is associated with weight gain. Therefore, reducing consumption of sugar-sweetened beverages and food would also reduce the risk of unhealthy weight gain in adults. Thus, WHO reduced its recommendation on sugar intake recommendations from 10 percent of a daily calorie intake to five percent. For an adult of normal body mass index (BMI), that works out to about six teaspoons, or 25 grams of sugar per day.
"As more consumers recognize the need to lower their sugar intake, we want to deliver options that they can use across multiple occasions. We can already think of 12 ways to use our Pourable Syrups, and we know our consumers will think of even more! As a family owned business for nearly 30 years, we are excited to innovate products that improve the health of the whole family. We know it's about a lifestyle, and a core element of any healthy lifestyle starts with diet," said Jake Sablosky, President of NuNaturals and son of the founder.
Stevia has been used in South America for hundreds of years, and the NuNaturals team has worked hard to deliver great tasting, non-bitter NuStevia, a premium, high-quality stevia extract, to U.S consumers. As more medical health professionals recommend reduced sugar intake, consumers can rely on NuNaturals to bring premium, high-quality products to store shelves.
The new Pourable Syrups are available in a spouted pouch that makes for a clean pour and is easy for kids to use. The products are Non-GMO Project Verified, vegan, gluten-free and keto, plus, low-glycemic, and consumers can enjoy clean labels on the packaging. The Chocolate flavor is made with Organic, Fair Trade Certified Cocoa, assuring users that it is responsibly sourced.
Consumers can find Chocolate, Vanilla and Maple Pourable Syrups exclusively on Amazon and in Whole Foods stores. Pumpkin Spice and Chai will be available on Amazon and in Albertsons and Safeway stores across Oregon in the fall and winter. The 6.6 ounce pouches have 13 servings and a suggested retail price of $7.99.
For additional information and recipe suggestions follow us on Facebook.com/NuNaturals and @NuNaturals, and join our community conversations by following along #isntlifesweet.
About NuNaturals
NuNaturals is a family owned and operated company that has been providing delicious, healthy products for nearly 30 years. We were founded in beautiful Eugene, Oregon on November 1, 1989 with a mission of "Helping to Keep You Well" and believe that the path to wellness starts with the foods and beverages we consume. Today NuNaturals offers a wide selection of plant-based natural sweeteners with stevia and monk fruit, baking ingredients and functional foods.