New Barn Organics Expands into Plant-Based Platform Brand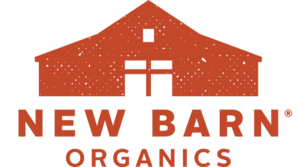 HEALDSBURG, Calif.— New Barn Organics, a leading organic Almondmilk brand, is continuing in its push toward becoming an organic, plant-based foods platform brand.
"We're returning to the roots of what this industry is really about," said Ted Robb, New Barn Organics co-founder and CEO. "People want to eat real food that is delicious and accessible, and we're working hard to meet their expectations. With so much competition in the plant-based food space, many shoppers don't know who to trust. We're increasing our transparency at all levels and are striving to deliver more value in each new product we launch. Our hope is that New Barn Organics will become a trusted brand of choice for shoppers who want certified organic, transparently sourced, and convenient plant-based foods."
The company is also making a larger commitment to sustainability, including an update to its brand name, now New Barn Organics. "We've switched away from plastic bottles on our fluid milk lines, which removes 90 percent of the plastic from our supply chain," said Robb. Three of the company's product lines are now packaged in the PlantCarton from Evergreen Packaging. This new plant-based carton contains 80 percent less plastic than bottles, is 100 percent recyclable, and is made from 75 percent material sourced from third-party certified responsibly managed forests. "Our customers have increasingly been asking us to ditch the plastic for the past couple of years," Robb explained. "We're listening to what our customers want. And with 32 ounces per carton, we think they'll be especially happy about a package that's four ounces larger and still offered at the same great price."
New Barn Organics is also expanding their product offerings. In addition to their core Almondmilk and Almond Crème lines, the company is releasing four new organic product lines: non-dairy Creamers, non-dairy Buttery Spread, single-serve compostable single-origin coffee and vegetable-forward plant-based Almond Dips. The company has expanded their current Almondmilk line to include four new flavors, and they also now offer their Almondmilk in larger sizes.
"A larger size of our Almondmilk is another thing our customer has consistently asked for," said Robb. Three flavors of organic Almondmilk will be available in the new 59-ounce size PlantCarton: Unsweetened, Toasted Coconut and Chocolate.
"We're excited to continue growing," said Robb. "At this time last year, we'd just announced the initial closing of our Series A financing, with a promise to deliver exciting new products. One year later, we've doubled down on organic, have four new delicious product lines, and have made significant improvements in our supply chain practices. We're well on our way to achieving our goals, and I couldn't be prouder of the team. We continue to believe that New Barn Organics has the potential to become a household name for organic, plant-based foods."
"We believe in making great food," said Robb. "We are excited to offer our customers more choices, and we're committed to continuing to be a brand they can trust."
About New Barn Organics
New Barn Organics makes plant-based, organic foods that are sold nationwide in natural, specialty and mainstream channels. Founded in 2015, it has grown into a platform brand that offers customers the organic foods they crave in multiple categories. The company is guided by its commitments to transparent and organic practices, as well as its belief that its products should contain the Fewest, Cleanest, Simplest Ingredients. New Barn Organics is represented by Presence Marketing and is distributed by UNFI, KeHE and other leading distributors. For more information, please visit newbarnorganics.com.