Native State Foods Introduces New Breakfast Energy Bites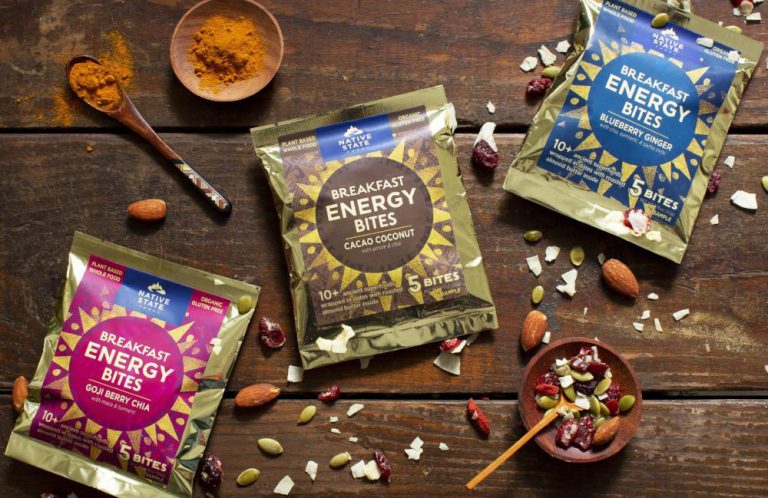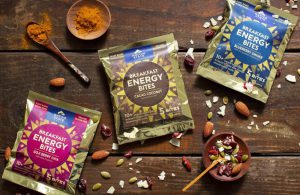 LOS ANGELES— Native State Foods, leading producer of innovative plant-based breakfast solutions, is pleased to announce the launch of its new Breakfast Energy Bites. Each bite is a carefully curated selection of 10 ancient superfoods, sustainably sourced from around the world. One hundred percent plant based and available in three distinctive flavors, each bite delivers a natural energy boost and a balance of nutrients the body needs to feel its best.
The new line includes a powerhouse of healing herbs, seeds, fruits and nuts, wrapped in dates with creamy roasted almond butter inside. It features premium ingredients including adaptogens like maca and turmeric to combat stress and adrenal fatigue, sacha inchi from the Amazon rainforest and one of the planet's most potent sources of omega-3 fatty acids, and pepitas, an incredible source of healthy fats and protein. These are coupled with pure, unprocessed whole foods like coconut, blueberries, dates and goji berries for a perfectly balanced, powerful breakfast.
"We are thrilled to introduce our new line of Breakfast Bites," stated Angela Palmieri, co-founder and CEO. "Mornings can be hectic and these new poppable bites provide an easy way to get functionally powerful nutrition that is both tasty and convenient for those of us who are constantly on-the-go."
She further stated: "We saw a need in the marketplace for a portable, shelf stable breakfast solution that wasn't over-processed, baked, or full of sugar and empty calories. Our bites are fresh, not baked and full of nourishing, plant-based whole foods that have been used in their native state for hundreds, if not thousands of years."
Supporting energy, balance and focus in the morning, Native State Foods' new Breakfast Energy Bites are available in three delicious flavors: Goji Berry Chia, Cacao Coconut and Blueberry Ginger. Each single-serve pack includes a mini-meal on the go and is organic, gluten free, soy free, dairy free and kosher.
For more information, visit www.NativeStateFoods.com.
About Native State Foods
Native State Foods is the leading producer of nutrient-dense ancient foods made for a modern lifestyle. The company curates only the highest quality, simple ingredients from around the world that are clean, responsibly sourced and have naturally existed for hundreds of years. Purely Pinole, the company's signature line of ancient grain breakfast cereals and snack cups can be found in major retailers across the U.S. The company is pleased to introduce its newest snacking portfolio of Breakfast Energy Bites now available online and at a store near you. For more information, visit www.NativeStateFoods.com