NadaMoo! Announces First Holiday Flavor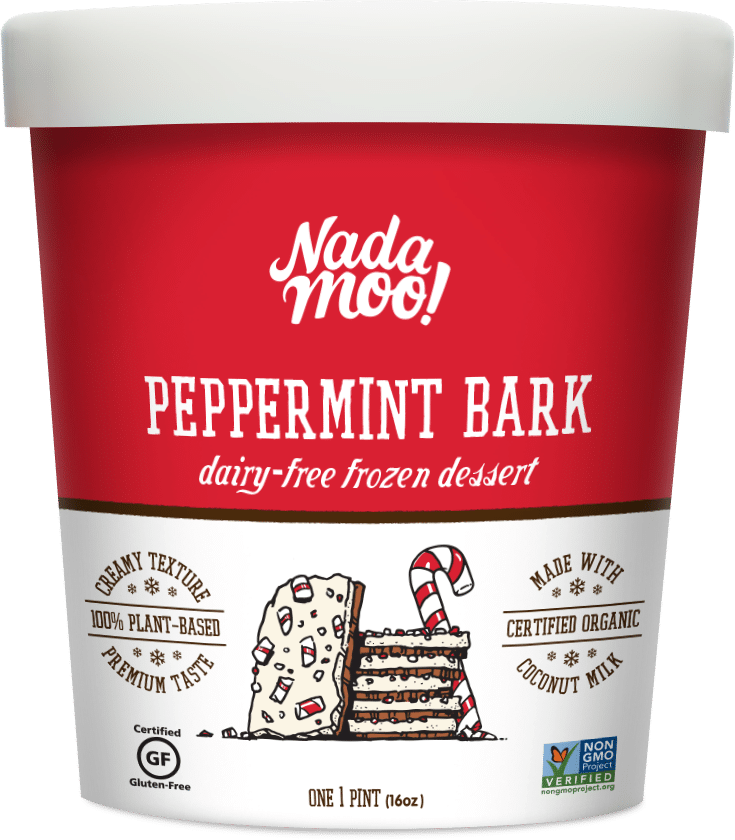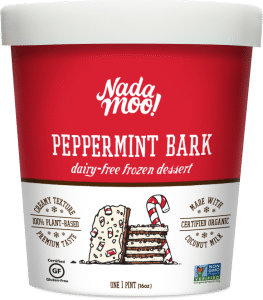 AUSTIN, Texas– NadaMoo!, the original coconut milk ice cream, is proud to announce the debut of its first holiday flavor, Peppermint Bark. Inspired by the foods and traditions that symbolize holiday cheer, Peppermint Bark is a nod to nostalgic holiday flavors with a dairy-free twist. This new seasonal dairy-free ice cream marks a significant milestone as the family-owned, Texas-based brand's first limited-edition flavor. Made with NadaMoo!'s extra-creamy, organic coconut milk base, the magic of Peppermint Bark comes together when the base is swirled in chocolate fudge, and a flurry of peppermint pieces for texture and crunch to ensure every bite is full of holiday cheer.
Peppermint Bark will be available for purchase starting this month until Dec. 31 at select Fresh Thyme stores in Indiana; select Hy-Vee and The Fresh Market locations; select Walmart stores in Austin and Houston, Texas, Colorado and Wyoming; and independent grocery stores nationwide. Beginning the week of Nov. 11, Peppermint Bark will also become available nationwide at Whole Foods Market stores.
Additionally, starting today, customers are able to purchase Peppermint Bark and any of NadaMoo!'s 18 plant-based ice cream flavors through the online store at nadamoo.com at a new lower shipping and handling flat-rate of $24.95. NadaMoo! is offering customers this reduced shipping and handling price just in time for the festive season to help everyone spread the holiday cheer.
"Our goal is to make the world happier and healthier one dairy-free ice cream scoop at a time," said Daniel Nicholson, president and CEO, NadaMoo!. "We are thrilled to offer every ice cream enthusiast our delicious take on a such a symbolic and traditional holiday flavor."
With its creamy coconut milk base, NadaMoo! crafts an ice cream that contains healthy fats with zero cholesterol. NadaMoo! also strives to source high-quality ingredients that require less water and land to produce, creating a positive impact on the environment. As with all flavors of NadaMoo!, Peppermint Bark is Certified B-Corp, Gluten-Free, Vegan and Non-GMO. NadaMoo! is proud to also use Certified Organic and Fair-Trade ingredients as much as possible.
To learn more about NadaMoo!, its mission, retail locations and flavor line-up, visit nadamoo.com. Be sure to share your NadaMoo! dairy-free ice cream experience on social media by tagging #nadamoo, and following @nadamoo on Instagram and Twitter, and @NadaMooIceCream on Facebook.
About NadaMoo!
Established in Austin, Texas, in 2005, NadaMoo!, the original coconut milk ice cream, was founded on a mission to make the world happier and healthier – one scoop at a time. NadaMoo! is made with its proprietary extra-creamy, dairy-free coconut milk base, and with certified organic, vegan, gluten-free, non-GMO and fair-trade ingredients. NadaMoo! offers ice cream aficionados a creamy taste and texture of regular ice cream while remaining dairy-free and offering lower overall calories and zero cholesterol. The company makes its products in Texas and is dedicated to using ingredients whenever possible in support of a fair, sustainable and contaminant-free food chain. Owned by his South Texas family, President and CEO Daniel Nicholson has led the company's expansion into new regions and points of distribution across the nation without forgetting his roots. NadaMoo! is available in natural, conventional, specialty and co-op grocery stores nationwide. For more information, visit nadamoo.com, or @nadamoo on Instagram and Twitter, and @NadaMooIceCream on Facebook.