Mutti Tomatoes Now Non-GMO Project Verified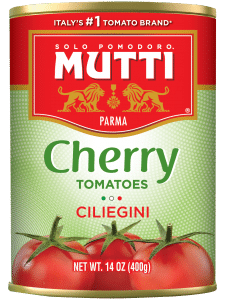 NEW YORK— Mutti, Italy's no. 1 tomato brand, and one of the fastest growing brands of shelf-stable tomatoes in the USA, is pleased to announce the receipt of Non-GMO Project Verification. As North America's most trusted third-party verification for non-GMO food products, the verified butterfly seal is highly recognized by U.S. consumers. The butterfly logo will begin appearing on Mutti packaging following the 2019 harvest.
Since 1899, the Mutti family has been passionate about tomatoes, harvesting at the very peak of ripeness and carefully packing to preserve their exquisite fresh taste. The Mutti tomato portfolio offers 100 percent Italian grown, non-GMO shelf-stable tomatoes in a variety of forms. The following retail and foodservice products have been verified by the Non-GMO Project:
Mutti Finely Chopped Tomatoes
Mutti Finely Chopped Tomatoes with Garlic & Basil
Mutti Double Concentrated Tomato Paste
Mutti Triple Concentrated Tomato Paste
Mutti Cherry Tomatoes
Mutti Tomato Puree
Mutti Tomato Puree with Basil
Mutti Whole Peeled Tomatoes
Mutti Baby Roma Tomatoes
Mutti Tomato Sauce
Mutti Pizza Sauce with Basil & Oregano
As a leader in sustainability efforts, this verification reinforces the company's high quality standards and commitment to socially responsible business practices. In addition to being Non-GMO Project Verified, Mutti tomatoes are free of additives and preservatives. The company maintains a strong focus on sustainability efforts, such as reducing its water footprint, requiring crop rotation and increasing biodiversity of agro-ecosystems, through its partnerships with World Wide Fund for Nature Italy (WWF Italy) and the Euro-Mediterranean Center on Climate Change.
"For 120 years, Mutti has strived to provide remarkably fresh tasting tomatoes by working in harmony with the environment and keeping its ingredient label clean and simple," noted Katia Facchetti, president of Mutti USA Inc. "We pride ourselves on transparency and respect everyone's right to know what is in their food. We're proud to be able to add the Non-GMO Project Verified seal to our label."
Mutti is available through retail, specialty, Italian and foodservice distributors nationwide. To learn more, please visit www.MuttiPomodoroUSA.com or follow the brand on Facebook and Instagram at @MuttiPomodoroUSA.
About Mutti
Since 1899, the Mutti family has shared their passion for everything that goes into their 100 percent Italian tomatoes – the sun, soil, rain and heart of their people in Parma, Italy. Mutti selects only the highest quality tomatoes, picked at the very peak of ripeness, to create their remarkably fresh tasting line of Non-GMO Project Verified, shelf stable tomatoes that contain no additives or preservatives. Learn why Mutti is the no. 1 selling brand in Italy at www.MuttiPomodoroUSA.com.