Matiz España Launches New Wild Caught Spicy Sardines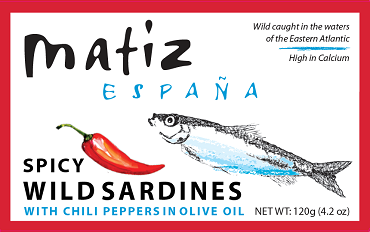 LYNNWOOD, Wash.– Matiz España is adding a spicy addition to its line of best-selling tinned seafood from Spain. Matiz Wild Caught Spicy Sardines are now available in the U.S. through Spanish foods importer Culinary Collective, and will debut at the Winter Fancy Food Show.
Matiz Sardines are fished in the Eastern Atlantic. Plump and tender, they are considered one of the finest sardines available. They are then prepared bone-in and skin-on, and hand-packed in Galicia, Spain, a region known for its exceptional seafood. Piri piri chilis and Spanish olive oil are added, creating a rich and spicy but mild fish that can be eaten right out of the tin. Matiz Sardines and are high in protein, calcium and omega-3's, and make for a nutrient-rich addition to meals and snacks. Try them on toast with avocado and thinly sliced onion, or as an appetizer topped with sour cream on crostini.
Matiz Spicy Wild Sardines are the latest addition to their full line of wild-caught tinned seafood from Spain; Matiz Wild Sardines in Olive Oil, Matiz Wild Sardines with Lemon, Small Wild Sardines with sweet Piquillo Peppers, Octopus in Olive Oil, Cockles in Brine, Organic Mussels in Marinade, and Line-Caught Bonito Tuna. All Matiz Seafood is produced using old master cannery know-how and then packed with the highest quality ingredients to produce a product that is moist, tender and uncommonly flavorful. Traditional harvesting methods are used to respect the biological cycles of the species, as well as avoiding harm to other sea creatures.
Premier Spanish foods importer Culinary Collective will be showcasing the new Matiz Spicy Wild Sardines at Winter Fancy Food Show San Francisco, booth #261. Be sure to stop by for a sample and for information about distributors in your area.
About Culinary Collective
Based in Lynnwood, Washington, Culinary Collective is an import and distribution company specializing in gourmet cultural foods that embody and promote native cultures and traditions. The company works with small family and community companies that take pride in producing all-natural foods using methods and recipes passed down through the generations. Under its Matiz España label, Culinary Collective imports and distributes an extensive line of traditional products from Spain. Under its Zócalo Gourmet brand, the Collective supports small-scale producers of all-natural cultural foods in Peru by bringing quality products such as grains, flours, beans and chili pastes direct from the producers to US and Canadian retailers and consumers. Culinary Collective is proud to be a Certified B Corporation. More information at www.culinarycollective.com.