Lotus Foods Launches New Ramen Soup Cups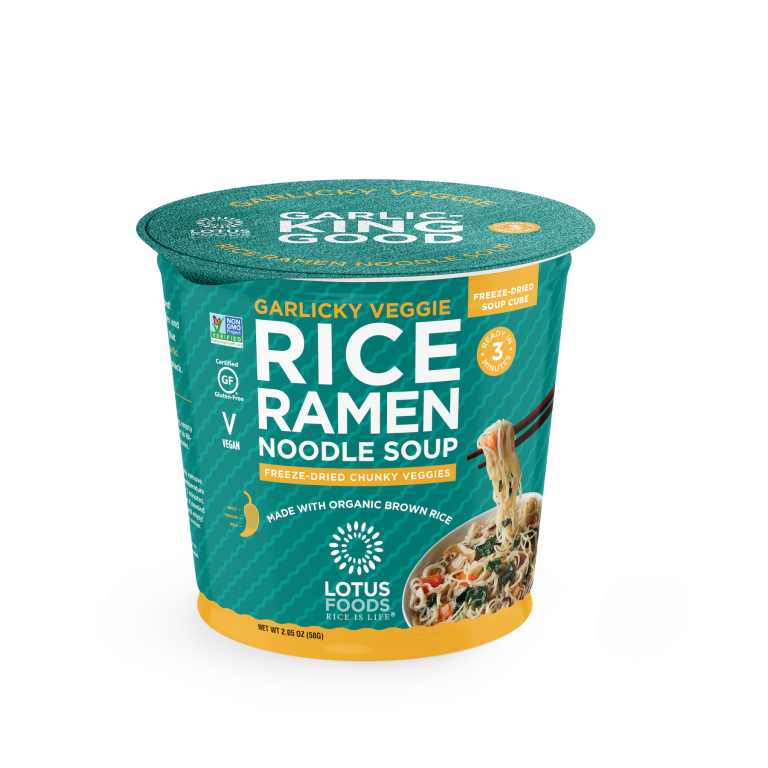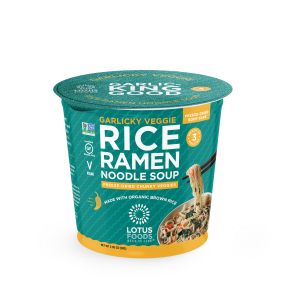 RICHMOND, Calif.– Lotus Foods, the leading heirloom and organic rice and rice ramen company, will introduce the latest in freeze-dried innovation to its award-winning line of Rice Ramen Noodle Soup Cups. Landing on store shelves this fall will be two new soup cups featuring freeze-dried soup cubes with chunky veggies and gourmet spices. The new soup cups will come in Garlicky Veggie and Hot & Sour and feature vegetables like spinach, mushrooms, day lilies and bamboo shoots.
Lotus Foods has created the new shelf stable soup cups with vegetables that spring back to their full size, flavor and aroma in boiling water. The new freeze-dried flavors join the existing line-up of Lotus Foods Rice Ramen Soup Cups (launched in summer 2018) that feature whole grain never-fried organic brown rice noodles and come in a variety of internationally inspired flavors. Requiring no refrigeration and ready to eat in just three minutes, Lotus Foods soup cups are an easy way to have a satisfying meal or snack whenever it is desired.
As modern life gets busier, young consumers are seeking more options for convenient yet healthy meals. It has been reported that freeze-dried foods are expected to grow in the coming years due to the ability of the newest freeze drying processes to lock in flavor and nutrition in portable meal options.
"We are thrilled to be able to bring this exciting innovation to the ramen noodle soup cup category," said Caryl Levine, Co-Founder/Co-CEO of Lotus Foods. "The first time we saw freeze-dried vegetables spring back to life and tasted how fresh the big bite-sized pieces were we knew we had to offer this to consumers. It's a whole new experience in ramen soup cups."
Lotus Foods' new Rice Ramen Noodle Soup Cups with freeze-dried veggie soup cubes will have an SRP of $2.99 and are in stores now.
For more information visit Lotus Foods online and follow on Instagram, Facebook and Twitter.
About Lotus Foods
Since 1995, Lotus Foods has partnered in direct and fair trade with small family farmers around the world who are growing rice more sustainably while preserving rice biodiversity. Lotus Foods' product line includes pigmented heirloom and organic rice varieties such as Forbidden Rice®, Jade Pearl RiceTM, Red Rice, Madagascar Pink Rice, traditional Basmati and Jasmine Rice and Volcano Rice as well as Rice Ramen, Arare Rice Crackers, Pad Thai Rice Noodles and Rice Ramen Noodle Soup Cups. Products are available at major retailers nationwide. As a certified B Corporation, Lotus Foods is committed to "Changing How Rice Is Grown around the World" by focusing on rice grown using the System of Rice Intensification (SRI), which we call More Crop Per DropTM. SRI minimizes water usage, empowers women, financially rewards farmers and reduces climate impact.