LiveMore Naturals Debuts Three New Organic Wellness Fruit Lines at Expo West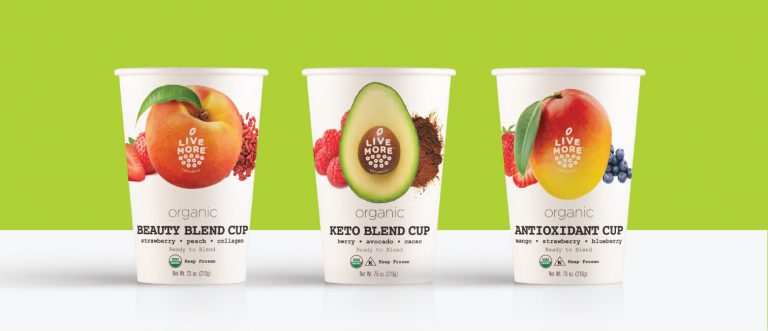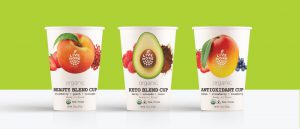 NEWPORT BEACH, Calif.— LiveMore Naturals returns to its roots in fruit, launching three new organic wellness lines including Organic Frozen Fruit Smoothie Cups, Organic Frozen Fruit Pre-Portioned Bags and Organic Wellness Shots at Expo West in Anaheim, California.
Time to LiveMore! When LiveMore Naturals CEO suddenly found himself struggling with health issues, he was adamant to find a solution through nutrition. Tapping into his family expertise of over 80 years in the fruit industry, LiveMore Naturals uncovered the secret to preventative wellness via exotic and native fruits from every corner of the globe. LiveMore specializes in creating convenient, delicious farm to package blends to improve one's overall wellbeing.
LiveMore Naturals Organic Frozen Fruit Smoothie Cups
These "ready-to-blend" LiveMore Organic Frozen Fruit Cups are designed for on-the-go consumers to simplify their daily routines. Each cup has specific ingredients to target certain lifestyles and goals through unique organic frozen fruit blends.
• Beauty Blend is made with luscious peaches, mango, goji berries, collagen and banana to support healthy skin care, joint health and digestion.
• Keto Blend adds creamy avocado, berries rich in antioxidants and a hint of sweetness from 100 percent cacao. This blend is full of healthy fats to help support weight loss, anti-aging and energy levels.
• Antioxidant Blend combines the finest berries with tropical mango to help fight off the effects of free radicals.
Similar to the LiveMore Cups, the LiveMore Organic Frozen Fruit Blends enable consumers to blend nutritious smoothies in seconds at home. These stress-free blends are available in Antioxidant, Tropical and Keto varieties and are offered in convenient pre-portioned multi-packs.
The LiveMore Organic Wellness Shots are portable, shelf-stable wellness in your pocket! The LiveMore Wellness Shots support healthy on-the-go lifestyles with four All-Natural Daily Vitamin Shots and two Organic Wellness functional shots.
Ready to live better, LiveMore? Visit the LiveMore Naturals Wellness Clinic, Booth #2003 in the Organic Pavilion at Expo West. It is worth a shot!
About LiveMore Naturals
LiveMore Naturals is a healthy lifestyle brand located in Newport Beach, California. With 80 years of family expertise in the fruit business, LiveMore utilizes its grower/farmer relationships to bring you farm to packaged organic fruit blends and wellness shots.