Kopper's Chocolate To Debut New Look at Winter Fancy Food Show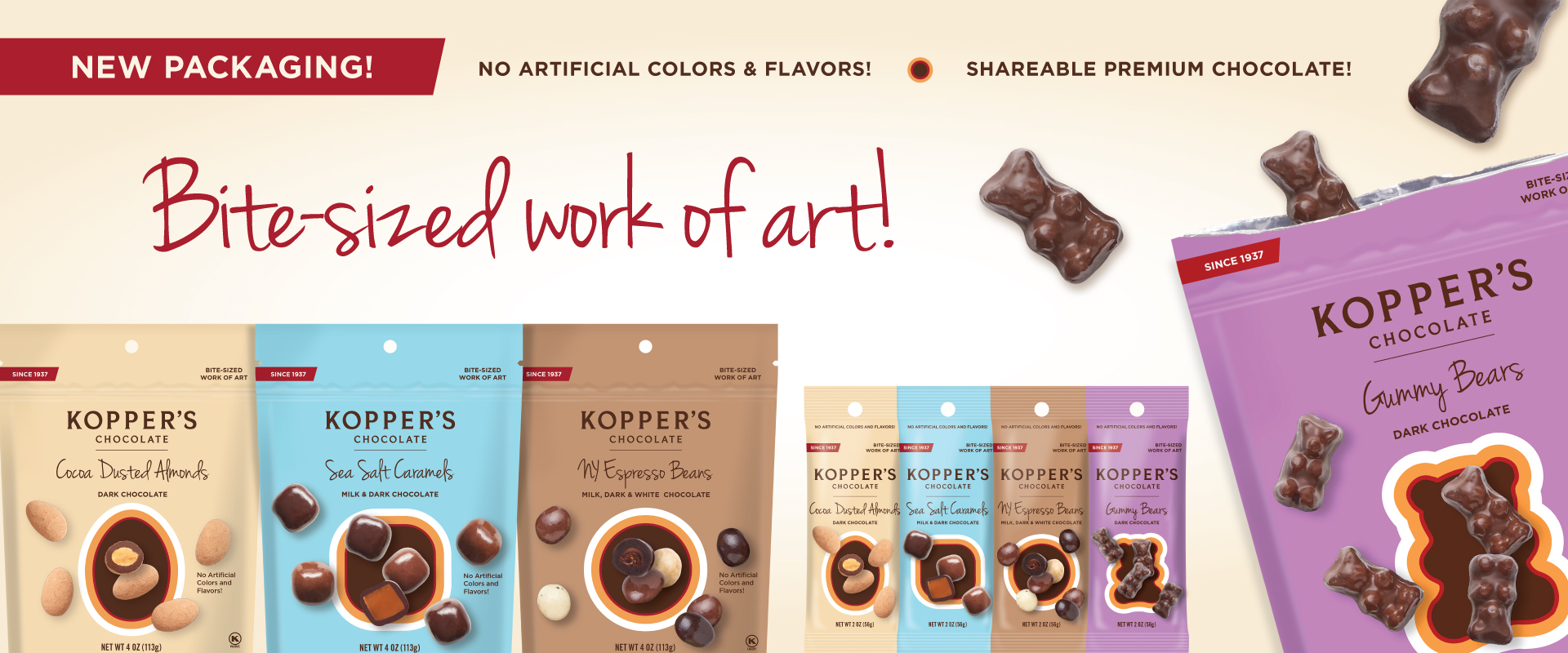 JERSEY CITY, N.J.— Kopper's Chocolate is set to launch a fresh new look for its top-selling pan chocolate varieties at the Winter Fancy Food Show in San Francisco. Pulling inspiration from their old world heritage and the innovative delicious chocolates crafted daily, Kopper's Chocolate is bringing the "New Year, New You" philosophy to life with a fresh new look on shelf.
"For over 80 years, Kopper's Chocolate has wowed chocolate lovers with delicious and beautiful handcrafted pan chocolates," states Deborah Holt, General Manager of Kopper's Chocolate. "It is time for our packaging to showcase the delicious and beautiful treats inside."
Kopper's everyday retail packaging will showcase the top selling Kopper's flavors, free from artificial colors or flavors. These top selling treats include Dark Chocolate Gummy Bears, Sea Salt Caramels in Dark and Milk Chocolate, New York Espresso Beans and Cocoa Dusted Dark Chocolate Almonds. "Kopper's has defined pan chocolate innovation for decades," declares Jeff Braverman, CEO of Nuts.com, owner of Kopper's Chocolate. "As a customer, I fell immediately in love with Kopper's chocolate creations at first bite and now chocolate lovers will be drawn to us at first sight."
The products introduced will include Four Grab & Go 2 oz size Peggable Bags (in merchandise ready display case), Four Resealable, Peggable 4oz Pouches (in merchandise ready display case), as well as an everyday gifting assortment in Four different size offerings.
Stop by booth #727 for the debut of this brand new retail packaging.
About Kopper's Chocolate and Nuts.com
For the last 80 years, Kopper's Chocolate has been one of the most respected specialty panners of artisan chocolates and specialty confections in the world. Every bite-size piece is truly a labor of love, and a work of art. Acquired by Nuts.com in 2016, Kopper's is still third generation family owned and operated. For more delicious bites, visit Kopperschocolate.com
Nuts.com, a family-owned company, was founded in 1929 by Poppy Sol as The Newark Nut Company. For three generations, we've been committed to re-stocking healthy pantries with the highest-quality nuts, dried fruit, snacks and pantry staples. An ever-growing offering of more than 3,000 products includes artisan and hard-to-find products as well as hundreds of gluten-free and organic items, truly offering something for everyone. Learn more about our nutty family by visiting Nuts.com.