Ice Cream Brand Coolhaus Launches Dairy-Free Line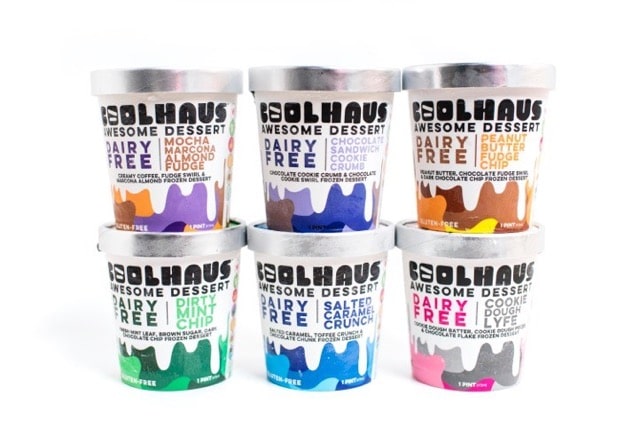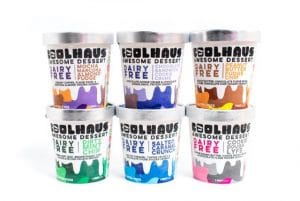 LOS ANGELES– Coolhaus, the leading women-founded and led ice cream brand known for creating premium cookie sandwiches, pints and bars, announced this week the launch of its dairy-free line. The plant-based SKUs are now available online through the brand's website and will be expanding into Whole Foods Markets this April with additional retail distribution to follow.
Thoughtfully crafted with the highest quality ingredients and superior creamy texture the brand is famous for, the Coolhaus dairy-free line is made with a base that differentiates itself from other vegan ice cream brands on the market by introducing unique ingredients such as organic cocoa-butter, pea protein and organic whole grain brown rice.
The dairy-free line will also continue the brand's endeavor to adopt more sustainable practices to keep the earth healthy. Earlier this year Coolhaus received a certificate from the Culver City Sustainable Business Program for its "Going Green" initiatives, and now the brand is channeling that same energy into dessert options with environmentally conscious and sustainably sourced ingredients.
Due to an ever-increasing demand for plant-based dessert alternatives, Coolhaus CEO and co-founder Natasha Case set out to innovate the dairy-free ice cream category with Coolhaus' signature inventive flavors. The dairy-free pint flavors include; Salted Caramel Crunch, Dirty Mint Chip, Cookie Dough Lyfe, Chocolate Campfire S'Mores, Peanut Butter Fudge Chip, Chocolate Sandwich Cookie Crumb and Mocha Marcona Almond Fudge. The dairy-free cookie sandwich flavors include; Horchata with Snickerdoodle cookies, Dirty Mint Chip with double chocolate cookies, Tahitian Vanilla Bean with chocolate chip cookies, Cookie Dough Lyfe with chocolate chip cookies and Cookies and Cream with double chocolate cookies. Each pint is priced at $6.99, while sandwiches are priced at $5.49.
"We're really excited to launch a dairy-free line that's inclusive of plant-based diets without compromising on decadence," said Case. "Our dairy-free experience will be just as rich and self-indulgent as our dairy line, and we can't wait for vegan and dairy ice cream-lovers alike to taste it!"
About Coolhaus
Coolhaus is the leading women-founded and led ice cream brand creating premium cookie sandwiches, pints and bars. Each treat is thoughtfully crafted with the highest quality ingredients and creamiest texture. Coolhaus is known for its uniquely innovative flavors and putting a modern twist on the classics. Since its launch in 2009, Coolhaus has grown from a food truck to a household name with distribution in 7,500+ grocery stores ranging from Whole Foods to Safeway to Publix markets. Fans can also visit Coolhaus at its two Southern California-based storefronts in Culver City and Pasadena, or swing by one of the 10 mobile ice cream trucks and carts in Los Angeles, New York and Dallas. To learn more about Coolhaus, please visit cool.haus and find them on social media @Coolhaus.