Healthy Times Debuts Organic Baby Teethers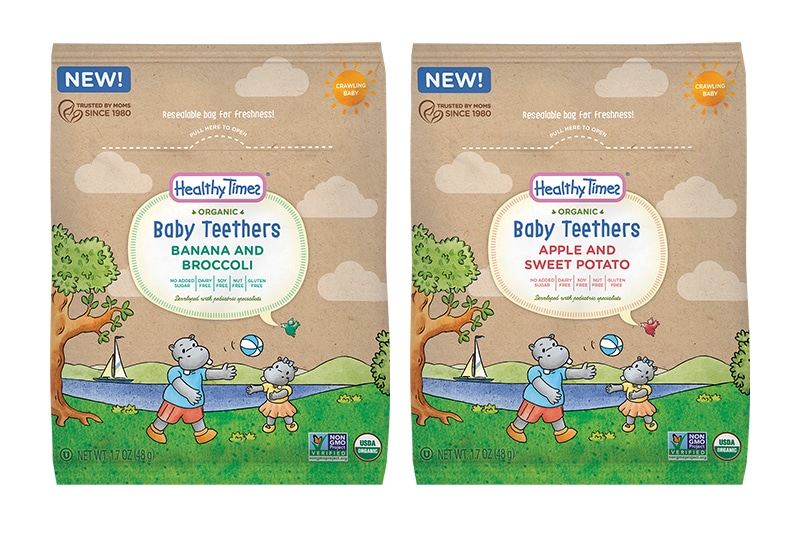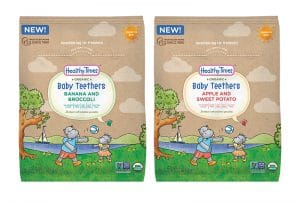 SAN DIEGO – Healthy Times, a premium, verified Non-GMO, organic nutrition brand for babies and kids, announced the debut of innovative new Organic Baby Teethers, which was showcased for the first time at the Natural Products Expo West. As the first brand historically to introduce teething biscuits to the market, Healthy Times is a key industry leader in the progression of the category. The product now features a functional shape, new formulation and will be available in two flavors, Apple and Sweet Potato, and Banana and Broccoli, and will now be packaged in a new resealable package for maximum freshness and convenience.
The innovative Organic Baby Teethers were developed with pediatric feeding specialists, featuring an updated curved shape designed to facilitate self-sufficient feeding and a ridged exterior designed to stimulate and soothe gums.  The new Organic Baby Teethers were developed with quality and baby's development top of mind; there is no added sugar allowing a baby's palate to develop naturally.  In addition, there is no added salt, sweeteners, colors, flavors or palm oil. The new Teethers are free from common allergens (dairy, nut, gluten and soy free), and the product contains organic, plant-based pea protein and inulin, a prebiotic fiber to help support a healthy digestive system development. As parents seek healthy nutrition for their children from organic fruits and vegetables, Healthy Times chose to feature apple, sweet potato, banana and broccoli at the core of the new products, all leading flavors in the industry.
"Healthy Times is thrilled to unveil these new Organic Baby Teethers, which will resonate with today's parents looking for organic nutrition from the very beginning stages of their little one's feeding journey," said Kerrie Erdenberger, VP of sales at Healthy Times. "As a mom of two, including a recent newborn, I relate on a personal level to the importance of quality and trust in baby products. We are looking forward to introducing Healthy Times new innovative teether design, ingredients, and unique functional benefits at Expo West."
The new Organic Baby Teethers will be available for purchase in June at key retailers. The healthy and delicious Hugga Bear Cookies will also be released in a snack pack size for on-the-go convenience and snacking. For more information on the new product innovations from Healthy Times and where to purchase the full line of organic products, visit healthytimes.com.
About Healthy Times
Trusted by moms since 1980, Healthy Times delivers premium, organic, non-GMO, wholesome products that provide a healthy foundation during early childhood development. Healthy Times' line includes Organic Toddler Formula, Baby Cereals, Arrowroot Cookies, Hugga Bear Cookies and Teething Biscuits, as well as a Gentle, Hypoallergenic Bath & Body care line for kids of all ages. Healthy Times products are available on Amazon, iHerb and in retailers nationwide.  Healthy Times is also proud to partner with Feed the Children, committed to supporting the non-profit to educate the public about childhood hunger and raise awareness for the cause. For more information, visit the Healthy Times website www.healthytimes.com and follow on Facebook and Instagram.