Hammond's Announces New Chocolate Flavors and New Cookie and Candy Lines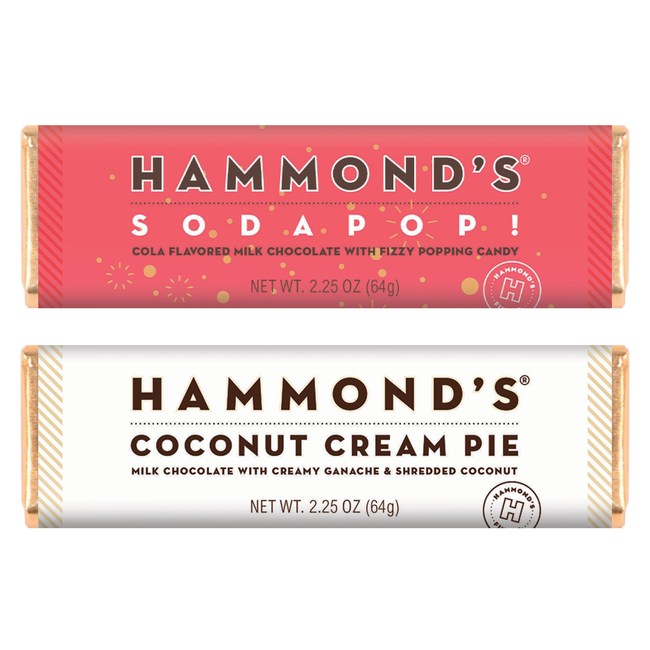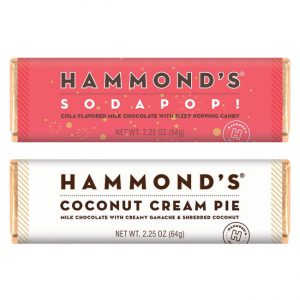 DENVER—Hammond's Brands, the parent company of Hammond's Candies, has announced exciting additions for 2019. They have added two flavors to their much-loved assortment of gourmet chocolate bars, and further expanded into the snacking category with a collection of rich, buttery, bite-sized tea cookies. To round out their new additions, Hammond's has also released a lineup of Australian style licorice and sour bites.
The two new chocolate bars are hitting shelves this month. Coconut Cream Pie is a milk chocolate treat with coconut flakes and a rich, creamy ganache, and Sodapop! is a unique, cola-flavored milk chocolate bar featuring fizzy popping candy that replicates the carbonated beverage. The 2.25 oz. bars are packed as 12 retail units per display with an MSRP of $2.99 each.
Hammond's cookies will be available in February 2019 in four delicious flavors: Lemon Raspberry, Salted Caramel, Peanut Butter Chocolate Chip and Chocolate Chip. A fifth seasonal flavor, Chocolate Peppermint, will be added to the collection for holiday 2019. Each flavor comes in a 5 oz. box, packed 8 per case, with an MSRP of $5.99.The all-new licorice and sour bites will make their debut in March 2019. Licorice fans will delight in the new Australian Style Black Licorice and Red Licorice Bites, and those who enjoy sour candies are sure to love the new Green Apple and Blue Raspberry Sour Bites. Each is available in a 7 oz. bag, in a case pack of eight, with an MSRP of $5.95.
"We are excited to kick off the new year with these great new products," said Andrew Whisler, Hammond's executive vice president of marketing and business development. "We're especially eager to enter the cookie category, providing consumers with even more high-quality everyday treats. From classic Chocolate Chip to delicious Salted Caramel, there is a flavor to satisfy every sweet tooth." Whisler adds, "The licorice and sour bites gave us another great opportunity to enter a new category. We know that our customers have been craving licorice, and the sour bites are already getting rave reviews."
"We're always working on new flavors to expand our chocolate bar assortment," added Andrew Schuman, president and CEO. "Customers will love the decadent flavor of Coconut Cream Pie, and Sodapop! is completely unique. The popping candy throughout the bar delivers a fun and sweet surprise in every bite."
You can now place your order for these new sweet treats by calling 1-800-CANDY-99 (1-800-226-3999).
About Hammond's
Hammond's Candies began delighting candy lovers with artisan candy canes, beautifully spun ribbon candy and larger-than-life lollipops when it was founded by the Hammond family in 1920, making it Colorado's favorite handmade confectioner for decades. In 2007, the company became the Hammond's that it is today through its acquisition by current President and CEO Andrew Schuman, growing from a much-loved, local candy company to a leading gourmet sweet provider with national regard (and has doubled the number of employees). Since then, Hammond's has gone on to acquire such companies as McCraw's Candies in 2010 and Old Dominion Peanut Company in 2012 as well as to gain impressive recognitions for their brand packaging and product innovation. Follow Hammond's Candies on Facebook at http://www.facebook.com/hammondscandies and on Instagram at http://instagram.com/hammondscandies to stay up to date on their latest releases. More information is also available at www.hammondscandies.com or by calling 1-800-CANDY-99 (1-800-226-3999).