Gelato Fiasco Releases New Paper Pint Containers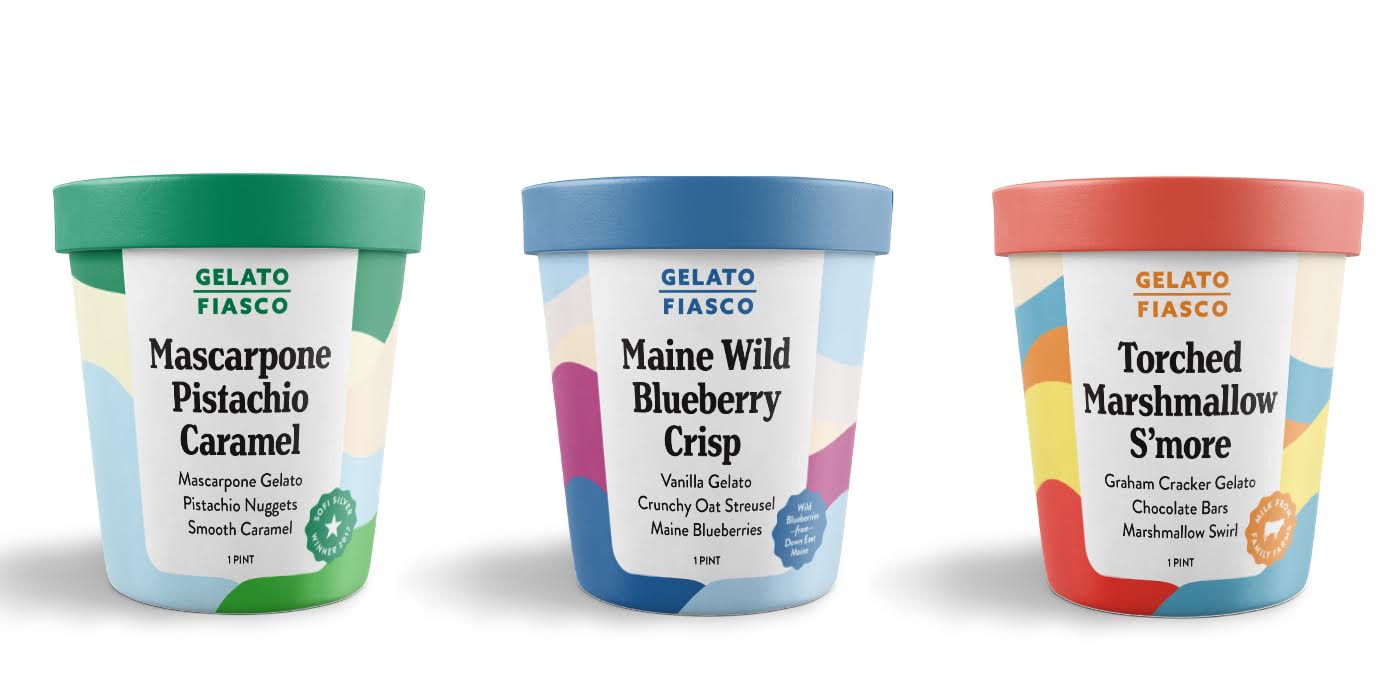 BRUNSWICK, Maine– Gelato Fiasco, America's no. 1 independently owned brand of gelato, has launched the most significant product change in the history of the company. Beginning this week, pints arriving on grocery store shelves will be packed in paper packaging with an all-new brand design.
The brand's pints were previously packaged in a plastic container, and the change should save nearly 3 million plastic jars over the next year.
"I had been trying to reduce plastic usage in my own life," said co-founder and CEO Joshua Davis. "While personal practice is a great start, it became increasingly uncomfortable and untenable to ignore an obvious contradiction: If I am trying to reduce my plastic consumption as a single consumer, why not get real and cut out literally millions of plastic pint containers that I have some control over?"
The paper pint are made with paperboard that is Sustainable Forestry Initiative certified. The move has additional benefits within the company's production and supply chains.
Gelato Fiasco collaborated with the respected Portland, Maine-based branding studio Might & Main, and together, the Gelato Fiasco and Might & Main teams decided that it was time for a totally new look. The mission: create imagery that is beautiful and sophisticated, but also modern and effervescent, with distinct rooting in Gelato Fiasco's Maine heritage.
The rich and vibrant waves of color on each package are specific to each flavor, and the back of the container shares a short quip about the flavor and highlights Gelato Fiasco's scoop shop origin story, underscoring that the brand is still led by its founders – a rarity in the national frozen dessert space. Social media call-outs vary for each flavor and invite fans to connect with the company.
"Our brand has a deep heritage – Bruno and I started Gelato Fiasco as a gelato shop in Brunswick after we graduated from college, and today, you can find Gelato Fiasco pints in more than 5,000 grocery freezers across the country, competing against massive brands from some of the world's largest multinationals," said Davis. "We remain founder-led, quality-focused, and really independent, and we've tried to convey that through every choice we made with our new brand design."
Davis noted that the change is not without some risk to existing brand equity for consumers who are used to recognizing the old package, which has been in use since 2013. During that time, pints were featured in a variety of high-profile national media, including Bon Appetit, O: The Oprah Magazine, and the Wall Street Journal, and have been a consistent presence at over 5,000 grocery stores.
"At the end of the day, we think that customers buy Gelato Fiasco for our interesting flavors, most of which contain loads of unique combinations of chunks and swirls and all of which are made with our high-quality bases," said Davis. "Those flavor names are presented loud-and-clear on our beautiful new package, and we think fans will be able to easily spot and recognize them when they are scanning the freezer for Gelato Fiasco."
Dairy-free flavors contain special plant-based indicators on all sides of the container. The new design also utilizes the new FDA nutrition facts style.
Fans can expect to see pints appear on shelves starting this week, although dates for specific stores depend on the grocers' existing backstock. The company expects that most grocers will be fully transitioned by the end of summer.
Gelato Fiasco's grocery placements include Publix, Harris Teeter, H.E.B., Winn-Dixie, The Fresh Market, Giant, Stop 'n' Shop, Hannaford, Market Basket, Safeway and Albertsons regions, Harmons, Fairway Market, select Sprouts Farmers Market stores, Whole Foods Market locations in New England, and thousands of independent and smaller grocers nationally.
Best-selling flavors include Mascarpone Pistachio Caramel, Maine Wild Blueberry Crisp, Torched Marshmallow S'More, and Sunken Treasure, which is a brown butter gelato with chocolate-covered pretzels, bourbon butter truffles, and ripples of fudge sauce. All of Gelato Fiasco's flavors are made without artificial flavors, synthetic colors, and high-fructose corn syrup.
About Gelato Fiasco
Gelato Fiasco is the no. 1 independently owned brand of gelato pints in U.S. grocery stores. Pints are sold at more than 5,000 grocery stores across the United States. The company also operates year-round scoop shops in Brunswick and Portland, Maine. It can be found @gelatofiasco on Instagram, Facebook, and Twitter, and at gelatofiasco.com. It was founded in 2007 by Joshua Davis and Bruno Tropeano.