Emmy's Organics to Launch Chocolate Covered Cookie Bites at Expo West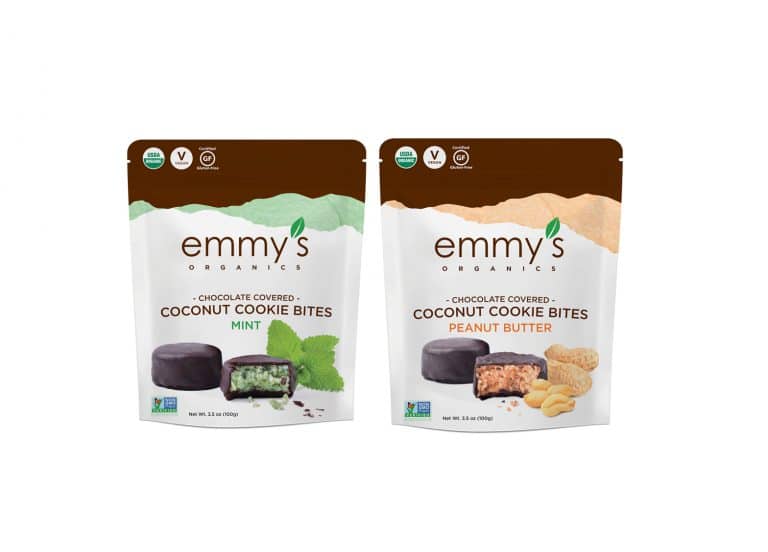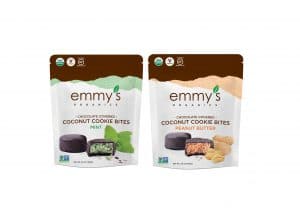 ITHACA, N.Y.– Emmy's Organics, maker of deliciously clean organic coconut cookies, is pleased to announce the launch of its new Chocolate Covered Cookie Bite line.
Available in Mint and Peanut Butter, these tasty gluten-free treats will officially launch at this year's Natural Products Expo West (Booth #5174), offering indulgent bites of coconut cookie dough covered in rich, dark chocolate with a clean ingredient list you can feel good about.
"We're thrilled to give our customers a new way to treat themselves," said Samantha Abrams, co-owner of Emmy's Organics. "Our Chocolate Covered Cookie Bites are responsibly-made with high-quality, real ingredients, so consumers can satisfy their sweet tooth guilt-free."
Sweetened with organic coconut sugar, these delectable bites contain half the amount of sugar as their conventional counterparts. They are also certified USDA organic, non-GMO, gluten-free, grain-free and vegan.
Emmy's Chocolate Covered Cookies Bites will be available in Whole Foods stores nationwide for an SRP of $4.99 for each 8-cookie resealable pouch. For more information or to purchase online, please visit EmmysOrganics.com.
About Emmy's Organics
Emmy's Organics is an organic snack food company based in Ithaca, New York. Launched in 2009 by Samantha Abrams and Ian Gaffney, Emmy's offers a delicious line of certified organic, vegan, gluten-free and non-GMO cookies and cookie bites made from premium ingredients. Committed to using business as a force for good, Emmy's Organics is a certified B Corporation and makes its cookies in a solar and wind-powered facility that produces minimal waste. Emmy's Organics products are available in stores nationwide and in select locations in Canada. For additional information, visit EmmysOrganics.com or connect with the brand on Instagram, Facebook, Twitter and Pinterest.