Cappello's To Launch New Products, Packaging at Expo West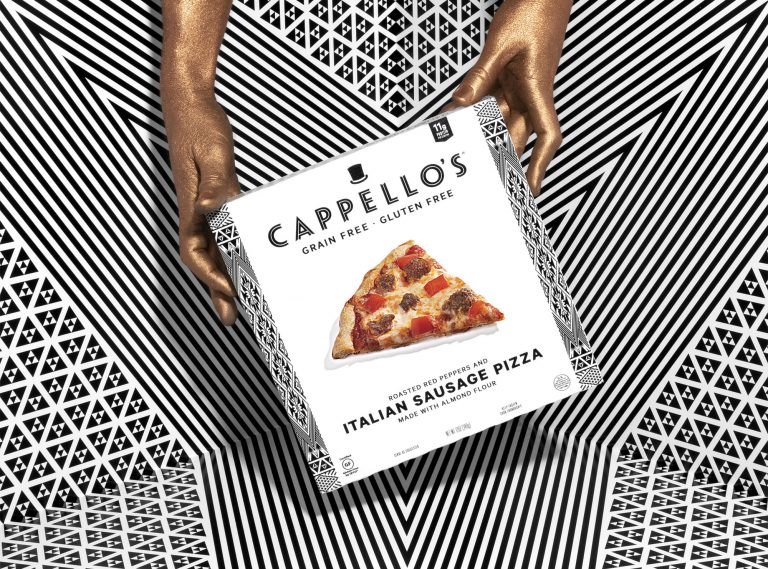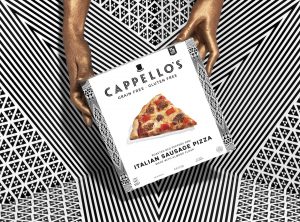 DENVER– Cappello's, maker of grain-free, frozen-fresh, paleo-friendly foods, has announced seven new SKUs of nutritionally relevant, delightfully delicious products to the brand's extensive and admired family. Officially being unveiled at this year's Natural Products Expo West and rolling out on shelves over the course of the next few months, Cappello's welcomes new firsts for the brand as well as the entire frozen pizza category with its introduction of the world's first almond flour pizzas.
Cappello's continues to innovate in frozen pizza, pasta and cookie dough with its carefully crafted recipes led by its hero ingredient – almond flour. Setting a new standard for all frozen foods with its thoughtful, consumer-focused line extensions that balance gourmet quality with sensible nutrition. Cappello's is also excited to unveil its updated look and feel with redesigned packaging and the inaugural issue of its own periodical, The Cappello's Lookbook.
"We have never been better poised to win in the marketplace," said Ben Frohlichstein, founder and co-CEO of Cappello's. "We have the right products on the shelves starting with our reformulated pizzas, delivering superior nutrition and quality at a more accessible price point. We have the right team in place with new senior leadership in operations, sales and marketing. We think our new brand refresh will help tell our story with both style and charm. What's really exciting is this is all happening at the right time, as more consumers have begun to see the value in eating grain free."
"We're so excited about all the changes we're making but the most important thing hasn't changed. And that's our obsession with meticulously sourcing all of our ingredients. If it's processed, it's not part of our process. Which means absolutely no modified starches, no added sugars, no corn, wheat or soy. Not now or ever. We have a responsibility to our consumers and that includes ourselves," said Stacey Marcellus, founder and co-CEO of Cappello's."
As a high-growth company best known as the original makers of almond flour pasta, Cappello's continues its mission of setting a new standard in frozen food by shifting the prepackaged paradigm in a more nutritionally relevant and sustainable direction. Its newest foods on this mission include:
The World's First Almond Flour Pizzas: Featuring the cleanest ingredient profile on the market and newly reformulated for superior quality and nutrition, these pizzas represent the Cappello's ideal of what pizza should be. Available in four varieties – Naked, Whole Milk Mozzarella Cheese, Uncured Pepperoni, Italian Sausage and Roasted Red Peppers.
First Ever Almond Flour Spaghetti: Years after successfully creating the first almond flour fettuccine, Cappello's is thrilled to launch the first ever almond flour spaghetti. Cooks in just 90 seconds, it's the perfect pasta for families desiring quick and convenient nutrition or alternatives to wheat and sugar-based foods. Meatballs have never had it so good.
Paleo Sweet Potato Gnocchi: The paleo community asked for it and Cappello's delivered. This new recipe features tasty, mineral-rich sweet potato rolled with almond flour to create gnocchi heaven. Whether eaten as a dessert or an entrée, these dumplings will not disappoint.
Double Chocolate Cookie Dough: Already the number one paleo cookie dough brand in SPINS with just one SKU, Cappello's is excited to go after all the chocolate lovers with twice the chocolate of its original chocolate chip cookie dough recipe. Dark chocolate morsels and organic cocoa powder combine for a one-two guilt-free, grain-free, vegan-friendly punch.
In addition to new products, Cappello's is unveiling a new look and feel. The company has refined the packaging to better reflect the brand's mission: setting a new standard for frozen foods. The new packaging offers enhanced taste appeal and legibility for shoppers. Featuring highly stylized photography with storytelling detailing Cappello's obsession for balancing nutrition with mouthwatering enjoyment.
Check out the brand's innovations and new packaging at Natural Products Expo West, March 7-9 at booth #5369 in the Anaheim Convention Center.
About Cappello's
Friends and co-founders Ben Frohlichstein and Stacey Marcellus had always shared a love for cooking and feeding people. But it was not until they ditched their jobs in search of a life in which they could add a different kind of value to the world that this passion truly began to flourish. After a time spent working on organic farms, Frolichstein and Marcellus began experimenting with creating a new kind of pasta. One made from nutritionally relevant ingredients, with a taste and texture unrivaled by traditional pasta. A dish that could be enjoyed by all discerning pasta lovers, regardless of dietary restrictions. And thus, the world's first almond flour pasta was born. Today, Frolichstein and Marcellus lead a team of spirited food lovers, guiding Cappello's on its mission to set a new standard for frozen food. To provide a source of uncompromised delight for the body and spirit in the most deliciously unique paleo-friendly, grain-, gluten- and guilt-free ways. For more information please visit Cappello's at cappellos.com, and Instagram.com/Cappellos.