Buddy Nutrition Launches Individually-Personalized Protein Powders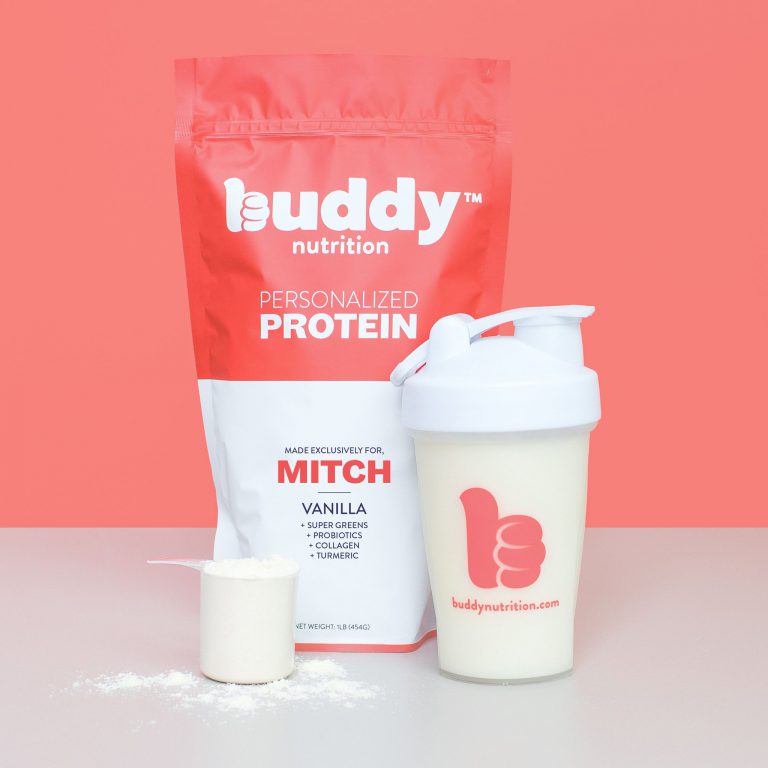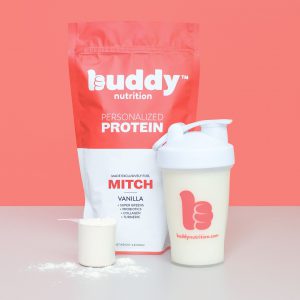 LOS ANGELES-– Buddy Nutrition, a personalized nutrition platform created by leading health and wellness executives that offers ultra-customizable functional foods and supplements, has announced the launch of its personalized protein powders. Buddy Protein is available in millions of possible combinations, including vegan and paleo friendly choices. With seven flavors, 17 different macro ingredients and 10 boost add-ins, every Buddy Protein order is guaranteed to be one of a kind.
Buddy Personalized Protein Powder is the perfect addition to Buddy Nutrition's ever-growing portfolio of personalized nutrition products. Buddy Nutrition launched the brand in early 2019 with personalized vitamin shots that offer over 1.6 billion combinations. These shots are made custom to order and can meet any consumer's unique nutritional needs. Buddy Nutrition aims to continue to revolutionize the wellness industry with convenient, personalized products for every individual. Everyone is unique and their nutrition should be too.
The majority of the protein powders on the market today are made for the average consumer and don't consider the fact that everybody is unique. Buddy Nutrition believes that each and every person is unique and has distinctive nutritional needs. Buddy Nutrition's Protein Powders were created to fill this market void, so that everyone had access to the exact unique protein product that's perfect for their unique body type, lifestyle and goals.
Each ingredient—from organic proteins to slow burning carbs to vitamins and botanicals—is carefully selected by a team of nutrition professionals, or "Buddies", that allow consumers to receive custom formula recommendations from doctors and nutritionists for free. Buddy Nutrition gets to know their customers virtually and makes custom blend recommendations based on their extensive knowledge of nutrition – no consumer nutrition research necessary, as "Buddies" do all of the work.
"It's been traditionally difficult for consumers to find a protein powder that's perfect for their body type, lifestyle and wellness priorities – including weight loss, muscle building, healthy skin, gut health, and energy," said Dan Obegi, President of Buddy Nutrition. "In addition to our personalized vitamin product, Buddy Shots, we're thrilled to be able to deliver personalized protein powders to the market, so that every consumer can now get protein powder that is custom manufactured to be the perfect product just for them."
Buddy Nutrition's personalized protein powders are available in millions of macro ingredient (protein, fat, carb), boost and flavor combinations. Mouthwatering flavors include: Salted Caramel, Chocolate Fudge, Chocolate Banana, Strawberry, Café Mocha, Vanilla and Chocolate Coconut.
To further customize each and every powder, Buddy Nutrition custom blends can include boosts tailored to individual wellness goals. The 10 initial boosts available are: BCAA's for increased muscle growth, EAA's for muscle and tissue repair, multi vitamins to combat deficiencies, electrolytes for fluid and electrolyte balance, protein enzymes for maximum absorption, carbohydrate enzymes to battle bloating, super greens for immune system support, probiotics for improved digestive health, turmeric to prevent inflammation in the body post-exercise and collagen to enhance skin elasticity.
Custom blends are made from a mix of 17 macro ingredients: protein, carb and healthy fats including – avocado oil powder, grass – fed beef protein isolate, dextrose, hemp protein, highly branched cyclic dextrin, maltodextrin, micellar casein, oat starch, pea protein isolate, rice protein concentrate, sweet potato powder, waxy maize starch, whey protein concentrate, whey protein isolate cold-filtration, whole egg protein, virgin olive oil powder and egg white protein.
Buddy Nutrition considers the personalized customer experience from start to finish by offering multiple sized options to align with all diets, lifestyles and preferences. Powders are available in two sizes. The first, a 1 lb. supply contains 15 servings and is sold for $29.95 ($1.99/ serving) with free shipping. The second, a 2 lb. supply contains 30 servings and is sold for $49.95 ($1.67/ serving) with free shipping. Because Buddy Nutrition understands that customers are leading full, busy lives and are pressed for time, the option to pause and edit orders at any time is offered to all.
For more information about the Buddy Nutrition platform, or to get started on creating a Buddy Protein Powder formula, please visit www.buddynutrition.com. Media are encouraged to request samples, contact buddynutrition@n6a.com for product and image requests.
About Buddy Nutrition
Buddy Nutrition knows that you're unique and believes that what you put in your body should be too. The Buddy Team has built a modern personalized nutrition platform – created by leading health and wellness executives – offering ultra-customizable, natural nutrition solutions. Their range of personalized products are recommended by your new nutrition expert, your "Buddy", based on your body type, goals and lifestyle. Buddy Nutrition does the research, custom blends products just for you, so you have one less thing to worry about. Healthy made easy. Your nutrition, your way. Buddy Nutrition products change when you change- you can update your order each month to align with changes in your individual health goals, lifestyle and diet. Buddy Nutrition was created by Green Park Brands. To learn more about Buddy Nutrition, please visit https://www.buddynutrition.com.