Angelic Bakehouse To Unveil New Packaging, Veggie Wraps at Expo West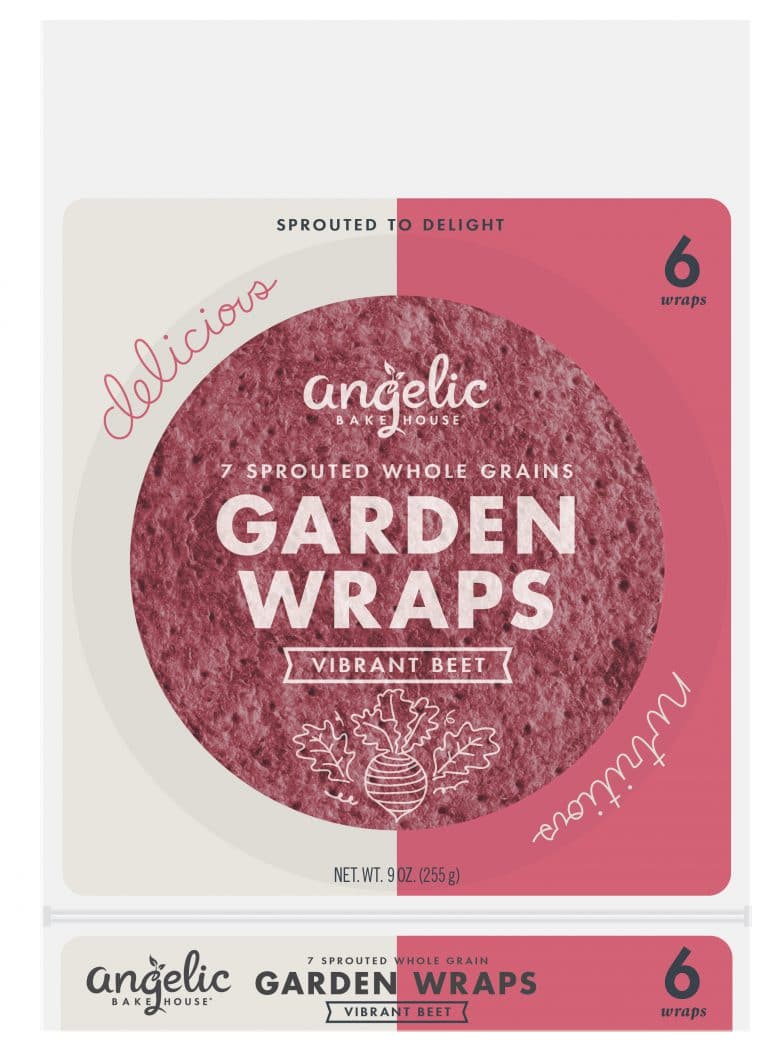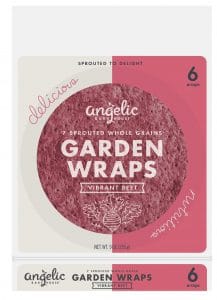 CUDAHY, Wis.– Angelic Bakehouse, innovator of delicious sprouted whole grain baked goods, will debut a chic and bold new look for its expanding line of yealthy foods (because they are just as yummy as they are healthy!) at Natural Products Expo West. Attendees are invited to visit booth #N2128 to see the colorful new packaging firsthand and indulge in Angelic Bakehouse's entire product line featuring its unique Sprouted and Fresh Pressed whole grain ingredient. The brand will also showcase its new Garden Wraps in Vibrant Beet, Turmeric Sweet Potato and Spring Kale Spinach.
"Our process for sprouting whole grains and fresh pressing them directly into our dough is incredibly unique and appealing in this category, and we've been working hard to develop a new brand look that better communicates how we're different in this space," said Jenny Marino, founder of Angelic Bakehouse. "Food is the center of every occasion in our home, but like many busy families, we often find it can be a challenge to put a healthy, tasty and quick dinner on the table. Every product we make stems from the idea of ease with no sacrifices.  We're excited to launch our new packaging that clearly showcases our premium ingredients and outstanding taste and nutrition designed for today's consumer where 'good enough' doesn't cut it anymore."
Angelic Bakehouse has raised the bar on traditional wraps commonly made with white flour and fillers, with its pure and premium ingredients.  Commodity Wheat typically sourced from Kansas and Nebraska with Glyphosate (Roundup) sometimes used in fallow fields and during harvest, does not meet their standards. Instead, they work closely with community farmers in Southwest Montana where the combination of 5,000-foot-elevation, undulating terrain, abundant sunshine and dry conditions result in whole red wheat berries that are approximately 16 percent higher in protein, grown without the use of glyphosate and are tested post-harvest to ensure no chemicals are present.
All Angelic Bakehouse products—including wraps, crusts, crisps, buns and bread—start withSprouted and Fresh Pressed Grains, the extraordinary version of whole grains that are sprouted to amplify flavor and nutrition. This 7-grain blend of non-GMO whole grains—red wheat berries, quinoa, barley, oat groats, rye berries, amaranth and millet—is sprouted by soaking in water for a specific time and temperature before being fresh pressed directly into the dough for all products. Sprouted grains have several nutritional benefits compared to unsprouted versions, including a lower glycemic index, higher levels of B vitamins, folate, fiber, essential amino acids and reduced levels of phytic acid and gluten, making the nutrients inside more available for absorption and may make them easier to digest than other grains.
The newest addition to the Angelic Bakehouse portfolio, new Garden Wraps are sold in the deli section in packs of 6 wraps per bag, with a suggested retail price of $4.49. Like all Angelic Bakehouse products, the new Garden Wraps are egg-free, nut-free, dairy-free, soy-free, sesame seed free, non-GMO, kosher and now vegan. Additional flavor details include:
Vibrant Beet: Nothing beats a beet – except of course these whawesome beet wraps! Wholesome with the right touch of sweetness, these are ideal for BLT wraps, caprese wraps or even DIY beet chips.
Turmeric Sweet Potato: Warming turmeric meets sweet potato in a wrap that is sure to be the golden star of your next meal. The perfect companion for sandwich roll-ups, chicken shawarma wraps and more.
Spring Kale Spinach: Super greens kale and spinach kicked up a notch with Angelic sprouted grains for the ultimate in super food nutrition. Yummy as a base for lunch or breakfast wraps, quesadillas, enchiladas and more.
Angelic Bakehouse products are available at select natural and conventional grocers nationwide, including Whole Foods, Sprouts, Fresh Thyme, Hannaford, HEB, Walmart, Costco and more. To learn more about Angelic Bakehouse's full portfolio of sprouted grain products or for recipe ideas, please visit angelicbakehouse.com or follow Angelic Bakehouse on Instagram (@AngelicBakehouse) and Facebook (@AngelicBakehouse).
About Angelic Bakehouse
Angelic Bakehouse has created a new category of carbs called Yealthy, the perfect mash of Yummy and Healthy. All Angelic Bakehouse foods start with premium whole grains that areSprouted and Fresh Pressed to deliver a numazing (nutritious + amazing) eating experience. With a range of products that include sprouted bread, sprouted buns, sprouted crusts, sprouted wraps and sprouted crisps, Angelic Bakehouse is making waves for the sprouted whole grain industry. Angelic Bakehouse features its seven whole grain blend, which includes red wheat berries, quinoa, oat groats, rye berries, barley, amaranth and millet, to create baked goods that provide the yin of nutritious and the yang of delicious. Elevating sandwiches, pizzas, soups, wraps, dips and more, all Angelic Bakehouse products are egg-free, peanut and tree nut-free, dairy-free, soy-free, sesame seed free, non-GMO, kosher and vegan. For more information and recipe inspiration, please visit Angelic Bakehouse at angelicbakehouse.com.