Amazing Grass Debuts Amazing Protein Glow Plant-Based Powder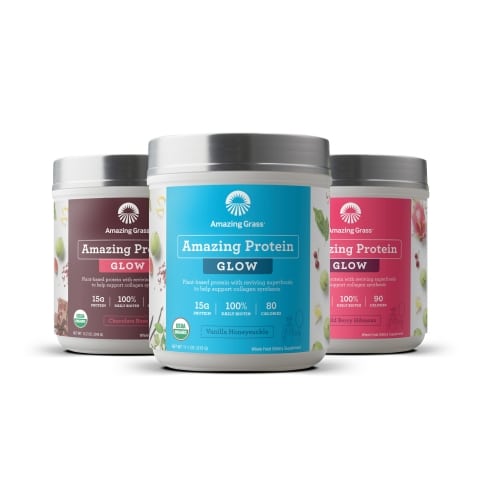 NEWPORT BEACH, Calif.— Amazing Grass, the nation's leading brand of plant-based, whole-food powdered supplements and nutrition bars, just launched Amazing Protein Glow, a revolutionary new product line featuring the brand's signature farm-fresh greens, organically grown on its family farm in Kansas, plus an array of functional botanicals to support a natural glow from the inside out. The innovative supplement, with 100 percent active ingredients derived from plants, delivers a plant-based solution to the collagen boom, providing a thoughtful combination of nourishing protein, reviving superfoods and an excellent source of key vitamins to support collagen synthesis for healthy skin and a natural glow, while remaining entirely animal-free.
"Although collagen and bone broth powders are finding huge success in the protein powder category, until now, there have been no plant-based alternatives to choose from. In addition, when speaking with both consumers and key retailers, we consistently heard a common theme: the need for a protein tailored specifically to women," said Ryan Therriault, vice president of marketing and innovation at Amazing Grass. "That's why we're so excited for the debut of Amazing Protein Glow. The new supplement provides the value driven, plant-based consumer with an animal-free collagen solution that's uniquely tailored to support healthy skin, hair and nails for a natural radiance."
Amazing Protein Glow unites the brand's cornerstone farm-fresh greens, organically grown on its third-generation family farm, with nutritious superfoods to deliver efficacious supplement offerings that are simple and convenient to enjoy. Simply swirl into water, toss into smoothies, or mix into baked goods for a convenient collagen supporting, superfood boost perfect for any time of the day.
Amazing Protein Glow is crafted with 15 g of plant protein plus reviving superfoods like Rose Petal, Holy Basil, Acerola Cherry, Guava and lemon peel to help support collagen synthesis and production. Each delicious scoop delivers all essential amino acids to support lean muscle recovery and repair, 100 percent DV biotin for healthy hair, skin and nails and provides an excellent source of food-based B-complex vitamins and vitamin C to further promote the appearance of glowing skin. SRP $32.99 for 15 servings and available in three amazing flavors: Wild Berry Hibiscus, Chocolate Rose and Vanilla Honeysuckle.
Consistent with all Amazing Grass products, Amazing Protein Glow is USDA Certified Organic, non-GMO, gluten-free and vegan-friendly. Amazing Grass products are available nationally at major natural food retailers, including Whole Foods Market, Vitamin Shoppe, Target, GNC, Sprouts and online at AmazingGrass.com, Amazon.com and more. For more information on Amazing Grass and its line of plant-based, whole-food nutrition, please visit www.amazinggrass.com.
About Amazing Grass
Amazing Grass was created in 2002 to help people connect health, nutrition and the environment to lead more active lives through organic, plant-based nutrition. For more than 50 years, its family farm in Kansas has perfected the growing, harvesting and dehydration of organic greens to ensure optimal nutrition. Today, the brand thoughtfully combines its alkalizing greens with the highest quality plant-based ingredients and superfoods sustainably sourced from around the world. All Amazing Grass products are plant-based, non-GMO, and made with real, whole-food ingredients. Amazing Grass is designed for people who conveniently want to get the recommended daily servings of fruits and vegetables, cleanse and detoxify, have digestive issues, and/or are vegan or consuming a vegetarian diet. Follow Amazing Grass via Facebook, Twitter, Instagram and Pinterest to learn more.