34 Degrees to Debut Single-Serve Sweet Crisps Bag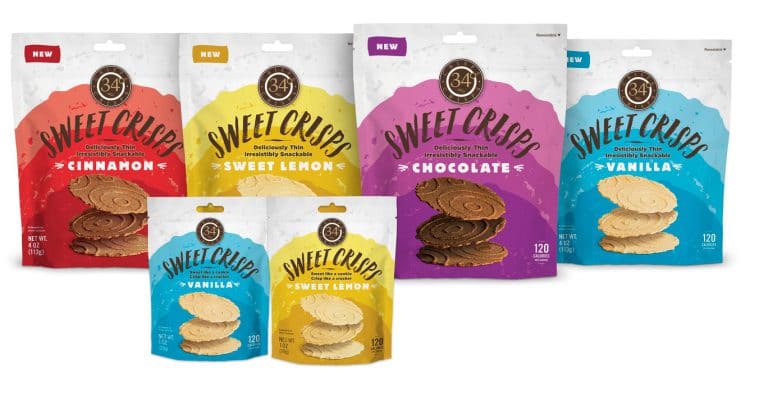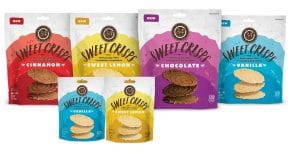 DENVER— 34 Degrees, creator of deliciously light and crunchy entertaining crackers, 34 Degrees Crisps, will debut a new single-serve size bag of its snackable Sweet Crisps at the 2019 Sweets & Snacks Expo. Delightfully sweet like a cookie yet airy and crisp like a cracker, the new single-serve Sweet Crisps will be available in both Vanilla and Sweet Lemon flavors. The small size and individual portion-controlled serving make the new bags ideally suited for kids' lunches or back-to-school merchandising, convenience channels, airport and travel-oriented retailers, coffee shops, gift shops and more. Sweets & Snacks Expo attendees are invited to visit the 34 Degrees booth #8019 to taste and learn more.
Deliciously thin and irresistibly snackable, Sweet Crisps is 34 Degrees' first non-savory offering. The new single-serve size expands upon the existing 4 oz. resealable bags to provide a highly-versatile sweet snacking solution for the $100 million-dollar segment comprised of bites, thin cookies and sweet treats.
"The initial response to our Sweet Crisps has been overwhelmingly positive. But through consumer testing we discovered a key insight – parents and travelers specifically loved the idea of a smaller grab-and-go size, so we knew we had to deliver it," said Craig Lieberman, founder and president of 34 Degrees. "Our Sweet Crisps are the perfect combination of light and crispy texture with just the right touch of sweetness, so you don't feel weighed down while satisfying your sweet tooth. Parents also love them because they're a better option than other sugar- and fat- laden desserts, yet kids still feel like they're getting a treat. We're thrilled to launch this new smaller size as it multiplies the opportunities for retail placement and distribution in non-traditional channels – we see the opportunities as endless!"
Made with premium ingredients like coconut oil, Sweet Crisps are deliciously thin, irresistibly snackable and satisfying. The Sweet Crisps line is available in 4 oz. resealable bags (MSRP $3.49 – $4.49) in four flavors: Chocolate, Vanilla, Cinnamon and Sweet Lemon; and 1 oz. single-serve bags (MSRP $1.99) in two flavors: Vanilla and Sweet Lemon. They are currently distributed in Meijer, Bartell Drugs and a variety of independent retailers, with national distribution expected this summer. Sweet Crisps are also available online at Amazon.com and Walmart.com. For more information, please visit 34-degrees.com.
About 34 Degrees
Headquartered in Denver, Colorado, 34 Degrees is the crafter of deliciously light and crunchy entertaining crackers, 34 Degrees Crisps. The company was founded by successful restaurateur and global food explorer, Craig Lieberman, after he discovered a uniquely thin cracker while traveling in Australia. The experience inspired him to create his own irresistibly crunchy crisps, which he lovingly named after the latitude of Sydney – 34 Degrees. Made with only a handful of premium quality, simple ingredients, the company now offers a line of versatile savory entertaining crisps in six flavors, including Natural, Sesame, Cracked Pepper, Rosemary, Whole Grain and Toasted Onion, and four snackable Sweet Crisps flavors, including Chocolate, Vanilla, Cinnamon and Sweet Lemon. 34 Degrees Crisps are available in the deli departments of retailers throughout the U.S. and Canada, including: Whole Foods Market, Kroger, Publix, Sprouts, Target, Wegmans, Loblaws, Sobeys, Safeway, Albertsons, King Soopers and more. 34 Degrees donates 1% of all the crisps it bakes to causes that fight hunger. To learn about the mission, community giving and creative recipes, visit 34-degrees.com. Or, for real-time conversations, visit Facebook, Instagram, Pinterest and Twitter.