34 Degrees Launches New Original Gluten Free Crisps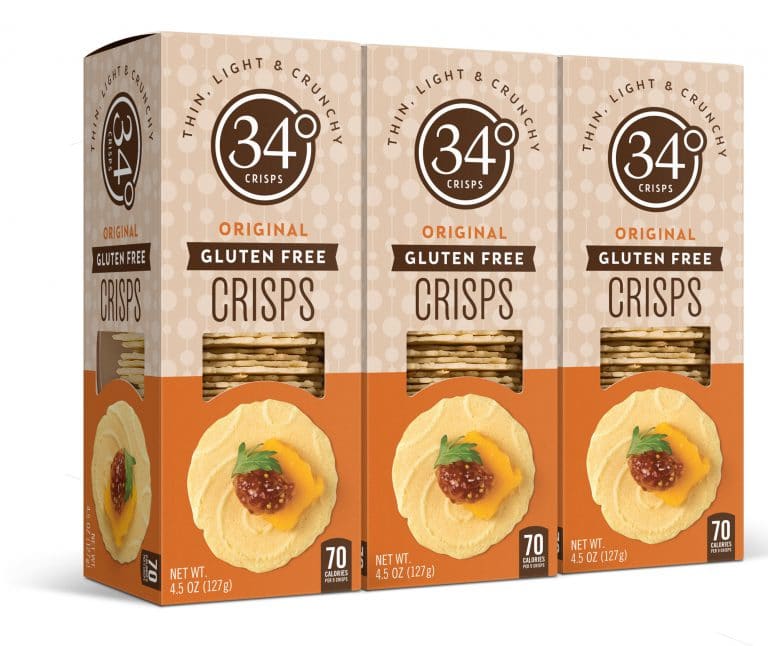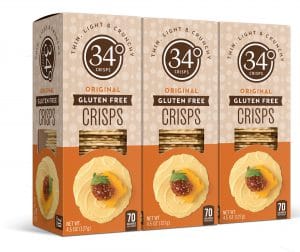 DENVER– 34 Degrees, makers of light, crunchy crisps ideal for entertaining and snacking, announced the launch of its first gluten-free product, Original Gluten Free Crisps. Just in time for the holiday season, the delicious new crisps will launch at select Whole Foods Markets in November with additional retailers to follow.
Made with six simple ingredients including chickpea flour, Original Gluten Free Crisps are a deliciously thin, light and crunchy allergy-friendly option. Chickpea flour is naturally gluten free and rich in protein and fiber. 34 Degrees uses steamed chickpea flour, which removes the often-prevalent iron taste, resulting in a delicious buttery finish. In addition to being gluten free, the crisps are non-GMO, dairy free, plant based and have only 70 calories per nine crisps.
"For years we've received requests for a gluten-free version of our crisps from consumers and retailers alike. We knew when we launched into gluten free, it would have to taste amazing first and foremost as well as have the undeniably light and crunchy texture that people love 34 Degrees for," said Craig Lieberman, founder and president of 34 Degrees. "We took great care in selecting the best ingredients and tested hundreds of recipes to get the flavor and texture just right. The final product is something we're incredibly proud of. The holidays are the perfect season to enjoy our newest offering and create festive party bites and appetizers to savor and share."
34 Degrees Original Gluten Free Crisps are available in 4.5oz boxes (MSRP $5.49). Every batch is produced in an allergen-free room and tested to ensure they exceed the FDA standard for gluten free. For more information, please visit 34-degrees.com.
About 34 Degrees
Headquartered in Denver, Colo., 34 Degrees is the crafter of deliciously light and crunchy entertaining crackers, 34 Degrees Crisps. The company was founded by successful restaurateur and global food explorer, Craig Lieberman, after he discovered a uniquely thin cracker while traveling in Australia. The experience inspired him to create his own irresistibly crunchy crisps, which he lovingly named after the latitude of Sydney – 34 Degrees. Made with only a handful of premium quality, simple ingredients, the company now offers a line of versatile savory entertaining crisps in seven flavors, including Natural, Sesame, Cracked Pepper, Rosemary, Whole Grain, Toasted Onion and Original Gluten Free, and four snackable Sweet Crisps flavors, including Chocolate, Vanilla, Cinnamon and Sweet Lemon. 34 Degrees Crisps are available in the deli departments of retailers throughout the U.S. and Canada, including: Whole Foods Market, Kroger, Walmart, Publix, Sprouts, Target, Meijer, Wegmans, Safeway, Albertsons, King Soopers and more.
34 Degrees donates 1% of all the crisps it bakes to causes that fight hunger. To learn more about the mission, community giving and creative recipes, visit 34-degrees.com. Or, for real-time conversations, visit Facebook and Instagram.
For More Information
https://www.34-degrees.com/