Yves Veggie Cuisine Releases Veggie Sausages and Appetizers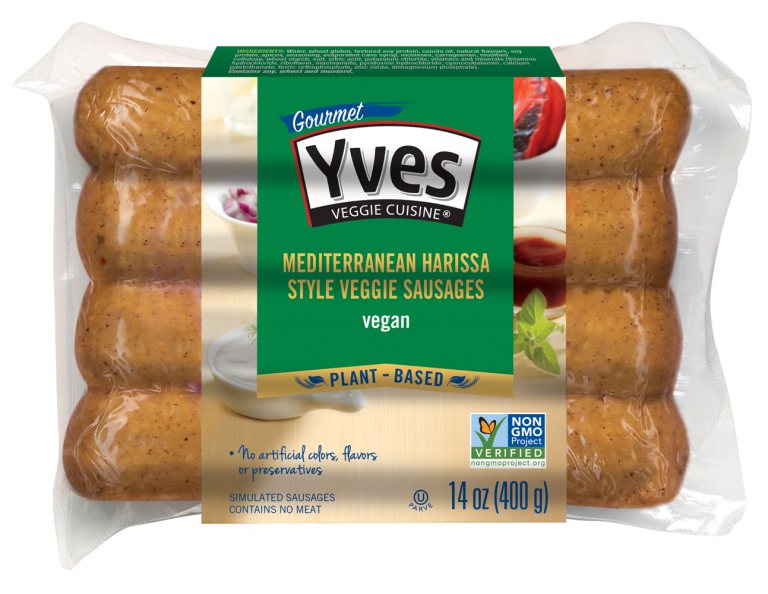 LAKE SUCCESS, N.Y. — For more than 20 years, Yves Veggie Cuisine has been dedicated to providing delicious veggie-forward foods that inspire shared moments together, from family cookouts and weeknight dinners to school lunches and healthy snacks. Constantly evolving and innovating to provide a wide variety of veggie-forward foods with the highest quality ingredients, Yves Veggie Cuisine foods also contain no artificial preservatives, colors or flavors, and are Non-GMO Project Verified.
Appetizer Bites
Yves Veggie Cuisine's new variety of veggie-forward Appetizer Bites are perfect for sharing with friends and family at the next gathering or as a quick snack. Available in Kale & Quinoa Bites, Falafel Bites, Broccoli Bites and Sweet Potato & Chickpea Bites, just pop them in the oven for 10 minutes for a crispy and tasty bite that's also gluten free, low in fat and a good source of fiber. SRP: $5.49 – $6.99
The Kale & Quinoa Bites combine two superfoods, kale and quinoa, for a delicious bite-sized treat.
The Middle-Eastern-inspired Falafel Bites are made with chickpeas, onions, carrots, and a mix of herbs and spices.
The Broccoli Bites are packed with potatoes, broccoli, carrots and onions.
The Sweet Potato & Chickpea Bites combine the delicious flavor of sweet potato with the Mediterranean flavors of chickpeas.
New Gourmet Veggie Sausages
Yves Veggie Cuisine's new Gourmet Veggie Sausages combine international flavors with high-quality veggie-forward ingredients for a delicious plant-based sausage. Low in saturated fat and cholesterol free, these veggie sausages make the perfect addition to barbeques or weeknight family dinners. SRP: $5.99
The Kale & Caramelized Onion sausages combine kale with the mild sweetness of caramelized onions.
The Mediterranean Harissa sausages are a delicious combination of red bell peppers and delicate harissa spices, inspired by the flavors of the Mediterranean.
Yves Veggie Cuisine's foods are perfect for complementing, completing or reinventing favorite comfort food dishes with a plant-positive twist. Look for Yves Veggie Cuisine foods in the refrigerated section of select grocery stores nationwide.
To learn more about Yves Veggie Cuisine and find delicious veggie-forward recipes, please visit the website YvesVeggie.com.