Yowie Launches Wildlife Conservation Series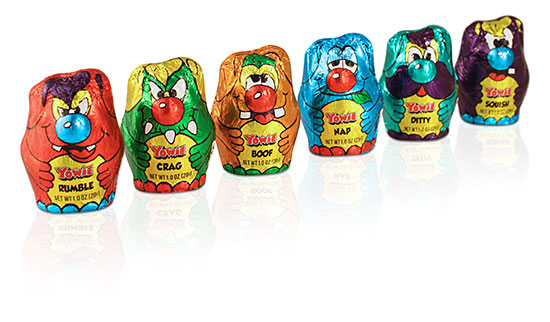 NEW YORK, N.Y. — This summer, make learning fun with a treat from Yowie's Chocolate Rescue Series. Yowie chocolates, created in the shape of a Yowie and wrapped in foil, contain one limited-edition collectible animal figurine and a leaflet that profiles the animal, its habitat, food sources and threats to the animal and its environment.
Yowie's mission is to encourage kids to understand the importance of saving the natural world through conservation, one piece of chocolate at a time. With a focus on conservation, each animal leaflet is color-coded to explain whether it is extinct in the wild, critically endangered, endangered, vulnerable, near threatened or least concern.
Now Yowie introduces its fourth Rescue Series – the "Wildlife Conservation Series" – which will support the Wildlife Conservation Society (WCS) and feature key endangered species including the Siberian tiger and the snow leopard. This set of collectibles will give kids an even greater knowledge of the natural world, and reinforce the need for conservation through the stories and background of endangered and precious wildlife. Yowie is proud to launch its second collaboration with WCS.
For every Yowie chocolate sold from the "Wildlife Conservation Series" between June 2018 and July 2019, WCS will receive a portion of the net proceeds to support its mission to save wildlife and wild places worldwide. To learn more details of these donations, please visit yowieworld.com/wcs.
To add another education layer to Yowie's mission, the company launched a new augmented reality app, Yowie Scope, in June. The app adds a digital element of the animal figurines and brings to life each collectible with videos, games and more. Continuing the fun all summer long, the new Yowie Scope app will provide a digital catalogue of all the Yowie mascots, offer virtual rewards, digital trophies and more, promoting learning about the natural world through technology. Fans can access the app by purchasing a virtual species or scanning one that has been purchased at a retailer. There are more than 100 different Yowie collectibles that can be added, collected and played with in the virtual collection.
Yowie's goal is to bring attention to the plight of wild animals while connecting kids to that mission through chocolate and a sweet treat. Yowie chocolates and collectibles are now available in more than 30,000 retail outlets across the U.S.
For more information, visit www.yowiegroup.com.
WCS (Wildlife Conservation Society)
MISSION: WCS saves wildlife and wild places worldwide through science, conservation action, education, and inspiring people to value nature. To achieve our mission, WCS, based at the Bronx Zoo, harnesses the power of its Global Conservation Program in nearly 60 nations and in all the world's oceans and its five wildlife parks in New York City, visited by 4 million people annually. WCS combines its expertise in the field, zoos, and aquarium to achieve its conservation mission. Visit: www.wcs.org.