Smith Teamaker Introduces 3 Holiday Teas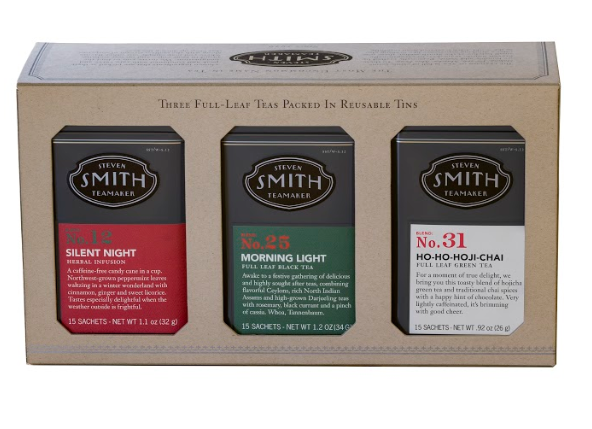 PORTLAND, Ore. — Avoid another frantic last minute trip down the wine isle this year with the indulgent holiday gift that we all forget to treat ourselves to: decadent, high-quality tea. Smith Teamaker introduces three exclusive limited-edition holiday teas ($42 for the trio) and custom latte kits sure to thrill everyone on your list.
Hojicha fanatics will love the Ho-Ho-Hoji-Chai- a twist on classic chai featuring the roasted Japanese green tea Hojicha and hints of chocolate while those devoted to black tea will appreciate the rosemary and black currant flavors of Morning Light. Silent Night is a unique caffeine-free candy cane in a cup featuring Northwest-grown peppermint leaves, cinnamon, ginger and sweet licorice.
To satisfy a sweet tooth, their Latte Kits ($29); Bungalow Crème Carmel, Chocolate Chai, Chocolate Peppermint create the perfect relaxing fireside moment for busy hostesses/hosts and visiting houseguests.