Seal the Seasons Expands Distribution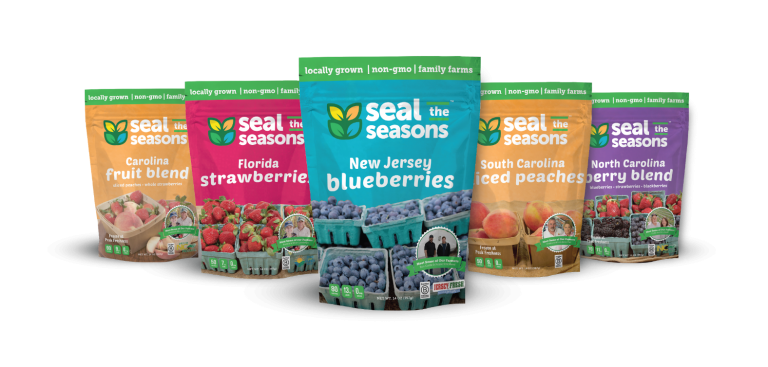 CHAPEL HILL, N.C. — Seal the Seasons is expanding to five new regions across the United States during the summer and fall of 2018, as announced by the company on Friday. In addition to its North Carolina base, the company is rolling out its unique "national/local" model (national brand, product sourced on a local basis) in the Northeast in July, the Pacific Northwest in August, the Midwest in September and the Pacific Southwest in October.
"Consumers want LOCAL/REGIONAL produce but the seasonality of crops means they can only get local fruit a few weeks a year, depending on the crop and the location," said Patrick Mateer, the founder of Seal the Seasons. "We work with family farms to freeze and sell their products on a state-by-state or region-by-region basis. Thus, we allow consumers the opportunity to have great tasting local/regional produce year-round, while creating a 365 day a year market opportunity for farmers."
Seal the Seasons originated in North Carolina, where the company worked with small family farmers in the state to freeze their produce and take it to market. Seal the Seasons frozen produce first hit the shelves in conventional supermarkets in September of 2016. The concept has taken off in the Carolinas and neighboring states, where more than 1,200 stores sell an assortment of North and South Carolina grown frozen fruit including blueberries, strawberries, peaches, berry blend and Carolina Fruit Blend (North Carolina Strawberries and South Carolina Peaches).
They are now replicating and launching this model in five additional regions across the country. In the Northeast, Seal the Seasons will sell New York and New Jersey grown blueberries, cherries and berry blends. Florida and Georgia will soon have Florida and Georgia grown fruit available year-round. In the Great Lakes region, Seal the Seasons will carry blueberries, strawberries, peaches, cranberries and an array of cherries grown in several Great Lakes states. They will have similar fall expansions on the West Coast selling California produce in California and Arizona and Washington and Oregon grown fruit in Washington, Oregon and Idaho.
The concept for Seal the Seasons was created by Patrick Mateer, founder and CEO, while he was in college at the University of North Carolina at Chapel Hill. Seal the Seasons was founded with two main goals in mind: (1) giving consumers access to locally-grown produce 365 days a year and (2) helping to save local family farms from closing.
Patrick discussed some of the idea behind founding Seal the Seasons. "As a student, I worked as a volunteer with an organization that helped bring local farm grown food to people in hunger. While doing this, I spent a lot of time visiting farms. I remember one time watching a strawberry farmer basically dig a hole larger than a swimming pool, fill it with strawberries and then plow it over. He had more product than he could sell in the relatively short period before it would perish. I started thinking, how can we make the selling season longer for farmers. By freezing local fruit, we create a year-round market for these farmers and allow consumers access to local/regional produce 12 months a year as well."
Small to mid-size family farms have been closing at an unprecedented rate since 2000. Approximately 21 percent of these farms have closed their doors since the start of the new millennium. Seal the Seasons aims to change this by giving these local farmers a market for their product year-round.
"We are excited to take our model to the Northeast, Midwest, Pacific Northwest and Pacific Southwest during the 2018 growing season," said Mateer. "We have found with this model in the Mid-Atlantic region and are excited to see the potential for new growth in these new regions."
Seal the Seasons will be showcasing the rollout of their expansion plan during the Summer Fancy Food Show from June 30 to July 2 at the Javits Center in New York City. Make sure to visit the Seal the Seasons team at the booth of their New York distributor McMahon's Farm #5910 for more information.
About Seal the Seasons
Seal the Seasons partners with local family-farms to freeze produce in season and bring it to grocery stores 365 days a year. Seal the Seasons sells fruit on a state by state and region by region basis. Seal the Seasons currently sells North and South Carolina product in the Mid-Atlantic (North Carolina, South Carolina, Virginia, Maryland and Tennessee) and New York and New Jersey product in the Northeast (New York, New Jersey and Connecticut). With the upcoming crop season, Seal the Seasons will be expanding to sell LOCAL and REGIONALLY grown fruit in the Midwest, Pacific Northwest and Pacific Southwest. As a Certified B Corporation, it is committed to using business as a force for good in the world. Its mission is to build local supply chains to change the food system. For more information about Seal the Seasons, visit www.sealtheseasons.com.