Rule Breaker Snacks Launches Nut-Free P'Nutter Chocolate Chip Treats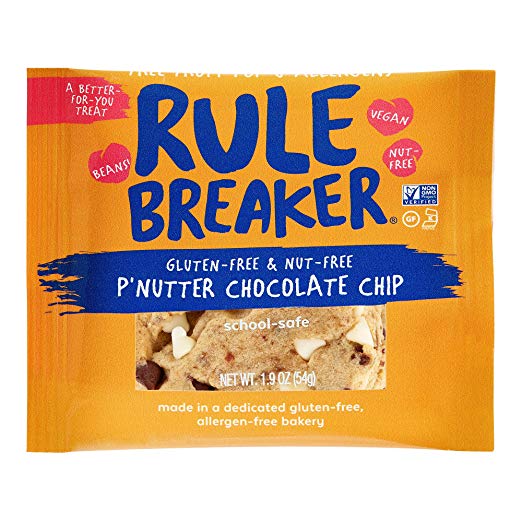 NEW YORK, N.Y. — Rule Breaker Snacks, maker of innovative vegan bean-based sweet snacks, announces the launch of nut-free P'Nutter Chocolate Chip treats. Bursting with white chocolate and dark chocolate chips, Rule Breaker's newest treats bring the classic flavors of chocolate and peanut butter together without a trace of nuts or artificial flavorings. The new flavor joins original Rule Breaker Snacks Deep Chocolate Brownies, Chocolate Chunk Blondies and Birthday Cake Blondies as delicious, decadent guilt-free treats.
All Rule Breaker Snacks products harness the power of beans along with other wholesome ingredients to create truly delicious, indulgent and guilt-free goodies. Chickpeas (garbanzo beans) are the first ingredient in all flavors. Perfect for anyone looking for a treat they feel better about eating and giving to their kids, all Rule Breaker snacks are packed with protein and fiber, are lower in sugar and have under 250 calories each. They are also gluten-free, kosher, vegan, nut-free, non-GMO, and free from the top eight allergens.
"We are excited to add a new flavor to our line of vegan, allergen-friendly, gluten-free chickpea snacks just in time for back-to-school," said Nancy Kalish, founder of Rule Breaker Snacks and a former health journalist. "Chocolate and peanut butter is a much-loved flavor combination and we are thrilled to offer a nut-free way for everyone to enjoy it – without the guilt!"
About Rule Breaker Snacks
Rule Breaker Snacks are defiantly delicious bean-based treats. Packed with protein and fiber and lower in sugar, Rule Breaker Snacks are gluten-free, vegan (100% plant-based), non-GMO and free from the top eight allergens. They are available online and at select retail locations. For more information, visit rulebreakersnacks.com.