Rubicon Bakers Launches New Peppermint Fudge Cake for the Holidays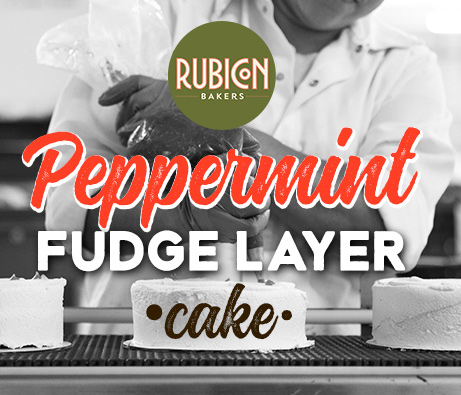 RICHMOND — The hard-working and creative Rubicon Bakers have launched a new addition to the social-mission company's seasonal holiday product line: Peppermint Fudge Layer Cake. Rubicon Bakers believes baked goods can be more than just sweet treats; they "Bake A Better World" through their mission to hire and support those with significant barriers to employment, and to bake delicious products using all natural, clean ingredients. More than just a bakery, Rubicon Bakers embraces compassion to build a strong and empowered community.
According to a recent Nielsen study, 73 percent of consumers feel positively about brands that share the "why behind the buy" information about their products, prioritizing goods made with all-natural ingredients from companies that use conscious practices. Rubicon Bakers offers this extra layer of delight to consumers who can feel good purchasing a naturally delicious product made with integrity.
"With Rubicon Bakers' treats in more than 2,500 stores across the country, we're thrilled to reach millions of consumers," said Andrew Stoloff, Rubicon Bakers President. "The holidays are a time to connect with family, friends and community, and we hope our desserts can bring a little extra delight into everyone's lives this holiday season."
With an SRP of $12.99, the new 6-inch Peppermint Fudge Layer Cake is a decadent, classic chocolate cake with cool candy cane filling and frosting, drizzled with a rich chocolate glaze. This festive cake features an all-natural candy cane crunch.
The Peppermint Fudge Layer Cake joins Rubicon Bakers' existing holiday SKUs: Pumpkin Pie Cupcakes and Peppermint Fudge Cupcakes each with an SRP of $4.99, and a 6-inch Pumpkin Praline Cake with an SRP of $12.99. The Peppermint Fudge Layer Cake is available this holiday season at over 1,600 Kroger locations nationwide, as well as at independent retailers. The rest of the holiday line can be found at select Whole Foods Market locations, Northern California Safeway stores and independent retailers.
ABOUT RUBICON BAKERS:
Founded in 1993 with the mission to help those in need of a second chance, Rubicon Bakers is more than a bakery. By hiring those who have formerly been incarcerated, homeless, or recently recovered from substance abuse, Rubicon Bakers spreads compassion to build a strong and empowered community. Swiftly becoming a national brand, Rubicon Bakers' all-natural baked goods, free from artificial colors, flavors and preservatives, are available in more than 2,500 stores nationwide. "Bake a Better World" is the mantra for this socially-conscious Certified B Corporation that scratch-bakes more than 50 hand-finished products, as well as seasonal desserts, for specialty and mainstream grocers across the country. Visit rubiconbakers.com for more information and sweet inspiration.