Perfect Bar to Launch Perfect Kids at Expo East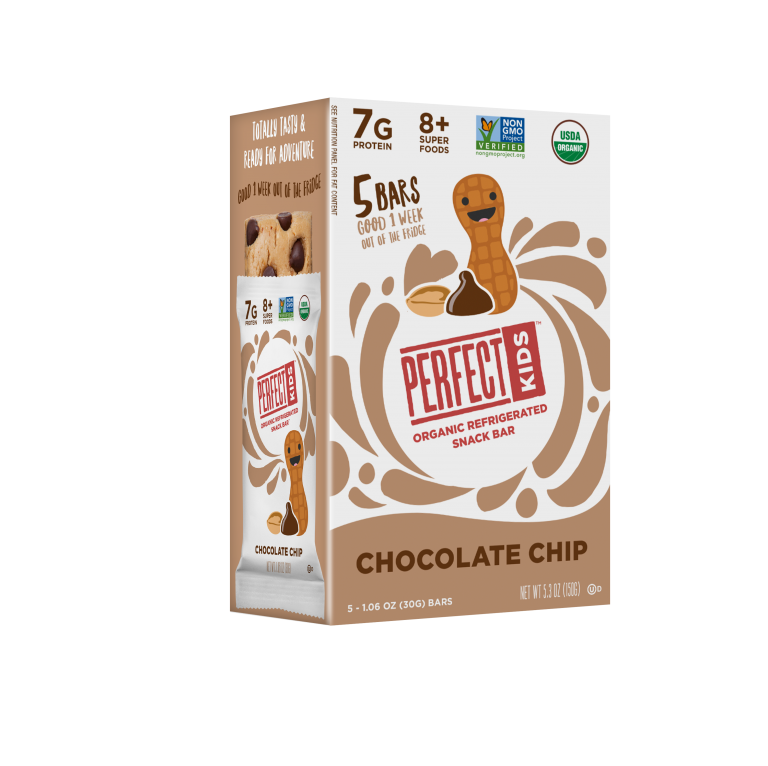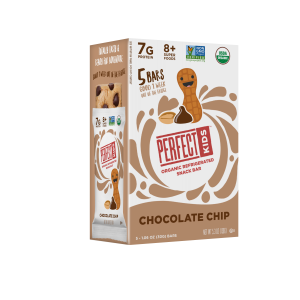 SAN DIEGO — Perfect Bar, LLC, creators of The Original Refrigerated Protein Bar, is freshening up the lunchbox snack game with the launch of the first-of-its-kind refrigerated snack bar: Perfect Kids (www.perfectkids.com). Boasting clean-food credentials of USDA organic, Project-Verified Non-GMO and low-GI, Perfect Kids will launch at Expo East 2018 before becoming available in more than 500 Target stores nationwide this November.
With a cookie-dough-like texture and taste, Perfect Kids will be sold in boxes of five and offered in two flavor varieties: Peanut Butter Cookie and Chocolate Chip. Each refrigerated snack bar is made with freshly-ground organic peanut butter, organic honey, gluten-free oats, and delivers seven grams of whole food protein and eight superfood veggies, making it a nutritious solution for parents and a delicious choice for kids.
"Our dad crafted the original Perfect Bar recipe when we were kids, traveling the country in a motorhome, in an effort to hide dried, whole food supplements and protein in a snack that tasted like cookie dough," said Bill Keith, Founder and CEO of Perfect Bar. "After 13 years of Perfect Bar feeding families, and now with kids of our own, it was time for us to create a snack that meets both kids' portion and nutrition needs, while not compromising the deliciousness they crave. With the kids' taste test we conducted, we're confident Perfect Kids delivers the cleanest, tastiest and most-nutritious lunchbox-ready snacks for kids."
As its first line extension from its refrigerated protein bars, Perfect Bar garnered insight from its own consumers and fans to hear what was missing from their kids snacks and found:
The #1 characteristic parents associate with the term "healthy food" is "minimally processed" (#2 is "organic" and #3 is "natural")
The most-important factor when purchasing snacks for their kids is that it's Nutritious (2nd most-important attribute is Portability/Convenience)
The majority of parents felt that Good Nutrition, Whole Food Protein and Vegetables were missing from current kids' snacking options
92% of parents are comfortable feeding their kids snacks with organic honey as a sugar source, as opposed to other options like cane sugar, sugar alcohols or stevia
86% of parents prefer shopping for their kids' snacks on the perimeter aisles of the store
With innovation at the forefront of the company's initiatives, the Perfect Bar brand continues to grow in both category market share and distribution throughout its various grocery channels. Since early 2017, the brand has expanded its national footprint from 5,000 to 20,000 store doors, making its refrigerated protein snacks more accessible to consumers looking for fresher, grab-and-go options.
"The launch of Perfect Kids comes just after Mintel's study, 'The Future of Fresh,' reported that 'Is fresh' is the #1 purchase driver for Millennials and iGen consumers, when shopping for food," said Leigh Keith, Co-Founder and President of Perfect Bar, LLC. "With these two generations coming into parenthood, we believe the demand for fresh snacks will continue to increase rapidly, driving these consumers to the fresh perimeter of the store."
In addition to the two new Perfect Kids flavors, Perfect Bar's existing line includes 12 other peanut-, almond-, and cashew-butter varieties, each gluten-free, Project Verified Non-GMO and low-GI, with up to 17 grams of whole food protein and 20 organic superfoods. While all Perfect Bar products are found in the refrigerated aisle of grocers nationwide, they stay fresh up to one week outside of the fridge at room temperature.
Perfect Kids will be available alongside Perfect Bar in Target fridges, as well as online at www.perfectkids.com, beginning November 2018, with a suggested retail price of $4.99 per 5-count box.
About Perfect Kids
From the makers of Perfect Bar, The Original Refrigerated Protein Bar, founded by The Keith Family in 2005, Perfect Kids delivers the cleanest, tastiest and most nutritious lunchbox-ready snacks for kids. Both Perfect Kids' Peanut Butter Cookie and Chocolate Chip flavors deliver whole food protein and perfectly-hidden superfoods, offering trusted, quality ingredients for the parents and a yummy, cookie-dough-like bite for their kids.
Perfect Kids boasts a clean-food label and is gluten-free, Project Verified Non-GMO, low-GI and kosher.
Find Perfect Kids in the fridge section of Target stores nationwide, beginning November 2018, and take them on the go for up to one week. To learn more or find a fridge near you, visit www.perfectkids.com.