Organicville Debuts New Packaging and Products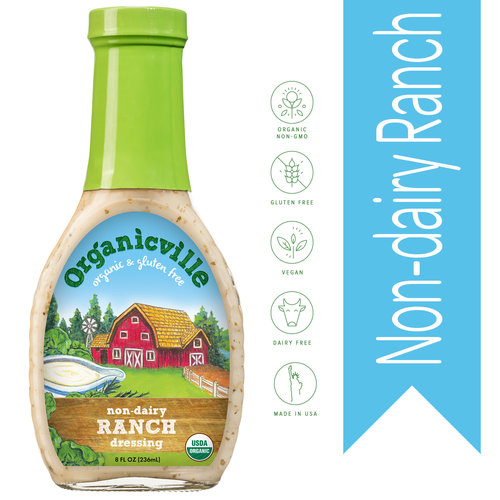 DANVILLE, Va. — Organicville, a brand in the Sky Valley Foods portfolio, makers of high-quality, organic and natural salad dressings, specialty sauces, condiments, marinades, pasta sauces and sparkling beverages, debuted the brand's newest innovations in the food enhancement category at 2018 Natural Products Expo West.
Offering consumers an already robust lineup of organic foods that deliver great taste, Organicville is leaning into consumer demand for better foods with clean labels by launching a suite of products that appeal to flexitarians everywhere. Innovations from the brand that will be on display include a roster of refrigerated organic dressings/marinades, new flavors and a facelift to shelf-stable dressings and a new organic ketchup size.
"Expo West is the perfect venue to introduce our updated product offering to flexitarians and all consumers," said Rachel Kruse, founder, Organicville. "We see a tremendous opportunity with flexitarians across the board, as they look for more organic foods and better food enhancements – like dressings, sauces, marinades and condiments. In simple terms, they love to eat organic salad but prefer to eat them with organic dressing, but also love to indulge in a great burger with some organic ketchup, of course."
Brand highlights at Expo West include:
New refrigerated organic dressings/marinades – Dressings and marinades have never been 'cooler.' Refrigerated organic & gluten free dressings are making their Organicville debut in flavors that are sure to satisfy any palate. Coming soon, be on the lookout for 12 oz. bottles of non-dairy Ranch dressing, Olive Oil & Balsamic vinaigrette, Sundried Tomato & Garlic vinaigrette & marinade, White Balsamic vinaigrette, French dressing, Greek vinaigrette, Herbs de Provence vinaigrette, Blood Orange vinaigrette, Dijon vinaigrette, non-dairy Thousand Island dressing and Miso Ginger dressing. These new organic dressings/marinades will be sold in the perimeter of stores, where fresh is king.
New look and flavors, same great taste – Shelf-stable dressings from Organicville are getting the facelift they deserve – new bottle, new label and the same 8 oz. size. To celebrate the line's new look, and tapping into the trend of consumer preference for tasty herbs, spice and fermented foods, two new flavors are being introduced: Miso Tahini and Tahini Turmeric.
New take on a timeless condiment – Organicville is introducing a convenient 14 oz. squeeze bottle organic ketchup, made with agave nectar. No high-fructose corn syrup!
"Our vision at Organicville has remained consistent since its inception," said Kruse. "We bring nature's flavors to life. We look forward to carrying that promise every day going forward."
For more information on Sky Valley Foods and its extensive line of products, visit www.skyvalleyfoods.com or www.OrganicvilleFoods.com, or get social with Organicville on Facebook.
About Sky Valley Foods
Sky Valley Foods creates high quality, organic, nutritious and simply delicious salad dressings and specialty sauces including condiments, marinades, salsa, and pasta sauce for the natural and organic foods consumer under its Sky Valley™ and Organicville brands. In addition to its consumer brands, Sky Valley Foods also co-packs ready-to-drink beverage products in glass or PET Bottles ranging from juices, functional drinks, teas and carbonated sodas. Headquartered in Danville, VA, Sky Valley Foods products are available nationwide at independent and natural food chains like Whole Foods Market, Sprouts Farmers Market, Earth Fare, Fresh Market, and at retail grocery stores including Kroger, Target, Publix and many more. For more information, visit www.skyvalleyfoods.com.