Ocean Spray Releases Cranberry +health Cranberry Supplements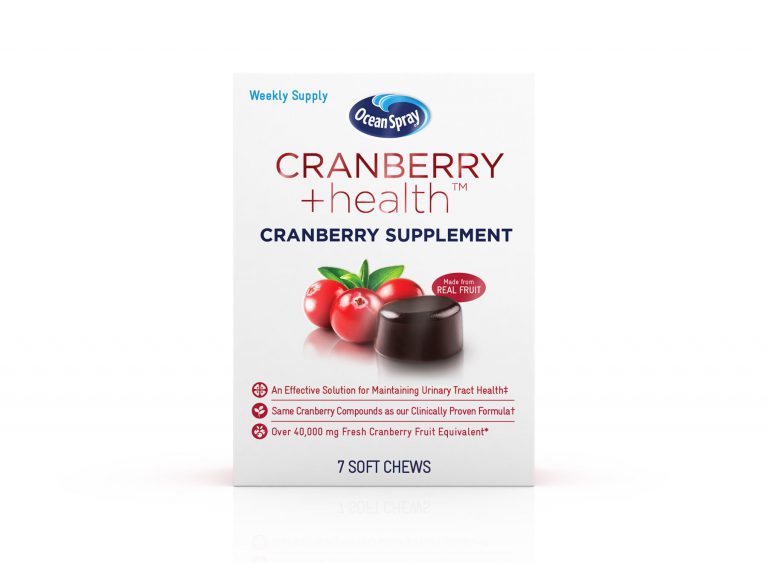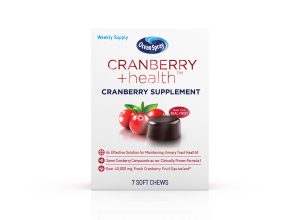 LAKEVILLE-MIDDLEBORO, Mass. — The healthy goodness of the cranberry and its power to help maintain urinary tract health have been well documented throughout the years. As research continues to uncover the how's and why's, consumer needs also continue to evolve. Consumers are now looking for more natural, convenient sources of nutrition and supplements to maintain health. Today, the cranberry experts at Ocean Spray are unleashing the unique health benefits of the cranberry in a soft chew form with their new Cranberry +health Cranberry Supplements.
Ocean Spray Cranberry +health Cranberry Supplements are a convenient, great-tasting daily supplement, formulated to help maintain a healthy urinary tract. They are made from real fruit and have no artificial flavors, colors or preservatives. Better yet, they are Non-GMO*, gluten free and contain only 25 calories per chew.
"Research suggests that the cranberry holds a whole host of total body benefits and for decades we at Ocean Spray have been dedicated to researching, supporting and delivering great-tasting, good-for-you products," said Chet Baker, Director of Healthcare and New Platforms. "The introduction of Cranberry +health™ Cranberry Supplements sets in motion our commitment to provide products that deliver even better taste, health and convenience for our consumers busy lifestyles."
Cranberry +health™ Cranberry Supplements are an effective way for maintaining urinary tract health. A landmark study published in the American Journal of Clinical Nutrition** in June 2016, showed that consuming 8 ounces of cranberry juice cocktail daily reduced the recurrence of symptomatic UTIs in women by nearly 40%. According to Christina Khoo, Ocean Spray's Director of Global Health Science & Nutrition Policy, "fewer UTIs could mean a significant reduction in the need for antibiotics used to treat them." Ocean Spray Cranberry +health Cranberry Supplements, which contain the same amount of cranberry polyphenols as the juice drink formula in that clinical study, make it easy and convenient to get these powerful cranberry compounds daily.
Cranberry +health Cranberry Supplements are available in both 7 and 28 count boxes with an SRP of $5.99 and $22.99, respectively. Cranberry +health™ Cranberry Supplements are available in 7 count boxes at select CVS stores and on CVS.com.
About Ocean Spray
Ocean Spray is a vibrant agricultural cooperative owned by more than 700 cranberry farmers in the United States, Canada and Chile who have helped preserve the family farming way of life for generations. Formed in 1930, Ocean Spray is now the world's leading producer of cranberry juices, juice drinks and dried cranberries and is the best-selling brand in the North American bottled juice category.
The Cooperative's cranberries are currently featured in more than a thousand great-tasting, good-for-you products in over 100 countries worldwide. With more than 2,000 employees and nearly 20 cranberry receiving and processing facilities, Ocean Spray is committed to managing our business in a way that respects our communities, employees and the environment. For more information visit: www.oceanspray.com or www.oceanspray.coop.
*Does not contain genetically engineered ingredients
**Maki, KC, Kaspar, KL, Khoo C, Derrig LH, Schild AL, Gupta K. consumption of a cranberry juice beverage lowered the number of clinical urinary tract infection episodes in women with a history of urinary tract infection, AMJ Clin Nutr 2016; 103(6), 1434-1442.