Nutiva Expands Powder Portfolio with Three New Flavors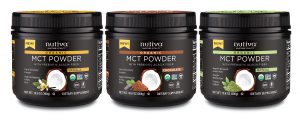 RICHMOND, Calif.— Pioneer of plant-based organic superfoods that nurture vitality, Nutiva has announced the expansion of its innovative USDA Certified Organic MCT Powder line, NuMCT, with three new flavors: Vanilla, Chocolate and Matcha. The new flavored supplements are a revolutionary way to attain clean, sustained energy, derived from medium chain triglycerides (MCTs), in a convenient powder format. Like Nutiva's cornerstone unflavored Organic MCT Powder, the new flavors are uniquely crafted from 100 percent young organic coconuts and gut-supportive prebiotic acacia to deliver a powerful dose of MCTs with every scoop. Found naturally in coconuts, MCTs provide the body with easily digestible fatty acids that quickly convert to ketones to rapidly supply the brain, muscles, and other tissues with continuous energy while supporting the metabolism.*
"Given the positive reception our cornerstone unflavored Organic MCT Powder received from the get-go, we're excited to debut three new flavors of our innovative supplement to cater to even more usage occasions and taste preferences," said Steven Naccarato, CEO of Nutiva. "From those devoted to special diets like paleo and keto, to the average individual seeking more sustainable energy sources, these revolutionary flavored MCT powders are simple one scoop solutions to meet the widespread need for clean energy in a convenient powder format. With signature flavors like Vanilla, Chocolate and Matcha, we're filling a gap in the category for consumers seeking MCT supplements that feature a subtle, delicious taste for everyday use."
Nutiva Organic MCT Powders are the only USDA Certified Organic MCT Powders, and Nutiva is the only organic brand to offer an array of flavors. Like Nutiva's unflavored Organic MCT Powder, the three new Organic MCT Powders serve as creamy alternatives to traditional MCT oil and are gentler on the digestive system.* Plus, the supplements blend effortlessly into hot or cold beverages like smoothies, coffee, tea, water and more, serving as an optimal pure energy source for all occasions. From powering up in the morning for enhanced mental clarity, to using as an energy booster between meals, or as pre- or post-workout support, all four Nutiva Organic MCT Powders are keto- and paleo-friendly energy solutions. The new supplements are also USDA Certified Organic, Non-GMO Project Verified, Certified Vegan, Certified Ketogenic, naturally gluten-free, and free of sugar, dairy, corn, soy, palm oil and hexane. Containing three grams of fiber from prebiotic acacia fiber and six grams of MCTs, including 56 percent caprylic acid (C8), 39 percent capric acid (C10) and five percent lauric acid (C12) in a single serving, Nutiva Organic MCT Powders boost gut health and supply pure, clean fuel. Additional new product details include:
Vanilla Organic MCT Powder – created with signature vanilla flavor and infused with a touch of sweetness from monk fruit extract for a lightly flavored taste.
Chocolate Organic MCT Powder – crafted with a touch of cocoa powder and monk fruit extract for energy-seeking chocolate lovers.
Matcha Organic MCT Powder – infused with the antioxidant benefits of organic matcha leaf powder and monk fruit extract for an added boost of superfood energy.
New Vanilla, Chocolate and Matcha Nutiva Organic MCT Powders are available in 10.6-oz. canisters online at www.nutiva.com with retail availability to follow. The new products join Nutiva's ever-growing line of Non-GMO Project Verified, USDA Certified Organic, paleo-friendly and naturally gluten-free coconut, chia and hemp superfoods, including Organic MCT Oil. For more information, recipe ideas, or details on Nutiva's social impact and sustainability efforts, please visit www.nutiva.com.
*These statements have not been evaluated by the Food and Drug Administration. This product is not intended to diagnose, treat, cure or prevent any disease.
About Nutiva
Nutiva was founded in 1999 with a single purpose in mind: to revolutionize the way the world eats. Today Nutiva nurtures vitality by consciously curating the world's finest organic plant-based foods, including coconut, chia and hemp superfoods. Nutiva donates one percent of sales to support sustainable agriculture, a contribution of more than $4 million to date. Nutiva products are offered nationwide, as well as in Europe, Asia, Latin America and Canada. For more information, visit www.nutiva.com, and like us on Facebook or follow us on Instagram.