NuGo Nutrition Launches Egg White Protein Bars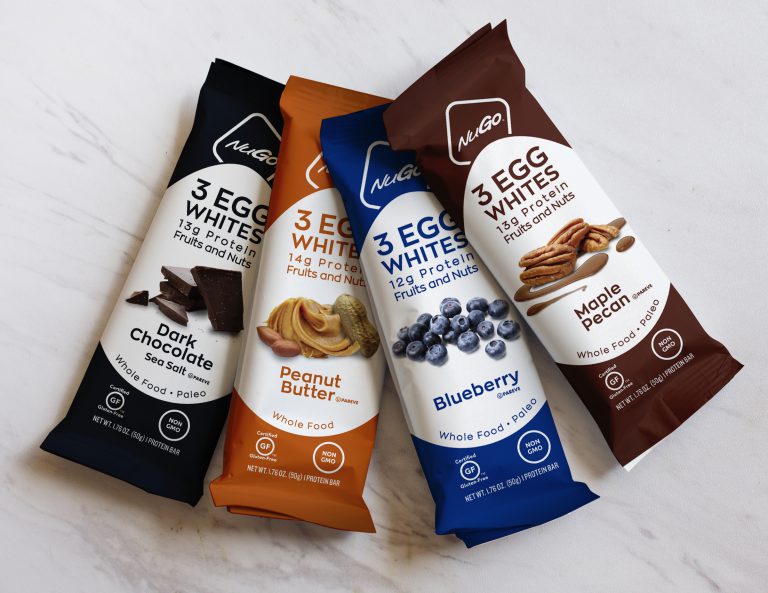 PITTSBURGH — NuGo Nutrition launches a new Non-GMO product line, NuGo Egg White Protein Bars. These non-dairy, whole food paleo bars are certified gluten-free and OU kosher pareve. NuGo starts with the highest quality real fruits and nuts, then adds three Non-GMO egg whites, resulting in 12-14 grams of protein per bar. Egg white protein is a complete protein, containing all of the amino acids the body needs, while being virtually fat and cholesterol free.
The simple, clean ingredients combine to form a truly delicious whole food protein bar with 180-200 calories available in four flavors: Dark Chocolate Sea Salt, Maple Pecan, Blueberry, and Peanut Butter. Compared to the only competitor, NuGo Egg White Protein Bars contain less calories and carbs as well as better taste and value.
"As an independent company, we are excited to now offer consumers a better egg white protein bar with exceptional taste and value as an alternative to Kellogg's RXBar," said David Levine, NuGo CEO.
Features of NuGo Egg White Protein Bars:
12-14g protein
Whole Food
Paleo
Non-GMO
Certified Gluten-Free and Kosher Pareve
Real Fruits and Nuts
No Dairy, Soy or Artificial Ingredients
No Added Sugars
NuGo continues to add product lines that offer consumers a wide variety of lifestyle protein sources while never sacrificing taste or quality ingredients. Gluten-free NuGo Protein Cookies with pea protein were launched last year. NuGo made a better cookie than the dominant player whose cookies contain gluten and over 35 ingredients. NuGo gluten-free cookies have fewer ingredients and taste better, according to many influencers. Including egg white protein, NuGo now makes 34 certified gluten-free products.
As an independent food company, NuGo prioritizes better taste and healthier offerings over cost savings that produce inferior products. NuGo Nutrition is committed to using real dark chocolate and pioneered real dark chocolate coated protein bars for many lifestyles. Most other coated bars replace the natural cocoa butter with unhealthy palm kernel oil, making the imitation chocolate have a waxy texture and too sweet taste. NuGo's heart remains centered on the needs of its customers and consumers for in demand, consistently delicious products. To find retailers or to order online, visit www.nugonutrition.com.
About NuGo Nutrition
NuGo Nutrition's mission is to help people make healthier and tastier snack choices that fit their lifestyle. Headquartered in Pittsburgh, PA for over 15 years, the independent company is committed to using top quality, Non-GMO ingredients, like antioxidant-rich real dark chocolate. NuGo Nutrition makes real dark chocolate coated protein bars for many lifestyles, including gluten-free, vegan, low sugar, organic, and kosher pareve. Purchase NuGo at stores in the U.S. and internationally or online. Follow @NugoNutrition on Twitter, Facebook, and Instagram.