Nasoya Unveils Two New Products And Latest Innovations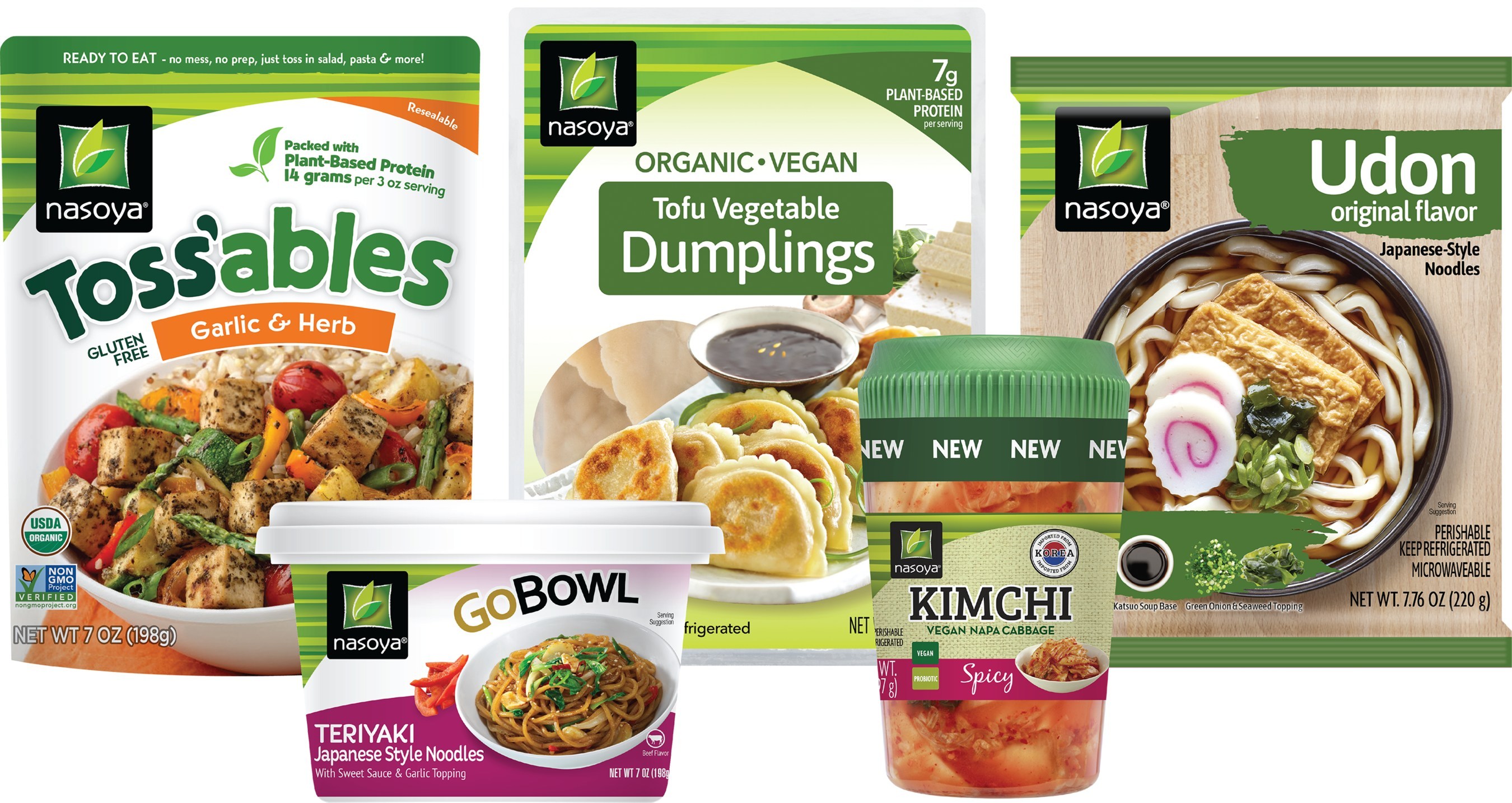 AYER, Mass. — Nasoya, the nation's leading brand of tofu, today announced it will be debuting two new products and showcasing a range of its recently launched products at the upcoming Produce Marketing Association (PMA) Fresh Summit October 19-20 in Orlando, FL. With fresh grocery categories driving nearly 49% of all dollar growth in brick-and-mortar stores (Source: Nielsen), the PMA Fresh Summit is a valuable event for education and engagement among leading exhibitors and produce buyers and is a perfect time for Nasoya to bring buyers up to speed on what's new from the brand.
Nasoya will be showcasing its latest products, in addition to its classic line of core tofu and plant-based protein products, that cater to a range of diet needs and tastes while remaining healthy, convenient and delicious. Sampling will take place at the booth for all of the featured products:
Nasoya Kimchi – Launching at the PMA Fresh Summit, Nasoya's new Kimchi can be paired with veggies, rice, pizza, stir-fry, sandwiches and much more. The new Kimchi comes in four varieties – Spicy Kimchi, Mild Kimchi, Radish Kimchi and White Kimchi – and is vegan, contains no MSG and is packed with probiotics. Nasoya Kimchi products will be available at retailers nationwide in early 2019 and will retail for $5.99.
Nasoya Udon Noodles – Also launching at the Fresh Summit, Nasoya Udon Noodles come fresh in a bag and can be cooked in either boiling water or a microwave. The Udon Noodles come in two flavors, Original and Teriyaki, and the package also includes a soup base and toppings. Nasoya Udon Noodles are ready in just minutes and will be available at retailers nationwide in February 2019, retailing for $3.49.
Nasoya Toss'ables – Introduced earlier this year, Toss'ables are pre-cubed, pre-marinated baked tofu that come in two flavors, Balsamic Vinaigrette and Garlic & Herb, and retail for $4.99. Nasoya Toss'ables are perfect for salads, pastas and more. Toss'ables are currently available at retailers nationwide and are Vegan, Certified Organic, Gluten-Free, and Non-GMO Project Verified. Nasoya Garlic & Herb Toss'ables were also named a winner in SELF's 2018 Healthy Food Awards.
Nasoya Vegan Dumplings – With a recently perfected Vegan recipe, the ready-to-cook dumplings can be boiled or pan-friend in just minutes. The dumplings come in two flavors, Tofu Vegetable and Thai Basil Vegetable and are Vegan and Certified Organic. Nasoya Vegan Dumplings are currently available at retailers nationwide and retail for $5.99.
Nasoya GoBowls – New in 2018, these microwaveable noodle bowls are available in three varieties, Pho Vietnamese Style Noodle Soup, Teriyaki Japanese Style Noodle and Stir-Fry Korean Style Noodle. Nasoya GoBowls are ready in just minutes and are a convenient complete meal when topped with your favorite protein or vegetable. Nasoya GoBowls are currently available at retailers nationwide and retail for $3.99.
"The PMA Fresh Summit is an event that Nasoya always looks forward to as we get to showcase our new and classic plant-based products as well as Asian-inspired items," said Ellen Kim, Brand & Marketing Strategist at Nasoya. "This year, we are excited to be featuring our new Nasoya Udon Noodles and Kimchi products, which we know will be welcomed additions to consumers growing number of healthy choices in the supermarket."
In addition to showcasing the new products, Nasoya will also be displaying shelving ideas for retailers featuring product displays and arrangement stands for plant-based protein, meat alternatives and Asian-inspired foods.
About Naysoya
For over 30 years, Nasoya has been a leading provider of natural and organic foods. Part of the family of brands at Pulmuone, a company synonymous with authentic, wholesome products and the highest quality of ingredients, Nasoya, believes in creating great-tasting, healthy, convenient snacks and meals for every eating occasion. Product offerings include Tofu, TofuPlus®, TofuBaked, Toss'ables, GoBowls, Asian-Style Wraps, Noodles & Dumplings, and low calorie/low carb Pasta Zero shirataki noodles.