Nancy's Probiotic Foods Launches Organic 100% Grass-Fed Yogurts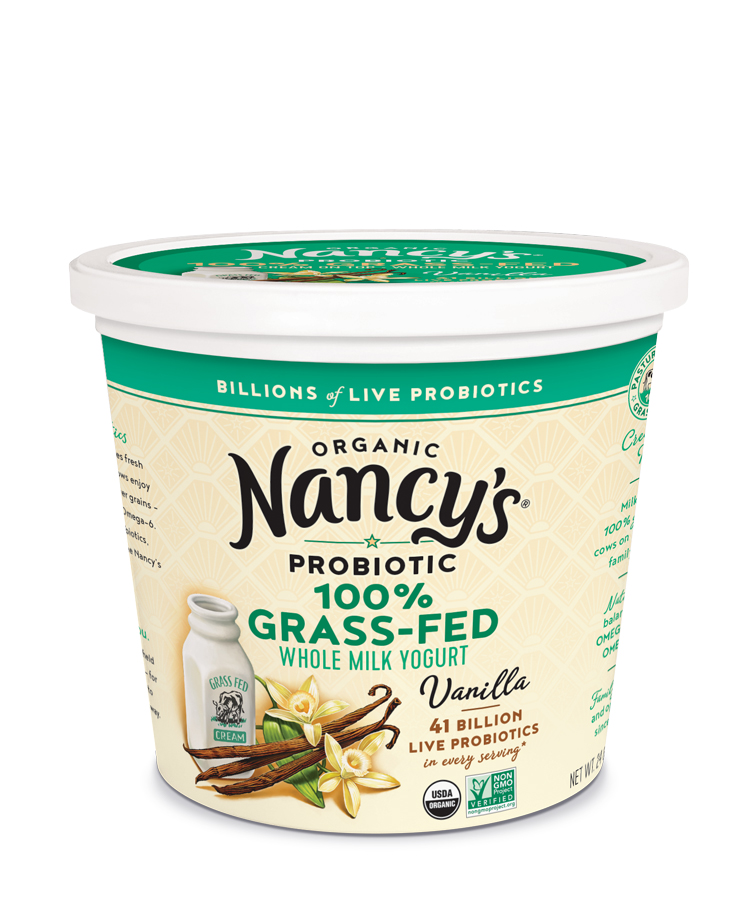 EUGENE, Ore. — Today Springfield Creamery added six new Organic 100% Grass-Fed Yogurts to its line of Nancy's Probiotic Foods. These rich, cream-on-top-style yogurts are made with milk from grass-fed cows who enjoy a diet of organic grass and no grains, yielding milk that's high in omega-3 fatty acids. Nancy's sources the milk from organic family-owned farms, all within 60 miles of Springfield Creamery. Like all other Nancy's yogurts, these 100% Grass-Fed Yogurts contain live probiotics, including strains delivered at therapeutic levels to help support immune and digestive health. Springfield Creamery first added live, beneficial probiotics over 48 years ago, and the company has led the growing Probiotic Revolution ever since. These grass-fed yogurts contain 41 billion CFU's (Colony Forming Units) of live probiotics per 6oz. serving at the time of expiration.
"Cows who eat a fully grass diet, including alfalfa, clover and other forages, produce milk with added nutritional benefits. This is due to the direct relationship between what cows eat and the levels of beneficial fatty acids in their milk. In other words, when cows eat well, so do we," notes Sheryl Kesey Thompson, co-owner and VP of Marketing for Springfield Creamery. "With many choices in the yogurt aisle, we wanted to offer our customers a 100 percent grass-fed, organic option with the high probiotic counts they have come to expect from Nancy's products." adds Thompson.
Nancy's Organic Probiotic 100% Grass-Fed Whole Milk Yogurts are available in 4 delicious flavors (Plain, Vanilla, Ginger Peach, and Blueberry Lavender) and offer the rich taste of whole, grass-fed milk. All flavors are available in single-serve 6 oz. sizes; the Plain and Vanilla are also available in a 24 oz. container. The suggested retail prices are $1.99 and $4.99-$5.69, respectively. As with the brand's other products, Nancy's Organic 100% Grass-Fed Yogurts are made with care using simple, real ingredients, such as real organic vanilla and organic fruits. The yogurts also contain no pectin, gelatins, or thickeners and are certified Organic, Non-GMO Project Verified, and kosher.
Springfield Creamery's original founders, the Kesey family, have continued their dedication to innovation, as well as furthering their mission to support good health and the culture of our communities, just as they have since founding the family-owned company in 1960. Now with a line of more than 115 probiotic foods, Springfield Creamery is one of just a few large U.S. creameries that remains independently operated, currently spanning three generations of the Kesey family. Still committed to batch production and making genuinely good food, all Nancy's products offer billions of live probiotics per serving. For over four decades, Springfield Creamery's commitment to probiotic foods has earned widespread respect among physicians and hospitals, as well as recognition including Oregon Tilth's "Organic Producer of The Year" award, Oregon Organic Coalition's "Processor of The Year" award, Edible Portland's "Local Hero Award for Best Food Artisan," and Prevention Magazine's "Cleanest Packaged Food Awards."
Nancy's 100% Grass-Fed Yogurts is currently available at all national co-ops (NCGs) and Market of Choice stores, with more retailers added weekly. For information about Nancy's Yogurt or Springfield Creamery, or to find specific stores that carry Nancy's, visit http://www.nancysyogurt.com. Like Nancy's Yogurt on Facebook, and follow @NancysYogurt on Twitter, and Instagram.