Maya Kaimal Releases Everyday Dal Pouches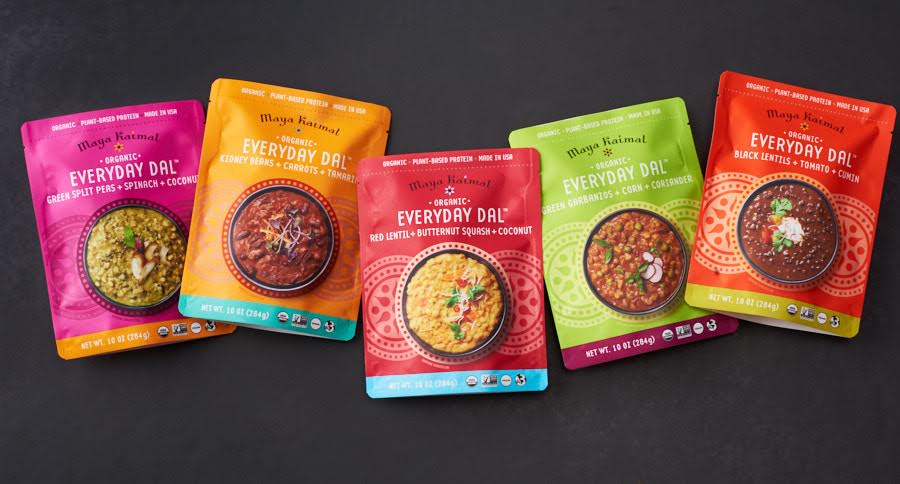 RHINEBECK, N.Y. — Maya Kaimal Fine Indian Foods, an award-winning specialty food company, continues to evolve its interpretation of modern Indian offerings with the introduction of Organic Everyday Dal pouches.
Dals—the Hindi word for spiced lentils or beans—are available from Maya Kaimal in five delicious varieties that can be eaten as a filling meal on their own or as a side dish. Prepared in a convenient, portable, microwave-friendly pouch, Everyday Dals offer satisfying flavor combinations such as Red Lentil with Butternut Squash + Coconut and Black Lentil with Tomato + Cumin allowing consumers to enjoy nourishing, protein-packed, meatless meals without compromising flavor or time.
"We are building on our commitment to flavorful convenience and clean eating," said Meena Mansharamani, CEO of Maya Kaimal, referring to the brand's current lineup of Indian-inspired simmer sauces, Chickpea Chips and Naan Chips, and Spicy Ketchup. She adds, "Our Everyday Dals perfectly fit the growing demand for high-quality, vegan, gluten-free and plant-based meal options."
Founder Maya Kaimal who—like Mansharamani—grew up eating dals claims, "We wanted to honor the Indian tradition of cooking lentils, but spark them up with ingredients that speak to today's consumers, like virgin coconut oil, cumin and tamarind." She suggests, "I think of dal and rice as the ultimate comfort food, but you can eat them with any meal, or dress them up with fresh herbs, toasted nuts, or yogurt."
For those craving adventurous new flavors, Everyday Dals will bring an exciting taste experience to the table any day of the week. Additional flavors include Green Garbanzos + Corn + Coriander, Kidney Beans + Carrots + Tamarind and Green Split Peas + Spinach + Coconut, all personally developed by Maya.
Bring together your family and friends for an easy and flavorful gathering with Everyday Dals, available now at a suggested retail price (SRP) of $4.99 at leading Natural and Specialty grocers including Sprouts and Natural Grocers, as well as at MayaKaimal.com.
Join the conversation and show us how Maya Kaimal Everyday Dals have become a healthy, convenient staple for you with the hashtag #EverydayDal and tag @MayaKaimalFoods.
About Maya Kaimal
Maya Kaimal, recipient of the prestigious Julia Child Cookbook Award, is the creative force behind a distinguished and innovative line of products inspired by the sophisticated flavors of India. As founder of Maya Kaimal Fine Indian Foods, Maya faithfully translates the traditional home cooking of her Indian family for the modern American table, with love and authenticity. Her flame-baked Naan Chips, her award-winning Chickpea Chips and her best-selling sauces and ketchup are made using premium, all natural ingredients. For more information, visit http://www.mayakaimal.com/. Stay connected to Maya Kaimal: @mayakaimalfoods on Twitter and Instagram and on Facebook at https://www.facebook.com/MayaKaimal/.