Jones Dairy Farm Introduces Antibiotic Free, Certified Paleo All Natural Sausage and Smoked Meats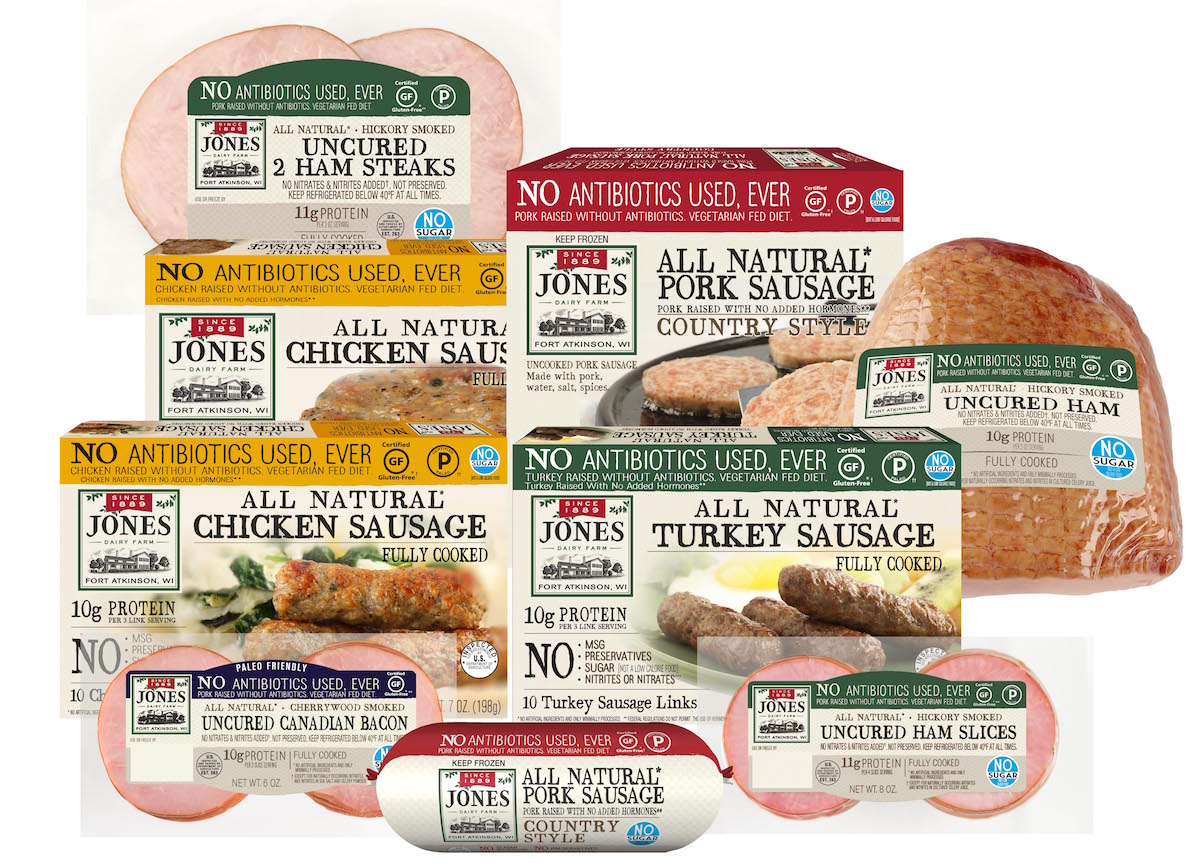 FORT ATKINSON, Wis. –With the recent rise of health conscious consumers basing purchasing decisions on ingredient and nutritional labels, Jones Dairy Farm determined the need for something new. Thus the company created Jones Antibiotic Free, No Sugar All Natural Breakfast Sausage and Uncured Smoked Meats, a new product line that remains true to original Jones family recipes and has gained the certification of the Paleo Foundation. The new products will be on display at the Jones Dairy Farm Booth (#N2239) at the Natural Products Expo West show.
"Since my great, great grandfather founded the company in 1889, Jones Dairy Farm has produced high quality products made from simple ingredients that meet the preferences, tastes and dietary needs of our customers," said Philip Jones, sixth generation President of Jones Dairy Farm. "These new products are not about diet or weight loss but elevating the overall sausage and smoked meats product category. We saw the need to not only upgrade ingredients, but also provide superior nutritionals so consumers look better and feel healthier."
Obtaining the Certified Paleo designation is a first for the 129-year-old family-owned company best known for producing all natural breakfast sausage, dry-aged bacon and naturally smoked ham and Canadian bacon. It means Jones adhered to the strict guidelines set forth by the Paleo Foundation. Therefore, the new products contain no grains, legumes, dairy, artificial colorings, preservatives, artificial sweeteners and flavor enhancers. Jones Antibiotic Free, No Sugar, Paleo-certified Breakfast Sausage and Smoked Meats are currently available in eight delicious offerings, including:
Fully cooked Chicken Sausage Links and Chicken PattiesFully Cooked Turkey Sausage LinksReady to Cook Country-Style Pork Sausage PattiesReady to Cook County-Style Pork Sausage RollFully Cooked Uncured Ham Slices and Ham SteaksFully Cooked Uncured Heritage HamsFound in the freezer section like all Jones All Natural Sausage, the new sausage offerings are made from only fresh never frozen pork, chicken and turkey meat; certified gluten free; and contain no MSG, nitrites, nitrates, fillers or binders. In the same tradition as the breakfast sausage, the new Jones Uncured Ham items are made from the leanest cuts of fresh pork with no fillers, ground trimmings, binders,MSG, nitrates or nitrites. Also certified gluten free, Jones Hams are always naturally smoked with real hickory chips to get a rich, smoky flavor. Liquid smoke is never used.
To distinguish the Antibiotic Free, No Sugar, Certified Paleo products from the company's original sausage and smoked meats offerings, Jones created distinct new packaging and an updated logo exuding the authentic, back-to-basics quality and premium nature of the product line. In addition, the wording "No Antibiotics, Ever" along with the Certified Paleo and Certified Gluten Free logos appear on the new packaging.
"The Paleo Foundation is extremely proud to work with Jones Dairy Farm, a company dedicated to quality and whose new Antibiotic Free, No Sugar, All Natural Sausage and Smoked Meats product line gained our strict Paleo Certification," said Jonathan Pendergrass – Accounts Manager/Social Media Samurai, Paleo Foundation.
As a further commitment to their customers who follow the paleo lifestyle, Jones also received the Certified Paleo designation for four existing Breakfast Sausage products also made from the original Jones family recipe. These products include All Natural No Sugar Little Links, Hearty Links, Patties and Sausage Roll. Jones is currently working on obtaining the Paleo Certification for Antibiotic Free, No Sugar, All Natural, Cherrywood Smoked Uncured Canadian Bacon Slices.
The new Antibiotic Free, No Sugar, Paleo Certified All Natural Sausage and Smoked Meats product line will be available in select retailers nationwide, including Wegman's, Shaw's, Hannaford, Wakefern, and Sprout's Farmers Market, beginning in early 2018. More information is available at www.jonesdairyfarm.com/products/antibiotic-free-sausage-smoked-meats.
About Jones Dairy Farm
Based in Fort Atkinson, Wisconsin, Jones Dairy Farm products offer the old-fashioned quality one would expect from a family business started in 1889. Jones Dairy Farm produces the highest quality all natural sausage, dry-aged bacon, liver sausage and naturally smoked ham and Canadian bacon for consumers around the world. Visit www.jonesdairyfarm.com for more information.